Opera is a small player in the browser market both on the desktop and on mobile. It wasn't always like this though. At one time, Opera was the only major player in the mobile browser market. Things changed as Android replaced feature phones. But Opera won't give up that easy. A new update to the Opera Brower for Android brings a built-in free VPN service.
Let's see how to enable built-in VPN on Opera and enable free VPN on Android with Opera browser.
Enable Built-in Free VPN on Opera Browser
Before you start, download and install Opera Browser for Android from the Google Play Store. You can get the Opera browser direct from this PlayStore Link. If you already have Opera on your Android, follow the steps below to enable built-in VPN for Android.
Launch Opera Browser.
Tap on the Opera icon in the bottom-right.
Select Settings.
Turn on the VPN toggle switch from Setting Screen.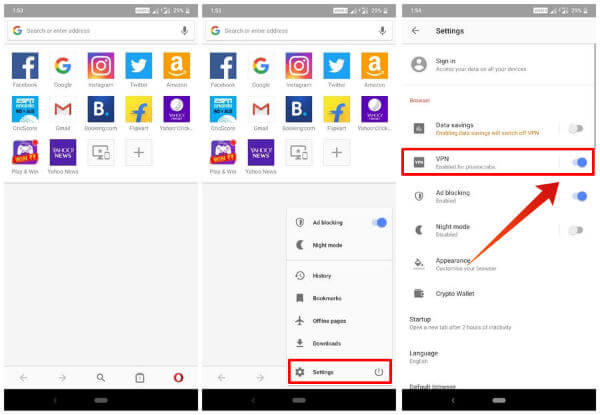 When you turn on the built-in VPN, it is enabled only for private tabs by default. When you browse online, you will connect net without VPN. But if you want to use VPN, you can open private or incognito mode. If you want to open all web pages through VPN, you can change the settings on this page and "uncheck" the option Use VPN or private tabs only.
Tap on the VPN text, the area to the left of the toggle.
This will open up the VPN configuration page.
Uncheck the option Use VPN or private tabs only.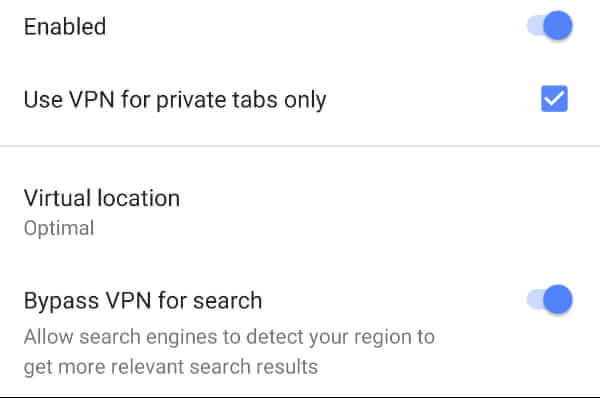 There is enable button you can turn off any time to disable VPN browsing. In addition to this, by default Opera will bypass all search engines. This feature is enabled by default and useful. The search engines including Google bring the result based on your location to match your query. If you use VPN for search engines, the result may vary according to the country you select for VPN.
Also Read: 8 Best Free VPNs for Chrome Browser
How to Use Built-in Free VPN on Opera Browser
Once you have the VPN enabled and configured to how you want, simply start browsing any websites. You can also change the country you want with the Opera browser. Let's see how to set the country for Opera free VPN on Android
Open Opera Browser
Type the URL you want to load.
Tap on the VPN option in the top-left.

You can Turn the toggle on or off VPN.

Tap on Settings
Tap on Virtual location
Select the location from the available list.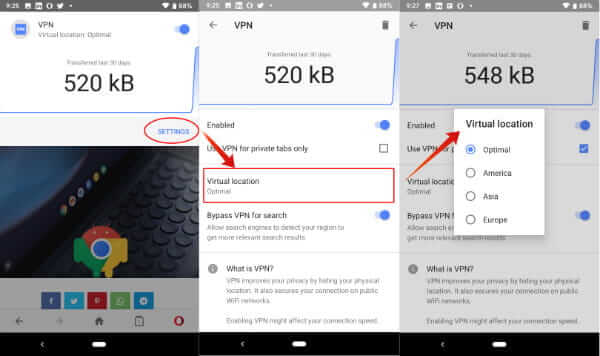 The header will show how much data went through the VPN you set. And you can turn off VPN at any time with the toggle switch.
Related: 10 Best VPN Services for Mac and Windows for 2019 (Paid and Free).
Why is Opera Browser Offering a Free VPN?
More and more users are becoming cautious about their online privacy. Thanks to all the leaks and issues surrounding most tech giants these days, more and more users don't trust big corporations with their data. VPN services are the most popular way to hide one's online identity.
According to a GlobalWebIndex estimate, more than 650 million people worldwide use such tools to mask their online identity and fend off web trackers. Opera has been way ahead of the curve like it has been many times. Remember it is the same company that gave us tabs, speed dial, etc. These are widely used features we now take for granted and consider a basic requirement in any desktop browser.
The Norwegian company has been offering a free VPN service for a long time now on their desktop browser. First, as a free extension and then baked right into the browser. On Android, Opera had free VPN apps as well but those were discontinued. The company then decided to bake the VPN service right into their Opera Browser for Android.
This makes sense from a business perspective. After a long beta testing the free built-in free VPN service is now finally available in the stable version of Opera Browser for Android. This move can help Opera win back some users that it lost to Google, Samsung, and UC Browser.
Some users are skeptical of a free VPN service though and their concerns are well placed too. If you're not paying for a service, like a VPN service, the service provider is probably doing something to make money. Companies like Google and Facebook are at least open about showing ads but smaller companies often aren't. There have been reports previously of certain free VPN services selling user data. Opera is a big name though and we'd think they have the resources necessary to run a VPN service for free without selling user data or showing ads.