Apple has redesigned the way things are on your iPhone with eh iOS 14. One of the major updates is the incoming call alert. Before with iPhone, you were getting incoming call alerts on fullscreen, never allowed switching from the same screen. Apple has set the incoming call as a banner on to the screen when you are using any apps. But, many iPhone users still love to stick with the full-screen incoming call alerts.
Today we are discussing how to enable the full-screen incoming calls on iPhone for iOS 14 users.
How to Enable Full-Screen Incoming Calls on iPhone?
If you are using your iPhone with the latest iOS 14, you might be getting the incoming calls as a banner on top. The older versions of iOS call screens took the entire screen. Also, they did allow switching to another window or app while a call is ringing. It was a big headache when you wanted to ignore the call and switch to any app. Fortunately, Apple made it simpler with the newer iOS 14. When you are using an app, the incoming calls no longer occupy the entire screen. You will get the incoming call on a banner notification. Like usual notifications, you can also swipe away and ignore the incoming calls.
But, if you think you are likely to ignore important calls that appear as a notification, then enable full-screen incoming call screen on iPhone. Also, it can be helpful for elderly users who have trouble reading names on the notification banner. Here is how to enable full-screen iPhone incoming calls on iOS 14.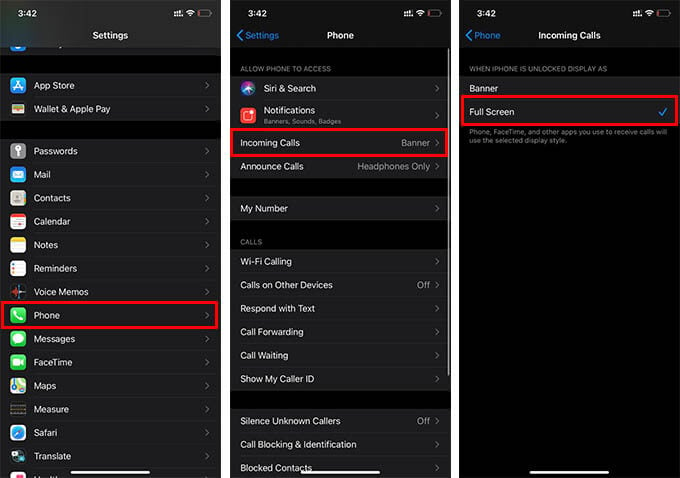 Open Settings on your iPhone.
Go to Phones.
Tap on Incoming Calls.
Choose Full Screen from the Next window.
When you choose Full Screen, your iPhone will show all the incoming calls in full screen. And, the calls will interrupt your activities on other apps. So, if you want to avoid interruptions, we suggest you keep it in the Banner option.
Why Does Apple Bring Banner for iPhone Incoming Calls?
For a longer time, the iPhone incoming call screen has been on full screen. Unlike Android devices, it was impossible for users to get out of the incoming caller screen when someone is ringing. Though most iPhone users did not find it a serious issue, new users, especially the ones who are migrating from Android found it a big drawback. Fortunately, Apple seemed to have identified the problem persisted for the users and came up with the solution. The new Banner for incoming calls makes it easier to ignore and keep using any other app, without even hanging up.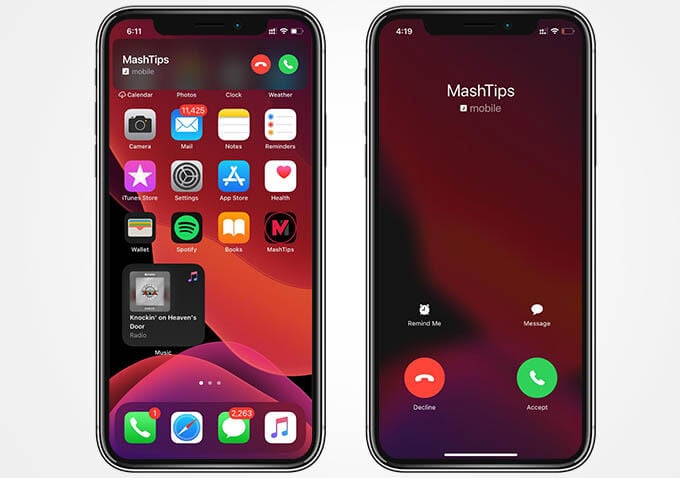 Apple did not completely ditch the full-screen caller display for iPhone users. Even though the banner call screen is enabled by default, you can easily switch to the full-screen incoming calls. Interestingly, you can still swipe up and ignore the incoming calls on the full-screen window too. If you are looking for more guides on iOS 14 features, check out our home screen widgets guide.