The first step of staying safe online is to secure your passwords. A strong, non-repeating password is what you should use online to keep your accounts safe, but remembering all of them at once is not a small task. Password Managers come to play here as a safe lock for your passwords with anytime access. Keeper Password Manager is such a secure vault for your passwords, cards, and credentials online.
Is it really safe and worthy to switch to a secure password manager like Keeper Security? Let us find out what Keeper can give you and how it helps us keep the passwords in safe storage.
Keeper Password Manager: Overview
Keeper Password Manager & Digital Vault is a comprehensive tool with everything you need to protect your credentials online. From password saving to password breach monitoring, Keeper gives you the liberty of password security for your accounts. With its Zero-Knowledge policy, Keeper makes sure there is no backdoor government agencies can snoop into your password vault. The company even ensures zero access to anybody other than you, even the Keeper employees. That's a good sign.
Keeper gives you the liberty of complete password security for your accounts
Well, there's much more when it comes to password managers. You may be looking for an easy-to-use fully-fledged password manager which you can use on all your devices. Keeper is all of it and even more. Let's dive into the detailed review.
Grab the discount offers from Keeper:
Is Keeper Password Manager Safe?
Password Managers are quite the easiest solutions to save your usernames and passwords for the websites. That is not the case if the password manager itself undergoes attacks. That's where Keeper stands out with a 100% zero-trust zero-knowledge policy. This means what you save in your account remains in your account. Nobody even the company will have access to them if you set a master password of yours with extra security measures. We will talk about login security later.
The two-factor-authentication provisions are there to secure your account. This will block others from getting your passwords even if they have your master password. The password manager itself is secure in many ways and encryption they provide. Plus, the additional security options make it even secure.
Related: 15 Ways to Protect Your YouTube Channel from Hackers
Set Up and Usage
As soon as you create a new account, the Keeper will walk you through all the components and features within the vault. You get a decent walkthrough so that you don't need another guide to know how to use Keeper password manager. Once you create your account with a master password, you will be taken to a web-based dashboard where all your passwords and card information are saved.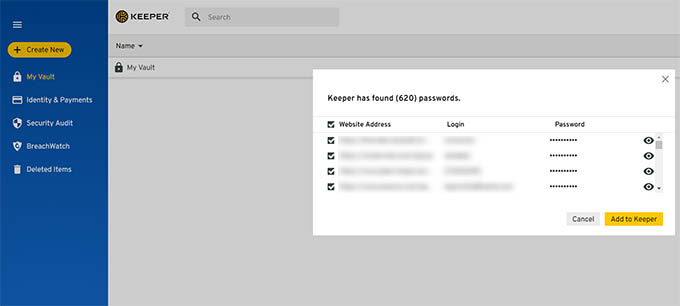 LastPass guided me into downloading their browser extension first where I see no such attempts here from Keeper. You can install their desktop app to your Mac or PC to capture any saved passwords and access your vault right from the desktop.
Desktop for PC users can be downloaded directly from the website or from the Microsoft Store. The universal app from the store looks a bit different and less attractive than the directly installed one. Anyways, you can get the same access and control to your data from the desktop app as well as the web vault.
Master Password and Security
The master password is the key to your Keeper vault and it is very crucial to have one for such a password manager. Keeper leaves no way for others to see your vault by asking for the master password. Once you set the master password, all your saved usernames and passwords are encrypted with the same passcode. Now half the part is done. When it comes to online account security, we all agree enabling two-factor authentication or two-step verification will take care of the other half of its security.
Now let's find out the two-factor authentication options Keeper Password Manager provides. Ge into the Security settings if Keeper password manager and you will see a toggle to enable two-factor authentication. Apart from the traditional text message OTP, which is commonly unsafe, there are other secure OTP methods like Google Authenticator, RSA, and much more. Keeper has its own login approval method named KeeperDNA as well.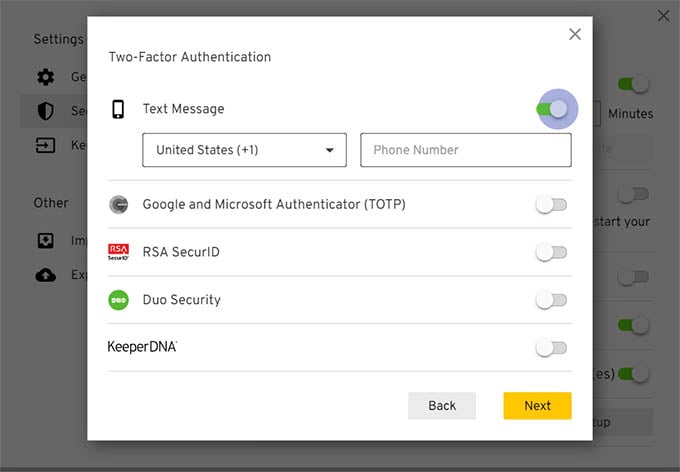 If you have a hardware key like YubiKey, Keeper lets you add them too. Whenever you want to access your passwords, plug in the security key to your computer and sign in. There is also a self-destruct mode which will erase all the saved passwords and credentials if the master password is entered wrong five times.
Related: How to Enable Google Two Step Verification to Protect Your Gmail
Password Management
Keeper is not just a password manager, but an all-out tool assistant that will help you with improving your password strength and avoid repeated usage. Once it stores all your passwords, Keeper can check the strength value of each password against others and will notify you if any of them is at risk or repeated.
The thing about repeating a password is that once that password is compromised, hackers can use it to get a hold of your multiple accounts with the same password wherever you have used it. To avoid this risk, Keeper can assist you with keeping passwords unique and strong.
There is also a password generator from Keeper. This gives you the strongest passwords with the random alphabet, characters, and numbers. This is by checking against the password strength checker within the Keeper itself. You can generate strong passwords between 8 to 100 characters using Keeper which will be suitable for any accounts from Facebook accounts to SSH servers.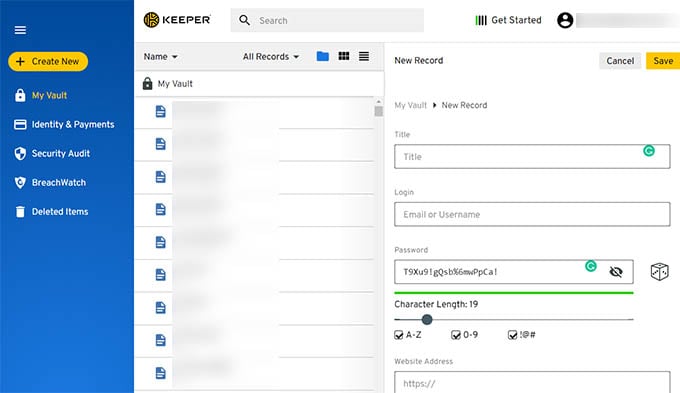 Keeper saves all your passwords in their own server, but not in the actual format. As we spoke, the passwords are encrypted using your master password so that no one else can see them. Passwords are visible to you only, that too after signing in using the master passcode. Otherwise, it is totally safe and universally accessible. There is an option to access passwords offline if you want.
Digital Vault
Keeper free version has one-device support, free password storing, and autofill options. If you are looking for more, like securing your sensitive files and folders, the Keeper digital vault is the best shot here. The vault storage is not included in the free version so you will have to purchase Keeper Plusbundle that includes dark web password breach monitoring as well.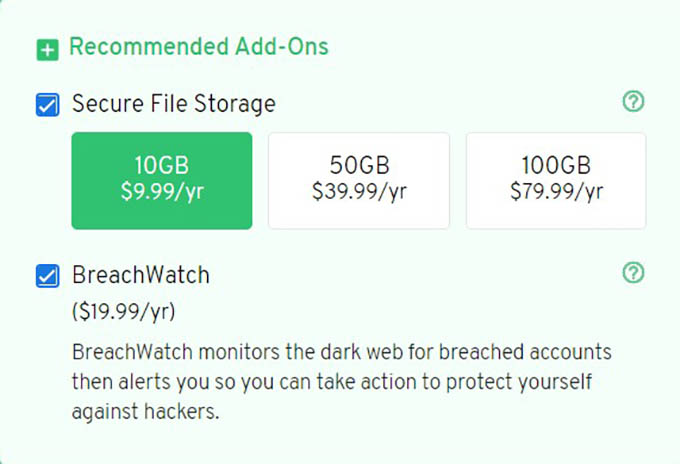 The basic plan will give you 10GB of Keeper Secure Vault storage. Like the password manager, you can lock your files vault with a master password and extra authentication if needed. You no longer have to worry about the data leak from Google Drive or other cloud storage if you go with the Keeper Vault.
Related: How to Password Protect A Folder or Files on Mac
Secure Chat
KeeperChat is a secure chatting channel that Keeper provides as an addon to password manager users. When you protect your digital fingerprints with a secure password manager like Keeper, protecting your personal messages could be a necessity. KeeperChat can help you do it.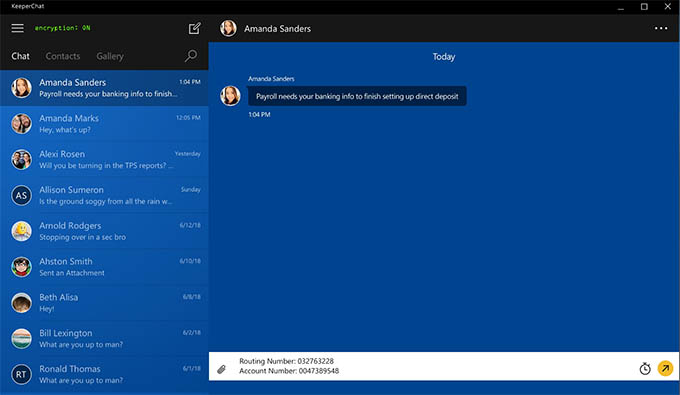 You can send messages to your friends, family, colleagues, or anyone who uses KeeperChat for secure messaging. This has got all the features you ever dream of a messaging app. Security options include message locking, screenshot notification, deleting messages securely, and more.
Related: 10 Best Anonymous Chat Apps for Android
Password Breach Watcher
We all carry the overconfidence our passwords would not get into the hands of a third party. Well, that's not the case if you follow the news. New passwords are getting leaked from weak databases and probably include yours too. If you reused your password on one such leaked website, hackers may use that data to access your other accounts as well.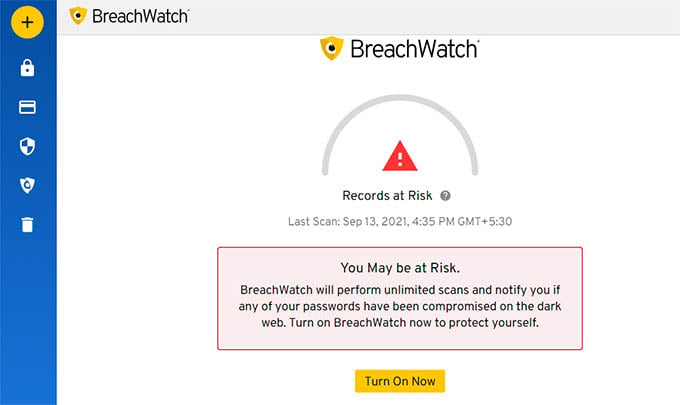 There are many tools like Have I Been Pwned to check if your passwords are leaked online. Instead of checking every now and then, you can leave it to the Keeper Breach Watch.
Keeper matches all your saved passwords securely among the leaked databases.
It will match all your passwords securely among the leaked databases everytime a breach happens in dark web. This will instantly notify you when one of your passwords appears online so that you can quickly change it. This is also a paid add-on to the Keeper users.
Autofill and Password Capture
Auto filling passwords on the websites we visit is the smoothest thing we expect password managers to do for the sake of easiness. Unlike LastPass, Keeper's basic part is a desktop app that does not have any autofill capability. It will then force you to install the KeeperFill browser extension to autofill passwords on websites.
Keeper does not automatically fill the credential fields. It will instead prompt a lock icon to the username and password field so that you can click and select a saved password.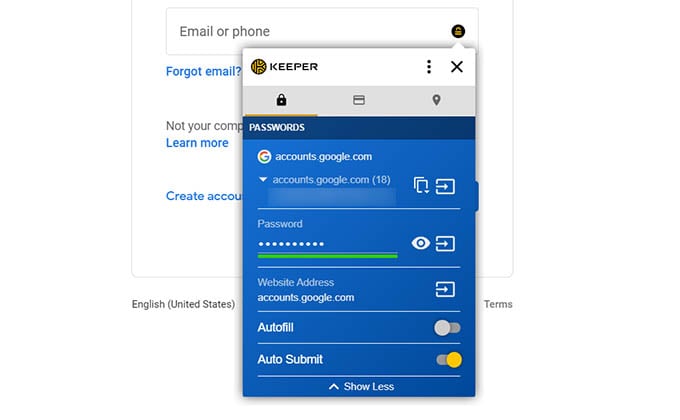 This is how things work when it is about capturing passwords too. When you enter a new username and password to a website, Keeper does not save them automatically. It will instead ask you to save so that the password manager does not look at your password without you knowing.
Keeper password manager users can use the autofill on Android and iPhone using the Keeper app. One thing to note is that the Keeper autofill is available through the iCloud Keychain autofill on iPhone which is quite handy for mobile users. There is no option to capture and save passwords to Keeper from iPhone, but you can enter directly from the Keeper app.
Passwords Sharing
If you have an account that you share with your friend or partner, you no longer have to text them the password. That's not even safe at all. That's why we care about this part of the Keeper. It has a secure sharing option in Keeper. You can share your saved password with someone you trust and give them the provision to view and edit. There's also a shared folder method where you can move multiple passwords and share with somebody at a time.
Related: How to Share WiFi Password from Android to Android Quickly
Pros and Cons
Keeper password manager definitely is a winner in password securing, password monitoring, and other important security aspects, however, there are things we liked and disliked about this online password vault tool.
What We Like:
Complete password security
Secure storage and chat
Multiple two factor authentication
Available across all devices
What We Dislike:
Limited autofill
A bit costlier than rivals
Plans and Pricing
Keeper has various pricing plans tailored for everyone for different usage. Apart from the basic personal plan, you can get a plus version of it, family plans, business plans, and more. The pricing varies based on the purpose and let's talk about the personal plan here.
Keeper Unlimited personal plan is for those who want unlimited password storage by paying $34.99 annually. Also, you get to add unlimited personal information (name, address for autofill) and card details for payments with this.
If you are willing to pay $58.47 per month, you get everything from unlimited and can avail real-time password breach monitor and 10GB of secure folder storage. Secure cloud storage can vary based on pricing. Also, there are essential add-ons for extra security including Keeper Concierge for training, BreachWatch, and Secure Storage. You can get these add-on options individually or in bulk.
There are couple fo discount offers running for the Keeper security plans. If you are a student, you can get a student discount for Keeper up to 50% Off!. The Keeper family plan offers up to 15% off. And if you are looking for a multi-year plan, you can get this 3 Year Plans for Keeper Unlimited & Keeper Family up for a 30% off. 
Final Verdict
Keeper Password Manager is not just like any other password manager but your data protector which can safeguard you against any password leak, data leak, or hacking attempt; you name it. Its zero-knowledge policy is quite attractive as no one else other than you can access your passwords. Keeper does not just store and remember your passwords but will help you improve them with timely suggestions and warnings.
You also have seen the login security options Kweeper has to secure all credentials. Although the pricing for plans and add-ons is a bit higher than any other usual password managers, Keeper stands out in the cloud with its security options and high values.