You can enable Alexa motion detection to detect humans like any other motion detection device. The beauty of this feature is that this is a built-in feature with Alexa. You don't need additional sensors or devices to get this feature to work for you.
Let's look into this and see how to turn on Amazon Alexa's Motion detector on your Alexa Device.
How to Enable Motion Detection on Alexa Devices
This feature is important for detecting and running the Alexa Occuappny Routines that can automate your Alexa routines, such as your AC control or controlling the lighter when you leave home. You can enable motion detection on Alexa devices if you have a model that supports Amazon's Ultrasound Motion Detection. To enable the motion detention;
Open your Alexa App.
Tap on the Devices from the bottom bar.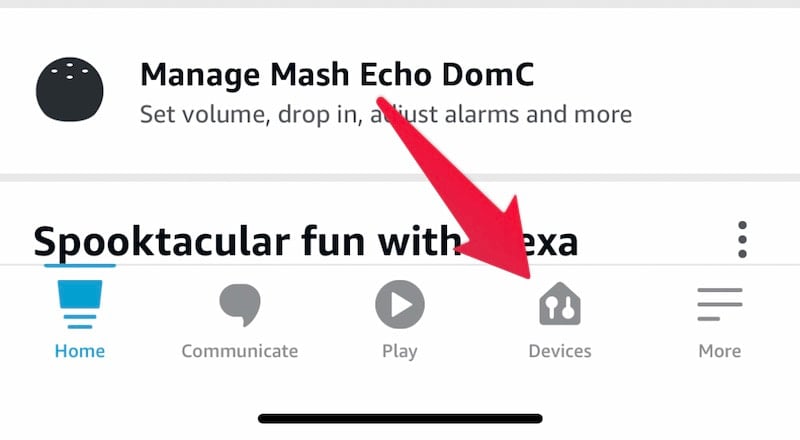 Select Echo & Alexa, then select the individual device you want.

Select Device Settings from the next screen.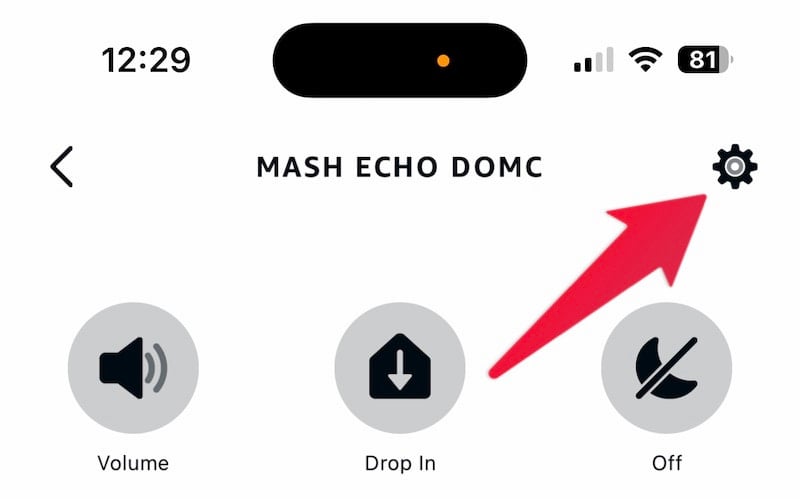 Select Ultrasound Motion Detection.

Enable Ultrasound Motion Detection.

Switch Motion Detection to Keep On.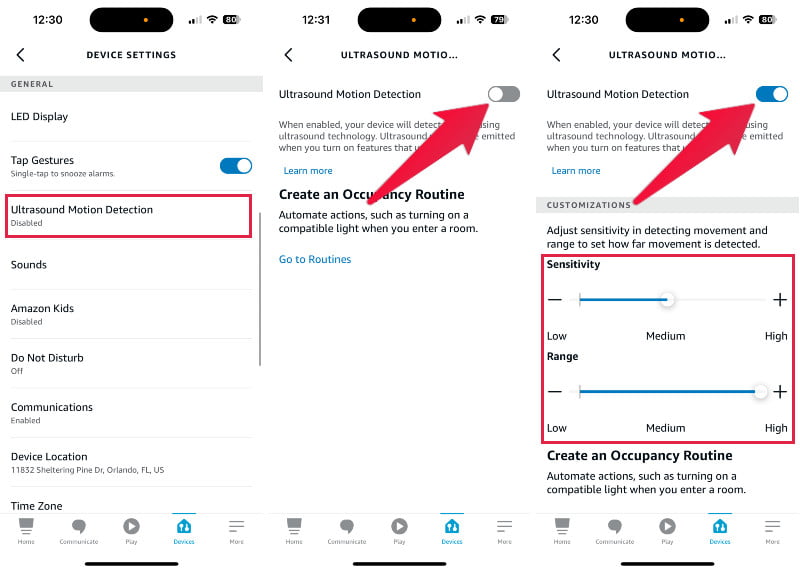 You can select it again and switch it to Off if you need. If you turn off motion detection on the device, features that use motion detection don't function as intended.
Customize Alexa Motion Detection Sensitivity
You have some options to customize the motion detection on the sensitivity. you can adjust the motion detection sensitivity on this screen.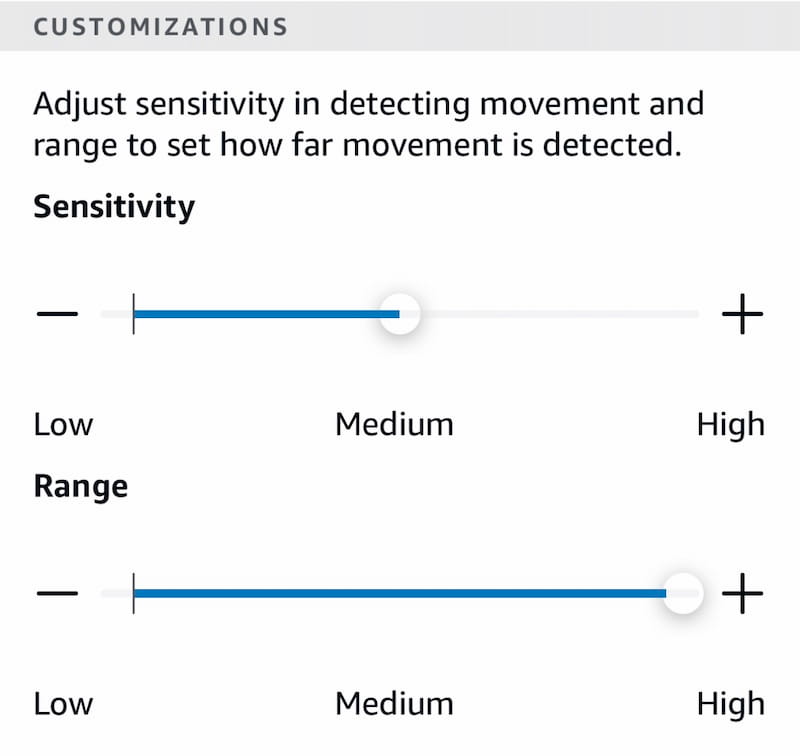 This will give you additional control over the sensitivity and range you can set from this screen for the Alexa Ultrasound Detention.
Create Occupancy Routine with Alexa
Well, you can utilize this motion detection to create routines. These daily routines can control your lights or turn on or off your HVAC when Amazon Alexa detects occupancy. There are a bunch of routines you can set with this motion detection, even for your Halloween decoration or the intruder alert.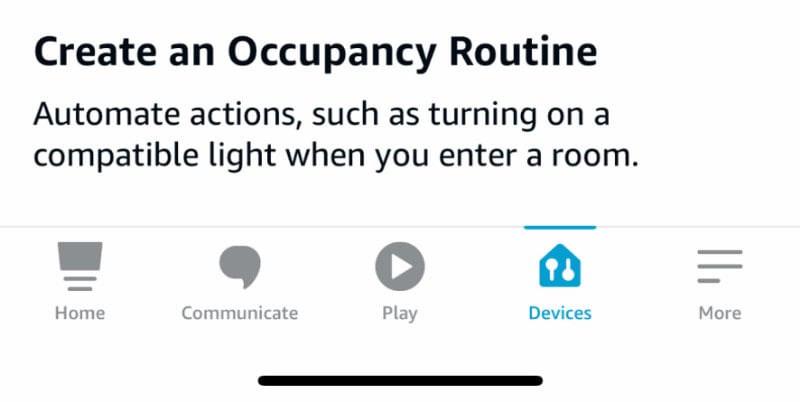 Related: How to Setup Intruder Alert with Amazon Alexa Motion Detection
Meanwhile, we notice a cool-off period for this motion detection on Alexa devices. This cool-off typically comes in 5-7 minutes. So you can expect a delay to work again if you set any routine with this motion detection.
How to Turn Off Motion Detection Temporary
Well, you can turn off this Motion detector right from the device settings. However, there is a quick solution for disabling motion detection. You can use the mute button on Alexa to disable motion detection temporarily. Well, like you mute your Alexa for the voice.
How Does Motion Detection Work
Amazon Echo devices emit ultrasound to determine the occupancy of the rooms. The internal microphones detect back these ultrasounds and analyze the presence of humans in the room. Since this is an ultrasound, we (humans) can't hear this sound anyway. According to Amazon;
"Occupancy Routines, and some Alexa features, rely on motion detection to determine whether a room is occupied. When you turn on an Occupancy Routine or feature, some Echo devices emit ultrasound and use the device microphones to detect motion near the device. Alexa interprets such motion to mean that someone might be in the room."
Does Motion Detection Work for All Motion?
As per amazon, the detector will work all the motions like waving hands or similar activities. This detector is designed to detect the parens or absence of human beings in a room. Amazon is giving an idea of the motion detection sensitivity here,
"Motion detection is designed to detect major motions, such as walking around the room. It might not detect minor motions, such as waving your hand or sitting still and reading. A routine also can start when no occupancy is detected, for example, by turning off lights when the room is empty."
Motion Detection Featured Alexa Devices
This feature was introduced a few years ago, and you get this feature on the latest Amazon devices; you need at least an Echo (4th Gen. or newer) or an Echo Dot (4th Gen. or newer) device to get these features. By default, this feature will be turned off on your Alexa devices; following the above steps, and you have to enable this. Here are a few Alexa devices that can work as motion detection.
As far as we know, this motion detection feature is available only in certain countries, including the US and UK. We hope this feature will roll out to other locations in the future.