Google became a part of our daily life and we are using Google services almost every day. If you are a tech guy living with gadgets and internet, you may be using more than one Google service in everyday life like a Search engine, Android OS, Google map etc. When you use these services, like Search on Google, Directions on Google Maps, Video on YouTube, Google collect your basic information and you can see more details here.
If you are concerned more about your privacy or don't like to store your activity, you can opt for Google services using your web history. We listed a couple of main services that offer by Google where you can turn off the activity tracking by Google.
Google Account Settings
Google Account Settings Page gives you quick access to settings and tools that let you safeguard your data, protect your privacy, and decide how your information can make Google services work better for you.
Device Activity & Notifications
You can review which devices have accessed your account, and control how you want to receive alerts if Google thinks something suspicious might be happening. Google Account > Sign-in & security > Device activity & notifications.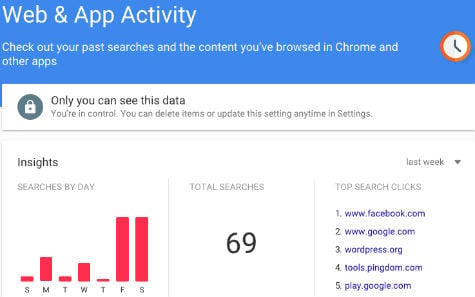 Connected Apps & Sites
Keep track of which apps and sites you have approved to connect to your account, and remove ones you no longer use or trust. Google Account > Sign-in & security > Connected apps & sites.
Apps Connected to Your Account
On the Apps connected to your account page, you can see a list of third-party sites and applications. These are sites and applications to which you've granted permission to access your Google Account, and you can see on this list to what parts of your account they have access.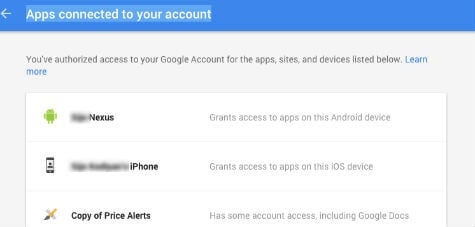 For example, you might have downloaded an app that helps you schedule workouts with friends. This application might have requested access to your Google Calendar and Contacts to suggest times and friends for you to meet up with.
Control Your Google Ads
You can Control Your Google Ads that are delivered to you based on your Google Account, across devices, by editing these settings. These ads are more likely to be useful and relevant to you.
The ads you see will be delivered based on your prior search queries, the videos you've watched on YouTube, as well as other information associated with your accounts, such as your age range or gender.
Download Your Google Data
You can download your Google Data download the data associated with your Google Account so that you can use it in another service or keep a copy for your records. You can request this info using the "Download your Data" tool. 

Web & App Activity You can check out your past searches and the content you've browsed in Chrome and other apps. You can delete items or update this setting anytime in Settings.
Google Analytics Opt-out Browser Add-on
To provide website visitors the ability to prevent their data from being used by Google Analytics, Google brings Google Analytics opt-out browser add-on.

If you want to opt-out, download and install the add-on for your web browser. The Google Analytics opt-out add-on is designed to be compatible with Chrome.
Manage and Delete Your Location History
Your location history allows Google to show you useful information based on where you've been with the devices that you're signed in to with your Google Account.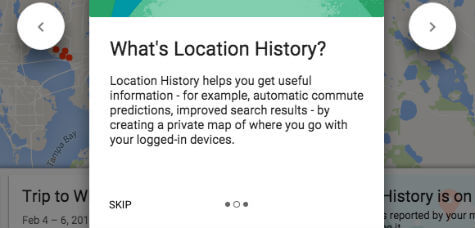 For example, you'll see predictions for your frequent commutes and better search results. Your location info can also be used by any Google app or service, including the ads you see. You can use this link to Manage and delete your Location History.
Google records all the search keywords that you used in past. Youtube search history let Google display the videos based on your previous search.

Here is the link to Youtube Search History where you can find all details.
Youtube Watch History
Youtube watch history also keep the list of Youtube videos you watched in past. Youtube recommend more videos based on this watch history when you logged in youtube next time with the same account.
Google Online Activity You Can Control
There is no privacy in the internet world now. Whenever you search something on the browser or travel with your smartphone, each and every movement are being recorded. You can't hide from this technology world, as long as you are using internet or smartphone devices for your daily life.
Google is tracking your online account and most of this accesses can be limit by the user itself. We listed the links and location where Google is saving a history, where you can visit and opt out or clear the history from itself.