WhatsApp launched a new feature, Offline Messaging. This offline messaging feature currently rolled out for iPhone users. There are few more offline messaging apps we want to introduce you in this article. Certainly, there are benefits for offline messaging. Sometimes we may end up in a situation there is no data connection or Wi-Fi like in Subway, Cruise Ships or Internet Dead zone. And you just want to send a picture of your location of some sensitive data to your friends or co-worker. This is the ideal scenario where Offline messaging apps required on your phone.
This article, we are listed the best iPhone Offline Messaging Apps available to send messages without WiFi or Cellular Data connection.
1, FireChat

The concept of FireChat is entirely different from WhatsApp offline messaging. FireChat is using a peer-peer communication method where the data is transmitting through nearby phones.  With this app, you will be automatically connected to next user's phone, and one another, that create a network of phones to communicate with each other.
This feature is ideal when you don't have an internet connection and no chance to get net connection soon. This FireChat offline messaging app is widely used in public transportation, cruise ships, school campus where no active net connection exist. This app claiming to communicate by using iPhone built-in radio and the maximum radius it can reach is 210 feet. Since this app supporting peer-to-peer communications, this app has more coverage when more people start to use FireChat.
Offline Messaging Mode: Peer-peer using Bluetooth and Internet | Travel Messages in 210 feet radius | Encrypted Communication | Download from iTunes: FireChat
2, Bridgefy

Bridgefy is an offline messaging app using Bluetooth to send transmit messages that let you communicate without the internet connection. This app communication with peer phone users via Bluetooth, no internet connection required. This app lets you connect the next person who is close to you. Ideally, you can send messages to people 330 feet (100 meters) or less from you.
This app is a Walky-talky messaging app ideal for sending data to the mobile close to you in Bluetooth range. The Mesh Mode let you use peer-peer communication like FireChat by creating a network in a group of people. The mesh mode communicates by creating a network with available users. You can broadcast with this app to a group of people, very useful for emergency alerts.
Offline Messaging Mode: Peer-peer using Bluetooth and Internet | Travel Messages in 330 feet radius | Support Mesh Mode | Support Broadcast Mode | Download from iTunes: Bridgefy
Also Read: How to Charge Mobile Phone without Electric Power?
3, Air Chat

AirChat app lets you send messages through Bluetooth. The text messages will be encrypted. Air Chat can detect the nearby phones installed the same app and start chatting with each other. The Bluetooth notifications can alert you when you get a new message.
When you travel or gather with family and friends, the Air Chat app can be used as a local communication app to communicate with each other offline. The app doesn't require any data plan or WiFi communication to work. Install this app before you travel and good medium to communicate with each other while you are on a flight, but not sitting by each other.
Air Chat is also using the Bluetooth peer-peer chatting platform. The benefit of this app is, Air Chat is sending the messages as encrypted, offering more security for your messages. You can resume all conversations when devices reconnect.
Offline Messaging Mode: Peer-peer using Bluetooth and Internet | Encrypted | Download from iTunes: Air Chat
4, Snap Messenger – Offline Chat & Text

Snap Messenger is ideal to use in the places where you have a poor internet connection or no net connection. The Snap Messenger app is using Apple's Multipeer Connectivity to communicate with your peers nearby. Snap app support offline chatting and you don't need a WiFi or data connection to send messages with your friends.
Just like other offline messaging apps for iPhone, Snap Messenger also need to install in advance in both phones to communicate offline with each other. When you and family travel on a cruize or flight, you can communicate with each other with this iOS offline message apps without a WiFi or data connection. Whether you are at work or ship, Snap Messenger keeps you connected and you can chat with your nearby friends.
Offline Messaging Mode: Peer-peer using Bluetooth | Download from iTunes: Snap Messenger
5, ZombieChat
ZombieChat is another peer-peer communication app like FireChat. With this app, you can send and receive text and picture messages to people nearby. ZombieChat app creates a peer to peer network with nearby active devices via Bluetooth and peer-peer Wi-Fi and infrastructure Wi-Fi.
Offline Messaging Mode: Peer-peer using Bluetooth and Internet | Download from iTunes: (Discontinued) ZombieChat
6, WhatsApp

There is no any introduction need for WhatsApp, number one messaging app from the Facebook team. Regularly updated with new features and they rolled out a new feature, Offline Messaging from WhatsApp. The app will keep your message until the offline message app connects to the internet and the app will send the message automatically.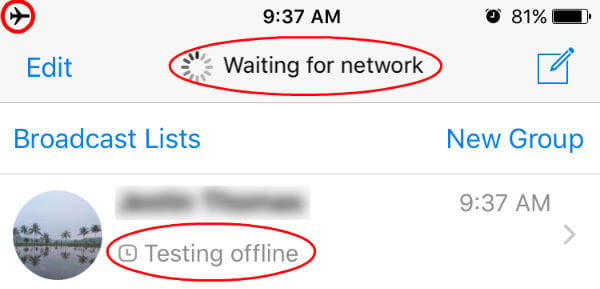 WhatsApp users (iOS only at this moment) can now write message and tap on send button while you are offline. The message will send from your phone when your phone connects to the internet. We tested with multiple images and texts with, and all work well and delivered at the moment when your phone re-establish the connection to the internet.
Offline Messaging Mode: Cache message send later with internet | Download from iTunes: WhatsApp
We tested WhatsApp Offline Features after changing iPhone connectivity to Airplane mode. We noticed that the message kept in the message app until we change the Airplane mode. WhatsApp is going to be the number one Offline Message App, let us list a few more offline message apps for those who don't want to depend on WhatsApp always.
Related: Best 3 New WhatsApp Features that You Probably Missed
We listed the best Offline Apps, available in the iTunes store for iPhone users. On this list, Except WhatsApp, all other apps are using peer to peer connection for sending offline messages from your phone. WhatsApp using the offline messaging method, like draft now and we will send automatically when your phone connects to the internet. Both Offline Messaging methods have pros and cons. Please select the right Offline Messaging App that matches for your requirement.