One who invested in the stock market must be alert always. In this Smartphone world, the stock investors can stay up to date with the help of a good Stock Market App. There are several best stock market apps available in the iTunes store to use with iPhone and iPad. These Stock trading apps can help the investor to maintain the grasp of the trade market.
We listed best stock apps for iPhone and iPad that help you to manage your investment almost in real-time.
Stock Tracker
Stock Tracker is one of the best stock market app that gives you real-time streaming quotes and helps you to stay on the top of the market while on the go. It has every sort of quotation based on the stock market exchange, and the user can get updates about the rates anytime. You can easily import your portfolios from other apps to Stock Tracker for managing them.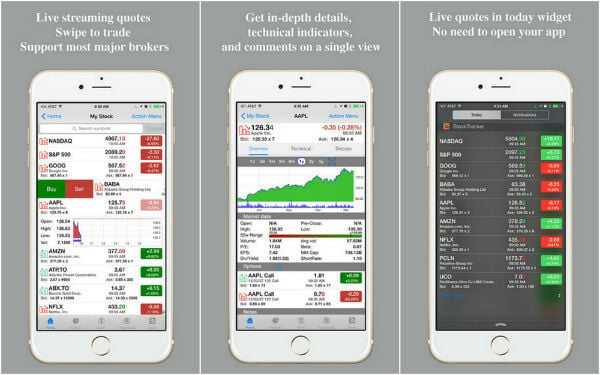 Stock Tracker is the most comprehensive stock app giving almost everything and allows you to create extensive portfolios. The app is available for free of cost but doesn't allow the people to trade without paying.
Good for: Stock Status | Portfolio Management | Download from iTunes
Yahoo Finance
Yahoo Finance stock market app for iPhone tracks the real-time performance of any stock or index and draws the people towards it because of its great interface. For following a few stocks and reading news about Yahoo! Finance is a good app stock giving the best experience. During the access, if there is any change in the stock, then it will show up in red.
Get daily market summary and news with Yahoo! Finance. There is also a Tech Ticker feature, allowing you to watch as well as read the articles related to finance and you can do all this without any ads.
Good for: Stock Status | Stock News | Download from iTunes
Robinhood
Robinhood app is one of the popular stock trading apps. This portfolio management app can display market data in real-time. With this trading app, you can build a personalized watchlist and place trades with a few taps. You can easily buy and sell stocks for free and stop paying for every transaction done.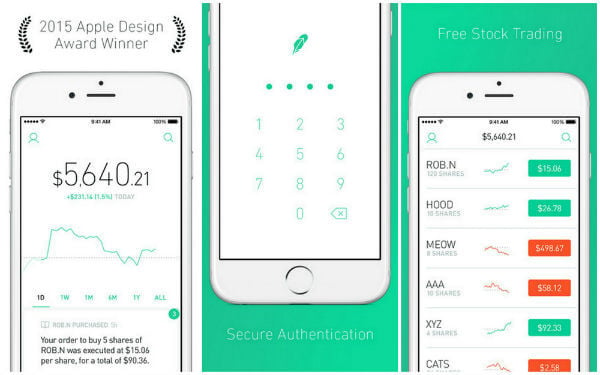 Access real-time market data and quotes on the go. Get proper security with Touch ID or custom PIN code authentication. Check your portfolio's overall performance through the app and manage them with detailed information.
Good for: Stock Trading | Portfolio Management | Download from iTunes
Stock Master
Stock marker is a good stock trading app for streamlining your stocks, futures and Forex positions in a way like never before. Stock Master allows keeping tabs of every level of the market, allowing a personalized user experience to be there. You can also do virtual trading with virtual money in a simulated environment through the app.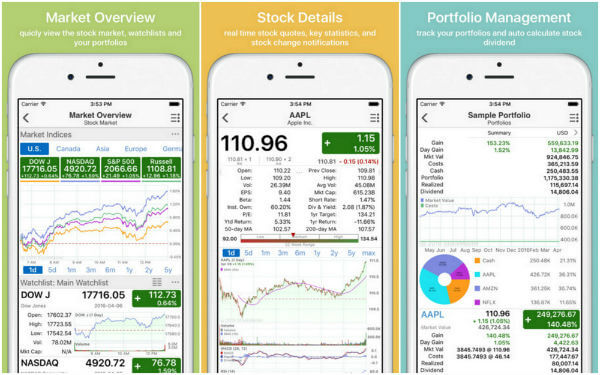 With this stock trading app, you can customize portfolio and gives you almost all the information that you will need to manage your investments. Create an alert that notifies the changes in stock price, daily volume, and other related items.
Good for: Stock Trading | Stock Status | Portfolio Management | Download from iTunes
Stocks Live
Stocks Live is a stock tracker app, that can track the stock that you add to your list and let you discover new winners. This app offers unique Heat map visualization, real-time quotes that auto-refresh every 20 seconds, buy/Sell signal that works, unlimited multi-currency portfolios, twitter integration, etc.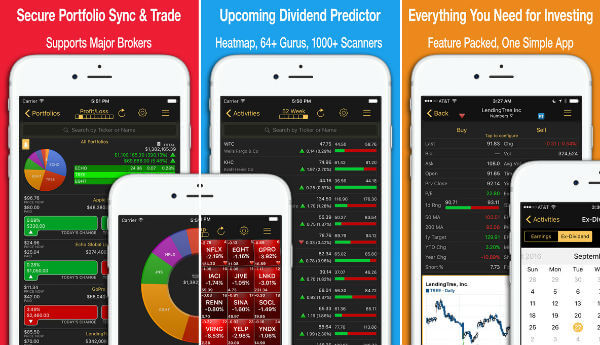 This iCloud enabled stock trader app lets you easily create watch lists with as many stocks as you want, scan and apply user-defined filters, sync and backup your portfolios and create watch lists on all your devices. You can also use this app to search for stocks, ETFs, mutual funds, indexes, world currencies, view the US stock market grouped by sector and industry.
Good for: Stock Market Sync | Trade | Game Winner | Download from iTunes
Stock Market HD
Stock Market HD is simple to use portfolio management app featuring timely stock market data from the sources that are highly reliable and giving the required information to the users. The app continuously updates the stocks and allows you to track the high-interest stocks easily. You can get all the information and stay on top of the market with readily accessible information.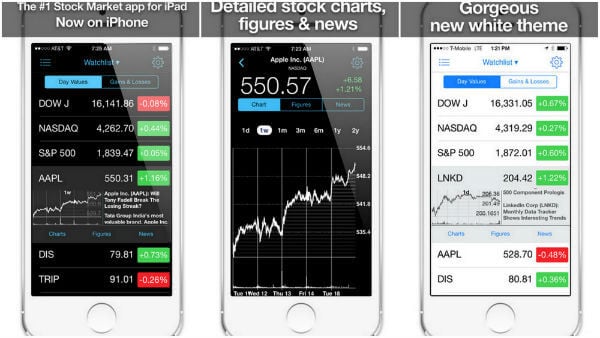 Track stocks and manage portfolios easily all in one place with Stock Market HD. The investor can easily get the results with an intuitive user interface, and it also allows you to digest the market data.
Good for: Stock Status | Portfolio Management | Download from iTunes
E-Trade Mobile
E-Trade comes with useful and easy to use tools for stock tracking, stock trading and monitoring the stocks. With the help of app, you can encounter the pleasure to place the trades and have a great time with their easy to access interface. It is the best stock app for frequent traders, on the go investors and mutual fund traders.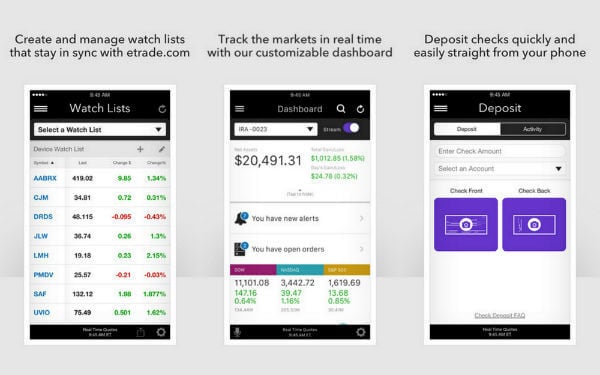 Although the costs and fees are among the highest, it offers everything that any investor of any level would require. The E-Trade mobile app has several trade capabilities of the online platform.
Good for: Stock Status | Stock Trading | Stock Track | Download from iTunes
Related: 10 Best iOS Apps for Relaxation and Stress Management.
StockTwits
StockTwits taps into the pulse of markets helping the user to know what the real investors and traders are saying about the stocks right now. On the home page, you have the stock watchlist, allowing you to add more stocks to the list for quick access.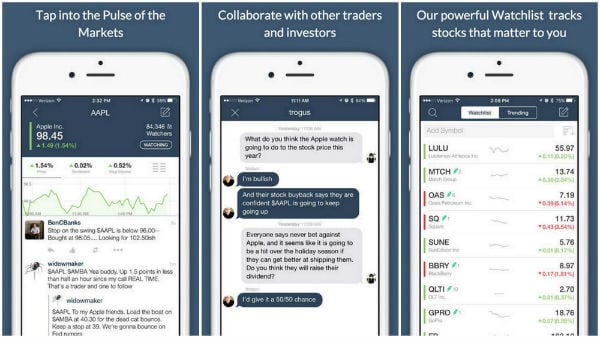 You can chat as well as collaborate with the investors and get to know what is trending. You can 'Mute' users for avoiding their messages or profile and getting another option than blocking.
Good for: Stock Status | Stock Chat | Download from iTunes
These Stock tracking apps have a lot of other advantages that make you the best trader in this market. Best stock apps are packed with a lot of features like stock real-time screening, portfolio analyzing, most updated stock indices display, currency bid, etc. With the help of this best stock app, you can get the news about the ongoing process and transactions of the stock market on the go anytime you want.
From checking on your investments to monitoring trends, to knowing the time to purchase the stock and when to stop for getting out, you can have all the info instantly on your iPhone screen with these stock trading apps. Access all of your portfolio details from one single screen with this iPhone trading app.
These trading apps are a fantastic tool for managing your finances and give you the daily dose of stock market news. These stock trading apps are an excellent tool for managing your portfolio, check Stock Status, Manage Trading & Portfolio and give you the daily update.
Each and every stock market app have their own unique feature, many offer free stock trading and portfolio management services, whereas some just tell you the status of your stock. You can choose the one from the best stock apps for your benefit.