The Fall Detection on Apple Watch saved many people around the world. Now. Apple is determined to alert authorities when an iPhone user faces a car crash. The Crash Detection feature helps to detect severe car crashes and automatically calls your emergency contacts and emergency services on your behalf.
Let's take a look at how you can use the car crash detection feature on your iPhone or Apple Watch.
How Crash Detection Works on iPhone and Apple Watch?
Whenever any type of severe car crash like front-impact, side-impact, rear-end collisions, and rollovers, are detected while you are driving, your iPhone or Apple Watch will sound an alarm and displays an alert message. If you are not able to see the screen, your iPhone will also read the alert message aloud for you.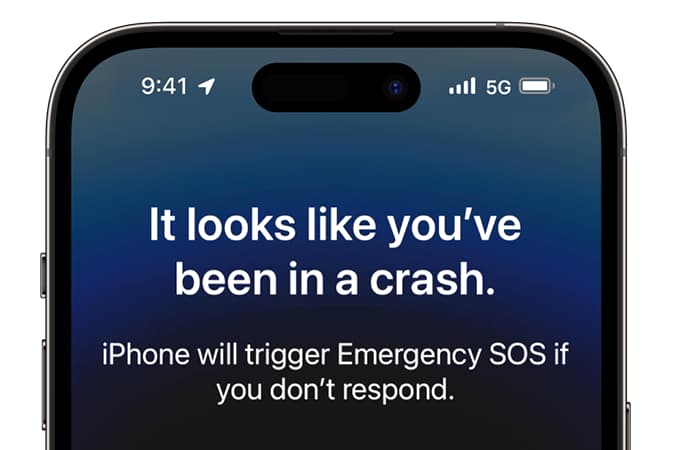 Then, you will see the Emergency Call slider on your iPhone. In case you are not in a position to respond, your device will automatically place a call to emergency service after a wait time of 20 seconds. You can dismiss the alert and cancel the call if you are in better condition.
If you also have an Apple Watch during the crash, then the Watch will chime and vibrates on your wrist. If you have both iPhone and Apple Watch, the Emergency Call slider will appear only on your watch. And, if your watch is connected to iPhone or cellular, then it can call emergency services.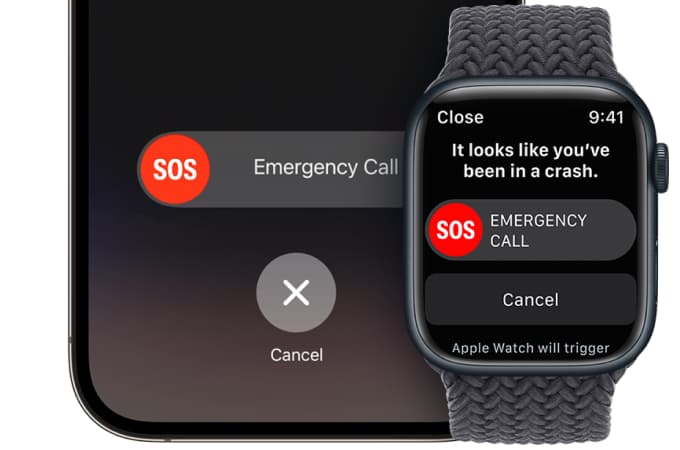 The emergency responder will hear a recorded message saying that your iPhone detected a car crash and you may need help. At the same time, the iPhone will also alert you about contacting emergency services. Anyone near you could also talk with the authorities after playing the recorded message.
Your device will send a message to your emergency contacts by sharing your location to let them know you've been in a severe car crash.
In case you have set up your Medical ID, then your device will display a Medical ID slider which will help the emergency responders to learn about your health information and provide support. According to Apple, crash detection will work on SUVs, sedans, minivans, pickup trucks, and other types of passenger cars.
Dynamic Island on iPhone 14 Pro- How It Works and Is It Worth the Hype?
Does Your iPhone Support Crash Detection?
Unfortunately, Crash detection is not available on iPhone 13 or earlier models. It is available on iPhone 14 and newer. To be precise, below is the list of the Apple devices that support car crash detection:
iPhone 14
iPhone 14 Plus
iPhone 14 Pro
iPhone 14 Pro Max
Apple Watch Series 8
Apple Watch Ultra
Apple Watch SE (2nd generation)
If you have any of the devices listed above with the latest iOS version (iOS 16+), you will be able to use the crash detection feature.
How to Turn on Crash Detection SOS Alerts on iPhone
The iPhone crash detection is enabled on all supported Apple devices by default. You need to check whether you have added emergency contacts so that your location will be shared with them in case of a crash. Let's see how you can check the crash emergency SOS on your iPhone.
Go to Settings > Privacy & Security > Location Services > System Services.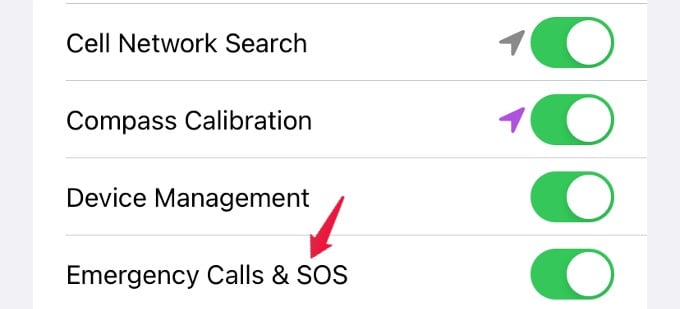 Then, make sure the field Emergency Calls & SOS is toggled to on.
Also, it will be helpful for the emergency responders to provide support if you have set up your Medical ID in the Health app on your device.
How to Use Apple Watch Fall Detection?
How to Turn Off Crash Detection on iPhone
Don't want your Apple device to call emergency services after a crash automatically? You can disable that calling feature by navigating to Settings > Emergency SOS. Under the section CRASH DETECTION, toggle the field Call After Severe Crash to off.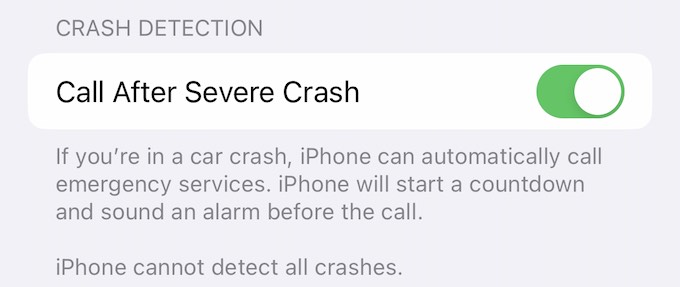 Likewise, to turn off the Apple Watch feature, open the Apple Watch app on your iPhone. Next, tap Emergency SOS in the My Watch tab and turn off Call After Severe Crash.
Car crash detection on iPhone and the new Apple Watch lets you stay safe while driving in remote areas where you might be afraid that no one would know if your car gets crashed. With the automatic emergency alerts and satellite SOS feature, your iPhone will be a lifesaver for you.