This article help you to secure your Facebook account if you suspect that somebody hacked your Facebook account and misusing the account with out your knowledge. This is also useful if you forgot to log off your face book that you opened from a public or office computer and you forgot to sign off.

This post shows you how to log off your Facebook account remotely from all the other devices and also help to set notification. Once you activate notifications, you will get email or text message based on your settings if anybody log in your Facebook account. A nice feature to keep watch on your Facebook login activity.
To get the security setting, please click on the setting button on right top of the Facebook page, after log in to your account. On the left side bar see the security setting under General.

Recognized Devices: On this setting, see the Active Sessions and Click on edit. Please note that Facebook will display the recognized devices and that is telling how many different devices or browsers yo used in the past to login to your Facebook account.
Active Sessions: Once you expand the Active Sessions by clicking on Edit, it will show a list of Facebook Access history and those sessions can be closed by clicking on End Activity. If you not recognize any of these sessions, please click on End Activity immediately. This list shows you approximate location of each session to easily find out any unauthorized activity from an unknown place.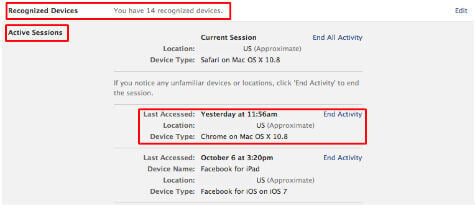 Login Notifications: Login notifications helps to add further security to your account. YOu can select either the text message or the email address as a notification for every log in activity from unknown device. This feature allows you to monitor the Facebook login activity in realtime.

If you really suspect some unusual activity on your Facebook account, please enable this setting. Once you confirm hacking activity with your account, immediately change password, security questions and  the recovery questions to protect your account.