Anyone using OnePlus 6 as a daily driver is accustomed to knowing the cons of this magnanimous smartphone. I have been using the OnePlus 6 for long time and I know it has its own set of glitches and bugs. It sometimes throws tantrums that could be temporary or it could disappear right away but at the end of the day, it is there.
Here, I have listed all the common issues and problems OnePlus 6 users complain about. Also, I have listed the possible fixes in case if you were looking for it.
OnePlus 6: Network Drop
There are many instances when I have seen the network bar either drop or go completely blank for SIM 2 slot. It could trigger if you are walking around in an area with less network coverage for SIM 2 for instance Vodafone. This seems to affect only the SIM card in the second slot. It could also occur if you are entering into the OnePlus Fnatic Mode whilst playing any intensive game. Here, the phone could dynamically cut off the cellular network from SIM 2 temporarily which is an issue rather than a way to optimize the resources required for the gameplay.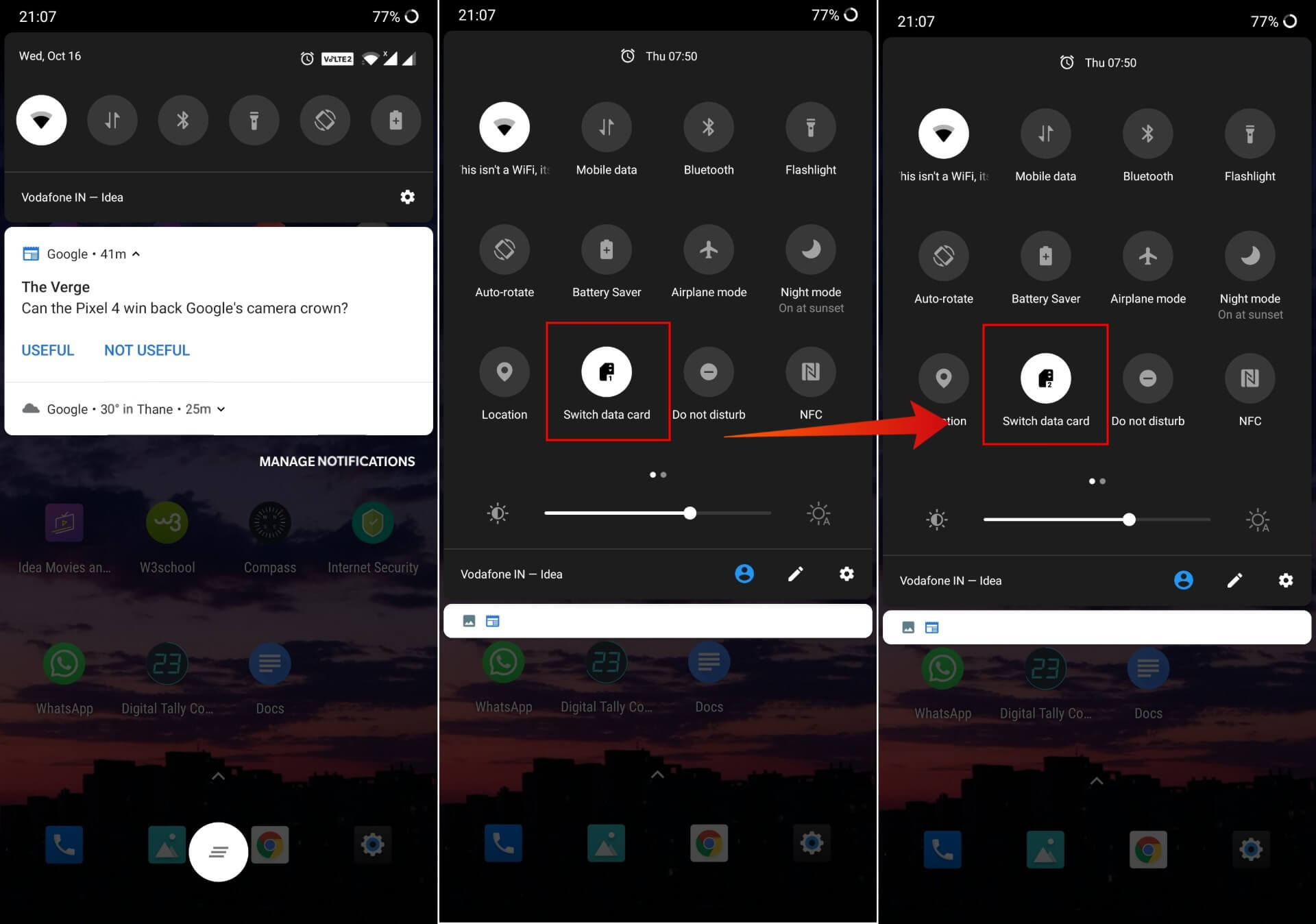 Drag down the Notification Panel on your OnePlus 6.
Scroll it again to get all the quick options.
Tap on "Switch Data Card" from "SIM 1" to "SIM 2" and repeat a few times.
This could get the network on 'SIM 2' to pop up again.
Also read: How to Use Zen Mode On OnePlus 7 Pro & OnePlus Devices
OnePlus 6: Call Drop Issue
Call drops are pretty self-explanatory. It occurs when you dial any digits or tap to call on any contacts, you'll see the call screen but the call will disconnect immediately. Note that the call hasn't been connected which means even if you try to call someone several times and call drop swings in, the recipient won't know. Although I suspected it to be a network issue. Turns out this issue is pretty common and doesn't limit itself to any specific network carrier or region.
Solution 1:
Drag down the Notification Panel on your device.
Tap on 'Airplane Mode' and engage it to disconnect cellular networks.
Wait for a few seconds before disengaging it and check if this method worked or not.
Solution 2: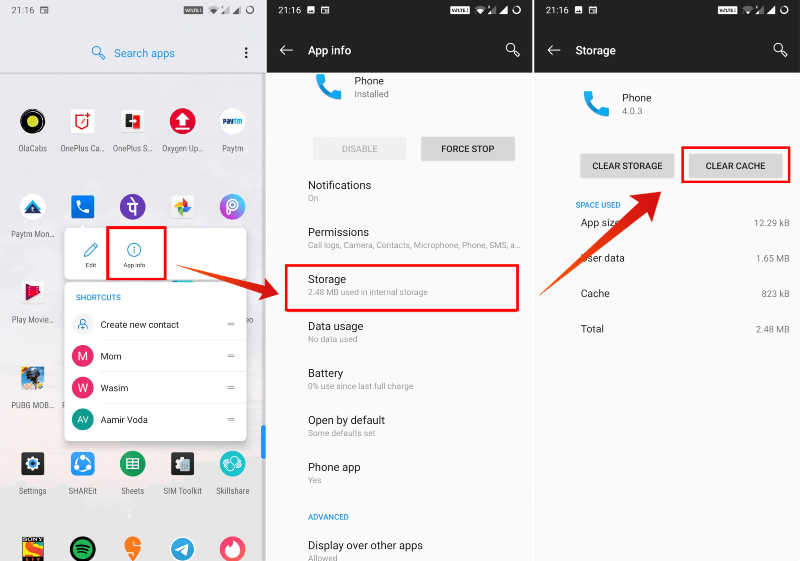 Launch the App Drawer (menu) on your phone.
Long press on the 'Phone' app and select 'App Info'.
Tap on Storage and press the 'Clear Cache' button to clear all cache files from the system.
OnePlus 6: No Data Connectivity Issue
As said, OnePlus 6 is my daily driver so I know the bugs and glitches in and out. It's a common issue whereby the network strength will be excellent and yet, you wouldn't be able to use mobile data. Sometimes the 3G/4G symbol won't appear on the status bar when data is enabled. At other times, the symbol might appear but will have a 'limited' sign as a suffix which signifies there's no internet access. This tends to occur many times over a large number of users which is why I have listed it here.
Solution 1:
To fix a broken or limited or 'no internet' issue even when the mobile data is enabled, toggling to Airplane Mode could help.
Pull down the Notification Panel and tap on the "Airplane/Flight Mode" icon to engage it.
Keep it ideal for a few seconds as it temporarily disconnects the device from cellular networks.
Disengage it after a minute or so and check if it has worked or not.
Solution 2:
In case there's no internet access or no symbol on the status bar, follow the said method.
First of all, go to Settings >> Wi-Fi & Internet >> SIM & network >> Preferred Network Type.
Select the first option i.e. "2G/3G/4G (Automatic)" that'll instruct the device to dynamically register on available bands.
Solution 3:
Go to Settings >> Wi-Fi & Internet >> SIM & network and deactivate either of the SIM cards that you were trying to access mobile data on. Note that deactivating default SIM won't work so you need to change the default SIM to use this method.
OnePlus 6: Wi-Fi Frequent Disruptions & Connectivity
Okay, don't misunderstand it for a OnePlus 6-only issue as it is universal. It could affect even the most high-end phone and yes, OnePlus 6 is not an exception. Wi-Fi connectivity is fairly stable on OnePlus 6 if you are in sight of the router/modem. However, once you start moving a bit far or say use your phone across walls or doors from the router, the signal strength is affected severely.
But turns out OnePlus 6 has a lot to do with Wi-Fi connectivity disruption issues. It tends to disconnect from any Wi-Fi network abruptly at times. This issue can affect any task that requires constant internet access such as online games or video streaming. There are a lot of workarounds and methods available on OxygenOS so here's what you can do to fix the issue.
Solution 1:
Since you are using OnePlus 6 with OxygenOS-based Android (v9.0 or 10), here's how you can find a workaround for the issue.
First of all, proceed to the Settings >> Wi-Fi & Internet >> Wi-Fi >> Wi-Fi Preferences.
Turn on 'Smart Wi-Fi Switcher' that switches between mobile data & Wi-Fi taking the signal strength into account.
'Turn on Wi-Fi automatically' feature will turn on the Wi-Fi once you are near any high-quality network.
Solution 2:
Since Wi-Fi issues are common on smartphones nowadays, a simple workaround can help fix these temporary network-related issues.
You need to turn off the phone and wait for a few seconds.
Meanwhile, turn off the router as well and wait for a few seconds.
Turn ON both the devices and check if the Wi-Fi issue is resolved or not.
OnePlus 6: Battery Draining Issue
OnePlus 6 comes with a rather smaller battery of 3,300 mAh with a Snapdragon 845 SoC with a 6.3-inch AMOLED display. This calls for higher power consumption since users usually have too many apps running in the foreground and background. This could be the reason why OnePlus 6T received the title of the best gaming phone of 2018. It shares every spec of OnePlus 6, except the notch, under the display FPS and a larger 3,700 mAh battery.
Solution 1:
You can check out which apps are consuming the most power. Here's a way to check it out.
First, launch the Settings apps on your device and tap on 'Battery'.
Tap on 'View Detailed Usage' that'll show the power that apps consume.
This will give you an insight into which apps consume the most power and then you can decide to force stop or even uninstall them if needed.
OnePlus 6: Apps Freezes & Shuts Down Abruptly
Some if not all apps on OnePlus 6 tend to shut down almost abruptly. Google Chrome is one of the many apps that freeze temporarily or shut down abruptly which means all the work done is gone. I have seen a similar issue on PUBG Mobile many times where the game is loading and suddenly, it freezes the mid-loading screen. This is where a quick force stop comes handy.
Solution 1: Clear apps from time-to-time
I would recommend OnePlus 6 or practically any smartphone users is to simply get rid of apps once you are done with it. No, I am not asking you to uninstall the apps but to simply exit from the apps and squash it from recent apps as well. This should clear RAM and other resources that these apps consume even if they are in the background. This method when executed spikes the performance and hopefully should get you out of apps shutting down or freezing abruptly.
Solution 2: Clear cache or wipe cache partition
To summarize in layman terms, cache files are temporary storage files that store data of apps or websites you visit. This speeds up the retrieval process since the phone already has some data (as cache) to load to the main screen of the app without any overheads.
To clear cache files on OnePlus 6, you need to go to Settings >> Storage.
Here, all the apps are put into categories such as Games, Other Apps, Parallel Apps, etc.
You need to tap on any category, select the app, and hit the 'Clear Cache' button.
Repeat the process for all the apps you want to get rid of cache files from and hopefully, the device will start working just fine.
OnePlus 6 was released in April 2018 and became a smash hit. It undercuts its competition integrating a high-end Snapdragon 845 octa-core processor. It is a marvel of high-end specifications amalgamated with efficient software that makes it a lucrative device. OnePlus has upgraded its lineup a lot till now and yet, OnePlus 6 is a powerful contender. However, you end up with some issues on OnePlus 6. Until you get the right patch, you can try the above solutions to solve the OnePlus 6 issues.