This article is describing an easy workout using Google Sheet to create QR Code to share contact lists. You can use this contact list template by updating First Name, Last Name, Cell Phone and Email ID. The end user can scan the QR Code associated from the next column to scan and add the contact to their phone contact.
This is an easy solution if you want to create and share a couple of contact details within a group. This is very useful while you share your classmates' contact details or teams contact list within your entire team.
How to use Contact List QR Code Template?
We created this template that can be used to generate your contact list. Simply click on the link Google Template Gallery and download templates and modify with required contact details. The QR Code will automatically update when you change the values in the field for First Name, Last name, Cell Phone and Email. Once you update the template with desired data, you can distribute these QR Code printouts to your friends or family and let them scan the QR Code to add contacts.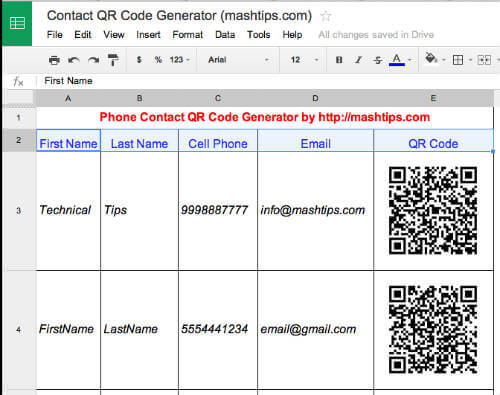 Please see the sample in the above screenshot. You can download the template file from Google Template Gallery and change the data as per your choice. In each row, there is a sample of A4 (FirstName), B4(LastName), C4(5554441234), D4([email protected]).
How to create your own QR Code for Contact List?
Please replace these values in the cells, and you will see the QR Code is updating automatically. For more data, you can duplicate any rows and replace with your data. For your info, here is the QR Cell code to get the QR image based on these four cell values.
=image("https://chart.googleapis.com/chart?chs=150x150&cht=qr&chl=BEGIN:VCARD%0AN:" & A3 & "%20" & B3 & "%0ATEL;CELL:" & C3 & "%0AEMAIL:" & D3 & "%0AEND:VCARD")
How to Scan QR Code to Add Contacts into Phone?
You can use any QR Code scanner app to scan the QR Code with your smartphone. Android and iPhone camera support QR code scanning with latest OS. If you don't have any QR Scanner in your phone, we listed a couple of QR Code Scanner Apps for your iPhone and Android phones.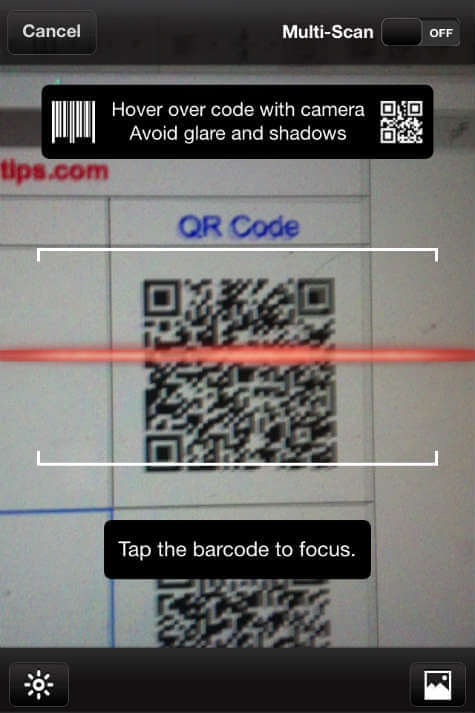 To test the QR Code, we attached a screenshot that scanned the QR Code from the Google Spread Sheet with iPhone. Depends on the app you use on iPhone, it may ask your permission to access your contact list to add a contact on the phone.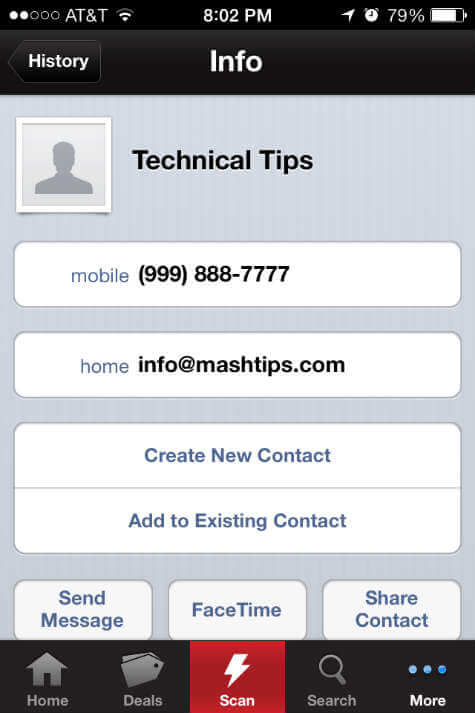 Once you tap yes to access your contact list, the QR Code Scanner will scan the QR Code and open with your Contact App on iPhone or Android. Please tap on 'Create New Contact' to add this contact into your phone list.
If you are interested in adding QR Code for the URL (website) address or with some other data, please see the article for creating QR Codes.
This Contact list QR code template will come handy when you want to share a bunch of contacts in a group. The group only need to scan this code and add to their list. This will save a lot of time and effort. You can create your business card with this code to help others to add your contact details to their phone by a simple scan.