A QR Code is a two-dimensional code readable by QR Scanners, Smart Phones, and Webcams with QR Scanner App or Software. These QR Scanner apps can use the QR Code with iPhone or Android Phone. This QR Barcode scanner app can use for transferring your Website URL to your smartphone, representing YouTube Videos, Google Map Locations, Compare Product Prices, and SMS Message. If you want to create your own QR code, please see the article for iPhone and Android to create QR codes.
We listed a couple of QR Code Scanner apps that can work for your Android and iPhone, and these free QR apps packed with good features.
QR Code Reader and Scanner (ShopSavvy)
You can use this QR Scanner app to scan any two-dimensional barcode with your iPhone. You have to point your iPhone to the QR code and it will start to scan the code automatically. QR Codes to create Contact Information (adds to address book), Calendar Event (add to iCal), Email Address (send email), Geo Location (send location), Phone Number (call), SMS (send SMS), URL (visit URL).
Download from: iTunes | PlayStore
Also Read: QR Code Scanner: Enable and Use QR Scanner in iPhone & iPad?
Scan – QR Code, Barcode Reader
Scan is the fastest, simplest and most user-friendly QR Code and barcode scanner app. The QR Scan app is completely free. There are no locked features, "lite" version restrictions, etc. It's just a simple QR Code and barcode scanner work with iPhone and Android. Open the app, point the camera at the code and you're done! No need to take a photo or press a "scan" button like other apps.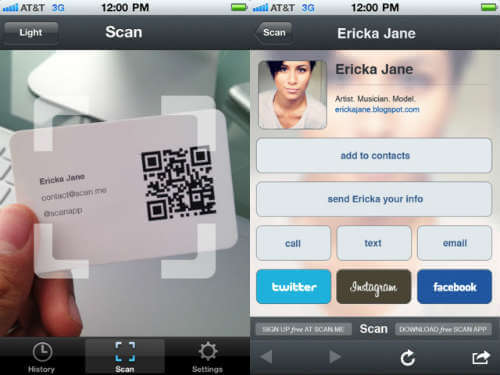 When you scan a QR Code, if the code contains a website URL, you'll automatically be taken to the site. If the code just contains text, you'll immediately see it. For other formats (such as phone numbers, email addresses, or contact info), you will be prompted to take the appropriate action.
Download from: iTunes | PlayStore
Also Read: 10 Best iPhone App to Compare Prices with Barcode
QuickMark Barcode Scanner
QuickMark is the barcode iPhone and Android scanner app that allows auto-scanning of multiple barcode formats from your phone. (Quick Code, QR Code, Data Matrix, EAN 8/13, Code39, Code128, Interleaved 2of5). You can use the barcodes to access web links, add contacts, navigate maps, and much more. Works with QuickMark's Chrome browser extension. Lite version is also available with slightly fewer Permission requirements (which results in fewer functions).
Download from iTunes | PlayStore
Also Read: 7 Best Websites to Create QR Codes.
QR Code Reader
One of the best apps to scan any QR code as well as the barcode, the QR code reader comes with support for more than 15 types of codes. Get QR detailed data cards as well as scan folders to stay organized all the time in the app. The QR code scanner for iPhone app comes with a scan history feature allowing you to recall easily all your past scans. The iPhone QR code reader will automatically redirect you to a website if the code is embedded with a website URL. Automatically recognizing any code, the app will prompt the appropriate action if there is a contact, email address or etc in it.
Perform a batch scan and export the data to CSV format to view it on your desktop or laptop. Customize the color of each created QR code and breakdown your scans into diverse categories for an easy approach.  With this iPhone QR Code app, you can scan in low light without any issue by turning on the flashlight of the device while using the back camera. Scan the popular barcode types whether it is UPC, EAN or ISBN easily.
Download from Play Store | App Store
QR Code Reader for iPhone!
Scanning all standard 1D and 2D code types, the QR Code Reader for iPhone! is an all-in-one scanner. Simple and efficient in use, the QR code reader app allows the user to get the details of the code-embedded product on Google, Amazon or other sites as well. There is no need to have an internet connection for scanning the QR codes and using the details within.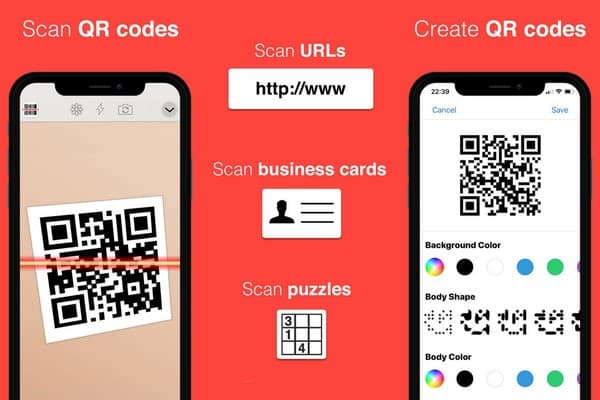 The scans are rapid and it comes with a scan history to save all your previous scans. You can also zoom in and out to scan the QR code with iPhone. With the flashlight support, the user can scan the codes in low light without any issue.
Download from Play Store | App Store
QR Barcode Scanner (Android App)
QR Barcode Scanner is very fast and easy to use the app for Android. You can DECODE text, URLs, ISBN, email, contacts information, calendar events and much more with a single click using your smartphone camera, image files, online codes.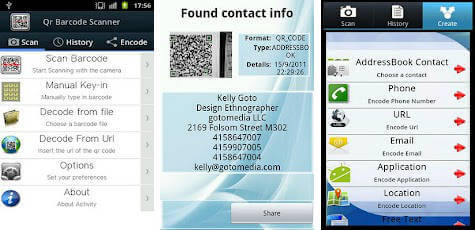 After decoding you will be redirected to webpage links, books review, multimedia and calendar online information. For Android users, this is one of the best Android QR code scanner.
Download from: PlayStore
QR Code Reader
This Android QR Code Reader is simple and easy to access the app. The QR code reader app for Android comes with WiFi QR code. This Android QR Code App allows your device to auto-connect with the Wi-Fi hotspot in no time.
Supporting a large variety of QR codes as well as the barcode, it allows the user to take into the advantage of the app's simplicity at any moment. You can easily copy the website URL if there is one in the code and paste it in the browser for accessing the website.
Download from Play Store
Quick Scan – QR Code Reader
Helping with your entire QR code and barcode scan, Quick Scan – QR Code Reader is a fast QR code scanner iPhone. It auto decodes the QR codes whether they come with contact details, a plain text as well as website URL, etc. Perform your particular action related to the QR code without leaving the app easily.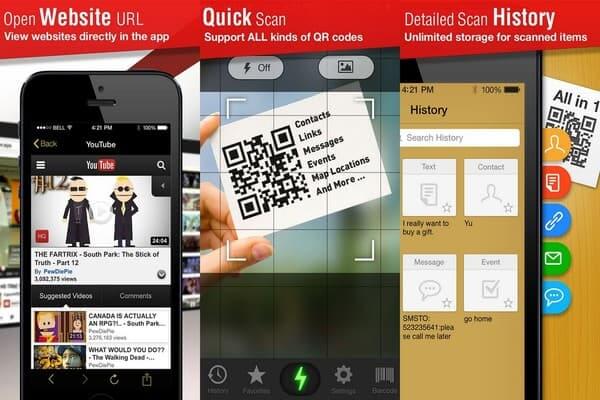 The QR code scanner allows you to scan the barcodes & QR codes from the photos present in your Photo Roll or Gallery. Add contact through sharing and perform SMS as well as Email sending through it. Save useful as well as most used QR codes for future reference in order to access them easily.
Download from App Store
Lightning QRcode Scanner
Lightning QRcode Scanner is the ultimate QR code scanner app for any Android device. It is widely accessible for decoding certain QR codes and bar code types ranging from ISBN, EAN, UPC, and others. Select the perfect robust decoding rate and access the zoom feature to decode small or far away codes. The QR code reader app is simple for everyone and speeds up the scanning process by scanning in an instance.
Designed for Android smartphone and tablet, the app is free and simplifies most of the actions searching product info or browsing the internet. The footprint of the app is quite small making it an appropriate choice for most of the Android users.
Download from Play Store
QR Code Reader by Scan
Make most of your iOS device's built-in camera over just for photos with QR Code Reader by Scan. Recognizing all the popular barcodes, it easily shows you the details embedded in the code. You can easily make the app scan the codes in pitch-black lighting by toggling on your device's flashlight easily.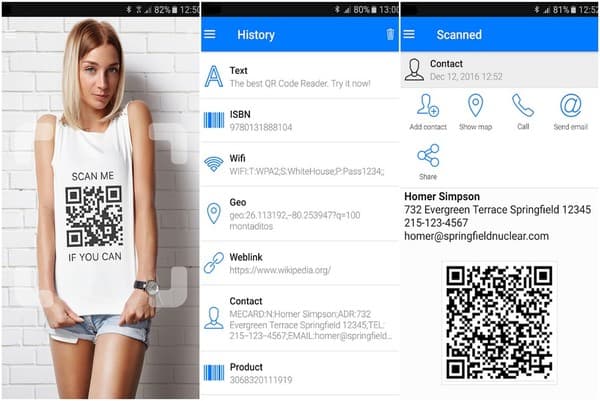 Scan the pictures of QR codes and barcodes present in your iPhone camera roll without any trouble. Take appropriate action for the content present in the code after scanning it through the app. It might not work on old devices because of resolution and focus issues that disrupt the scanning process.
Download from App Store
Free QR Scanner Bar Code Scanner
It is a super-fast yet free QR reader app for Android devices that is simple in its usage. Scan all standard any 1D and 2D code type from the app without any issue. Perform an instant scan of any QR code and there is no need for an internet connection to scan the QR code or barcode.
There is a scan history present in the app that can be renamed and allows you to see your previous scans. Coming with flashlight support, the app allows you to scan any QR code or barcode regardless of lighting conditions without any trouble.
Download from Play Store
QR Reader for iPhone
Access the most simple and easy QR reader on your iOS device with QR Reader for iPhone. Scan the QR codes, barcodes as well as puzzles along with business cards and documents with the app. With the app, you can easily send barcodes to any server or API without any issue just scanning it.
Browse any product and coupons stored in the QR code by scanning it. The app automatically detects the QR code, you need to just to point and hold over the code. Approve the websites before visiting them on scanning the code having the website embedded in it. Export your scans to CSV for viewing them in a ddescriptivemanner over your system.
Download from Play Store | App Store
QR Code Reader
One of the best QR code and Barcode scanner for Android, QR code reader is extremely easy to use. Coming with beautiful minimalist material design, the app scans the codes instantly and giving you instant results for further usage. Reading all types of 1D and 2D barcode, the app does not require an internet connection for functioning as well as for scanning.
Scan any type of QR code and barcode instantly with the app and use the flashlight for scanning in places with low visibility. Access the scan history in order to use the relevant scanned code from the past in present.
Download from Play Store | App Store
QR Code Reader Pro
QR Code Reader Pro serves as a powerful and feature-packed QR code reader. Coming with the support for almost every popular barcode format, the app is accessible for every person. You can easily save money by scanning the coupon codes to receive discounts and pay less.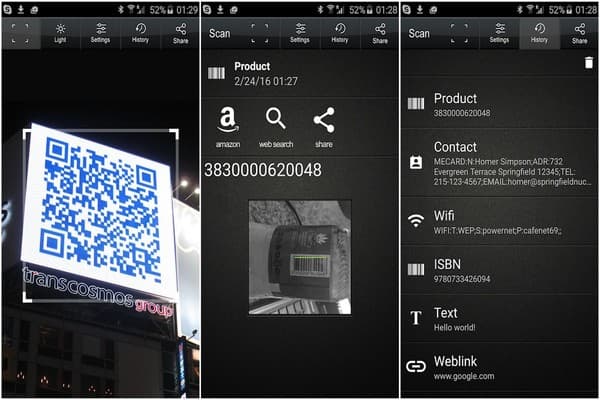 Zoom in and out in the app for scanning the QR code or barcode present at a distance. You can also share the QR code and barcode with your contacts through diverse social media platforms. It is an ad-free version of the QR code reader.
Download from Play Store | App Store
Free QR Code Scanner Apps for iPhone & Android
Please refer to this post if you want to create your own QR Codes for your business contact lists. Here is the list of QR code generators. These QR code apps listed here are applicable for both Android and iPhone users to read QR codes with your smartphone.
These QR code scanner apps are free to use and can be used to scan product code, compare product prices and even for reading them and saving contacts into your phone.