There are a bunch of iPhone Apps to Compare Prices with barcode or QR code which help you to find the place where lowest price available online. When you shop next time, you can simply open the app, point the iPhone camera at the bar code, the app will detect the product and display the list of your product from different stores, with price and reviews. You can pick the best shop from the list and even you can order online through the app. You can use these apps to find the best price, search for deals and thereby you can save money.
Here is the list of best iPhone app to compare prices with a barcode that help you to find out the best deals for the product that you are looking for.
Amazon Price Check
With Price Check by Amazon, you can use your iPhone to compare prices instantly with Amazon.com and its merchants while on-the-go.
Price Check enables you to search for Amazon products quickly using barcode, picture, voice, and text search, and access product descriptions and customer reviews to guide you in making informed purchase decisions.
Download from iTunes
Also Read: QR Code Scanner: Enable and Use QR Scanner in iPhone & iPad?
pic2Shop
pic2shop find out where the product is cheaper and help you to save money. Each scan creates a webpage that you can share and access from any computer.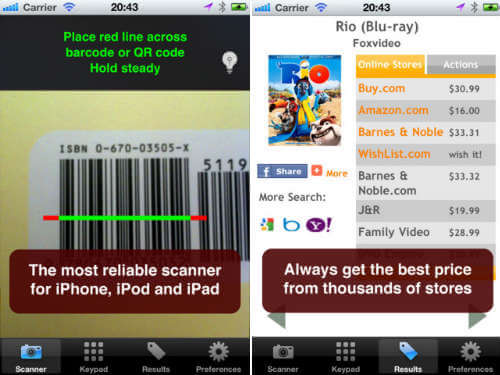 pic2Shop price check app supports iPhone, iPod, and iPad. With this price check app, you can compare the price at the online stores like Amazon, eBay, Target, Walmart, etc.
Download from iTunes
RedLaser
RedLaser is known as the best price check app that can search millions of products across thousands of online and local retailers to find the best prices. This compare price app finds deals and coupons from hundreds of stores for you to get the best deal. By using RedLaser, you can scan and store your loyalty cards and even share cards with family and friends.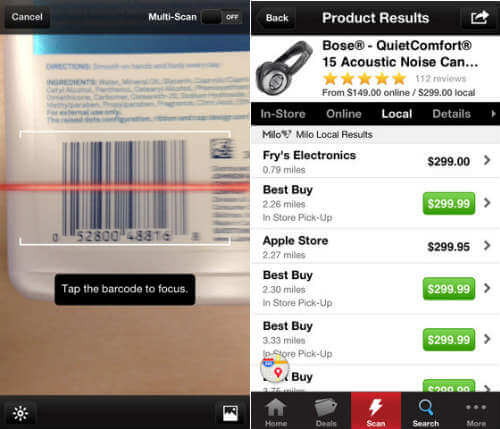 This app scan all major retail barcodes including UPC and QR codes. RedLaser searches hundreds of local retailers to compare prices, find the nearest location, and even check out books at the library. You can buy on the go, right from your phone. You will get product descriptions, reviews, and nutritional information to help you make the right decision. RedLaser finds top deals and coupons from many merchants.
Download from iTunes
Also Read: 7 Best Free QR Code Scanner Apps for iPhone and Android
bakodo
Bakodo is the barcode scanner for books, movies, games, groceries and practically any retail product. You can use the search feature on to search our massive and growing product database of this app. You can post the product scanned directly to your Facebook wall and get comments from your friends while you are out shopping. Scan QR Codes (Square Barcodes) and use the information in them right from Bakodo Scanner.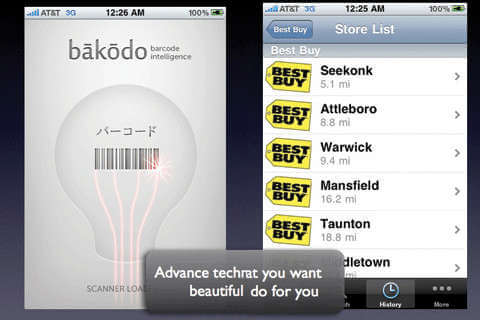 This barcode Scan app supports UPC A (groceries), UPC E, EAN 13 (books, DVDs, etc) and also capable of searching using keywords, ISBN number or barcode number. You can see product detail pages and buy directly in Bakodo Scanner and allows you to search for prices in US Dollars, Euros or Pounds Sterling.
Download from iTunes
RL Classic
RL Classic scans barcode even without autofocus and searches for low online and local prices from hundreds of thousands of retailers. This price check iPhone App features product results from Google, TheFind, SDC, eBay, Milo.com, Half.com etc. RL Classic scans UPC, EAN, UPC-E and EAN-8 barcodes.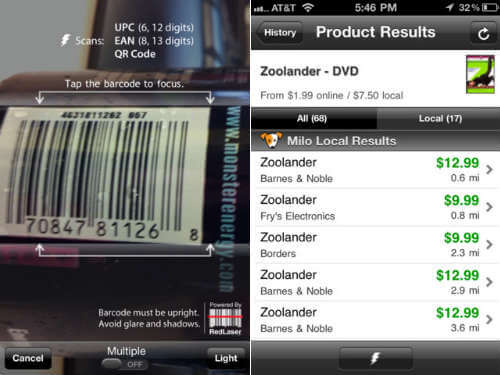 The QR code scanning including URLs, contact info, calendar events, emails and more. This app supports keyword search and voice search functionality to find the best deal when you don't have a barcode handy and search locates books in nearby libraries.
Download from iTunes
Related: 7 Best Websites to Create QR Codes.
Quick Scan
Quick Scan is one of the best shopping price comparison app. The Quick Scan app can scan all types of commercial barcodes: UPC, EAN, ISBN etc, search prices and product details from almost every major retailer and display low online prices and product details from 1000+ retailers like Amazon, Wal-Mart, eBay, BestBuy, Buy.com, etc.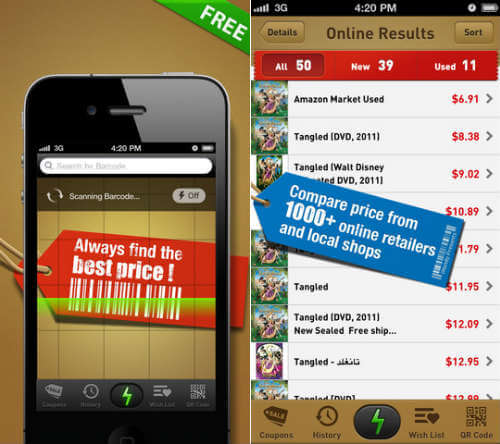 You can save your favorite products for later purchase, buy online right in the app or email links to share the product with your friends.
Download from iTunes
ShopSavvy
ShopSavvy is a free product scanner app helps you to scan a product barcode and pull up prices from the competing retail shops. This Price Comparison App comes with the fastest, most accurate and most comprehensive scanner, and the users can make sure they're getting the best prices with ShopSavvy.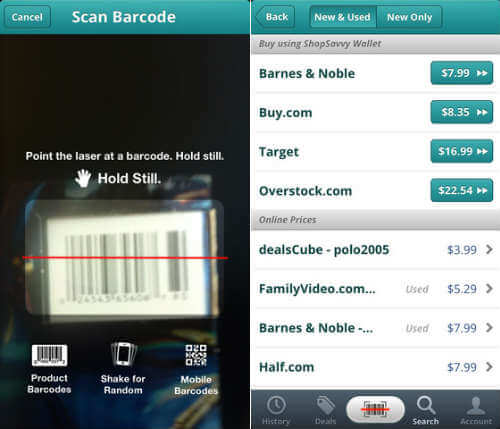 This app supports all UPC, EAN and QR formats with multiple orientations. ShopSavvy allows you to search by keywords, If you don't have a barcode. If you find a deal, this app helps you to directly buy from the merchant e-commerce site or you can save it to buy online later. You can view shipping promos, coupon codes, rebates, weekend sales and local Groupon offers of the day through these apps.
Download from iTunes
Scan
The Scan App is the QR reader and barcode scanner which reads regular barcodes like UPC, EAN, and ISBN and gathers information about the products you scan, allowing you to research and find places to purchase the products you love.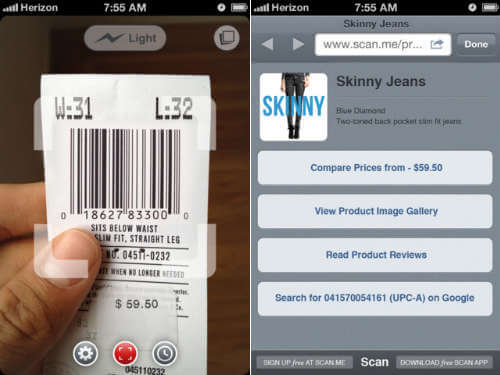 When scanning a QR code, if the code contains a website URL, you'll automatically be taken to the site. If the code just contains text, you'll immediately see it. For other formats (such as phone numbers, email addresses, or contact info), you will be prompted to take the appropriate action.

Scan app keeps history logs including date and time of all past scans and also automatically sync scan history across the web, iPod, iPhone, or iPad.
Download from iTunes
Shopping by The Find
Shopping by the find is another barcode scan application with a simple and easy-to-use interface. This grocery shopping app capable of identifying coupon codes and shipping deals available for each item and also detects your location and finds stores nearest you.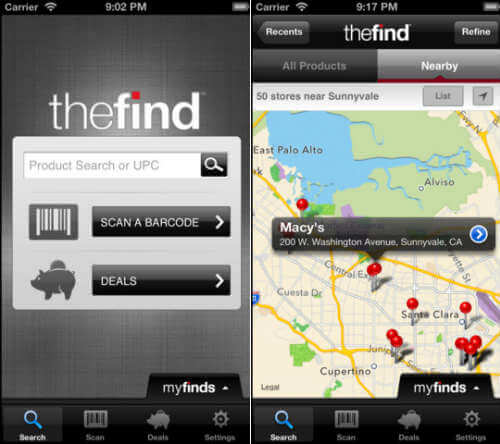 You can share searched and scanned items with friends and set a price alert for scanned items. This app will list you the lowest price from all over the web and also show, whether or not it's available at a local store.
Download from iTunes
Scanlife
ScanLife is a QR and barcode reader which enhanced with Facebook to make it easy to share what you find and see what ScanLife users recommend as you're scanning. This app supports 2D barcode-like QR Code, Datamatrix, EZcode that you find on print ads, packaging, or business cards to launch websites, videos, deals, or contact information.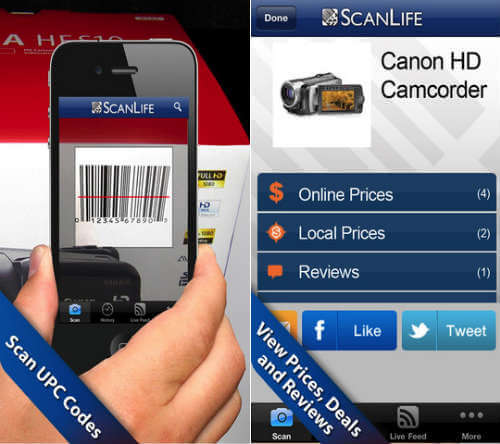 This app also scans regular UPC/EAN barcodes from all products, like DVDs, books, and food to see a variety of information. It lists the prices from over 30 different online retailers including Amazon, Home Depot, Macy's, Best Buy, and more. This app helps you to save all QR Code & UPC scans in the History, even if you are not connected to the Internet, so you can scan without a data connection and access the content later.
Download from iTunes
You can enjoy shopping with grocery price compare apps that can bring you the best grocery price by scanning the barcode. When you go for grocery shopping, make sure you have the iPhone app to compare prices with a barcode that can save money for you. The best price comparison apps are capable of scanning the product barcode and compare with other available shop prices online and bring you the best price for the product. The above list of best iPhone app to compare prices with barcode scan while you shopping. This price check apps are a must on your iPhone to make sure you are getting the best price of the product that you are looking for and save some money.