When picking up a good social media app that lets you stay updated and provides you with the latest news, Twitter comes to mind. However, looking at how many changes have been taking place with Twitter across different elements, many people are looking out for alternatives to Twitter. Many Twitter users are looking for a platform similar to Twitter but, at the same time, make it easier for their followers and fans to use the platform.
Today, we will be looking at the best Twitter alternatives that you can sign up for and interact with your community for free.
Mastodon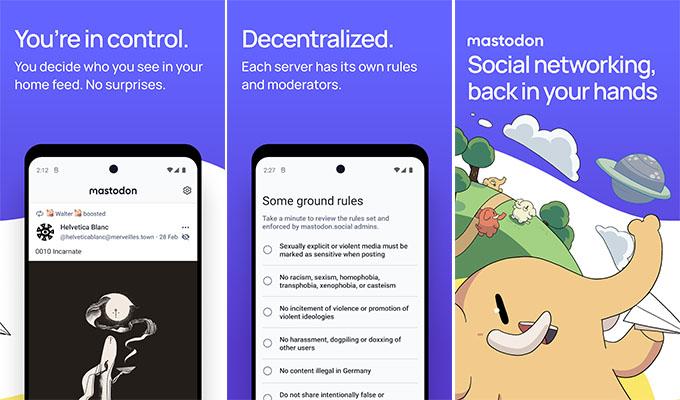 Mastodon is a popular Twitter alternative that seems to be rapidly growing as well as getting a large number of users. Mastodon is a self-hosted social platform that is part of the decentralized network. When creating an account on mastodon, you will be asked to join a particular server of your choice. Once you are a part of the server, you can then easily search for your favorite accounts and follow them right away on Mastodon. Mastodon lets you choose what you would like to see on your home feed.
Mastodon lets you easily add images, texts, videos, and even custom emojis to your posts. You can choose to customize how you want your Mastadon profile to look thanks to the various customization options. The platform also lets you easily edit your posts as well as let you see the edit history of the post. Mastodon has now added verified links to various prominent profiles.
Pros:
Supports 500 Character Posts
Easily Hide Posts With Content Warnings
Share Posts Easily TO and From Mastadon
Cons:
Can't follow Hashtags
Post Translation Only On Web Version
Apps Currently Have Lots Of Bugs
Key Features: Open Source | Free To Use | Supports Dark and Light Mode | Add Polls| Explore New Hashtags
Download Mastodon: Android | iPhone
Hive Social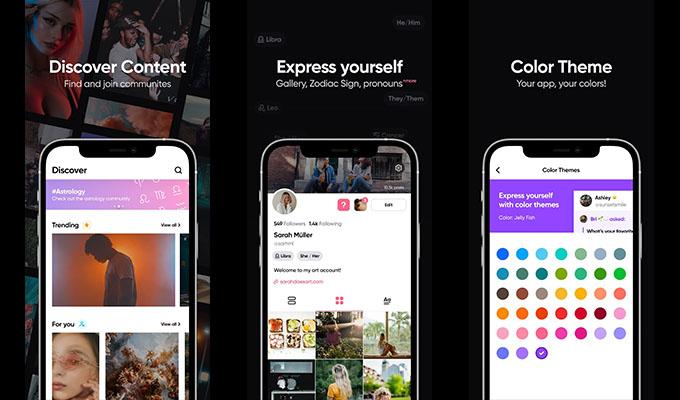 Hive Social is another Twitter alternative that is second to Mastadon. Hive Social can be described as a platform that has a mix of Twitter and Instagram integrated into a single platform. Hive Social promises that it will show you posts on your 0feed in chronological order meaning that you will always be seeing the latest posts at all times.
Hive also states that it will not be shadow banning any account or have any priority to show or display posts for a particular user on Hive. You can choose to upload GIFs, images, and polls right away. The main home screen of Hive Social lets you see posts from accounts you follow and see what posts are trending.
Hive Social lets you add music to your profile. You also get to choose the colors that will be applied throughout the app. When it comes to your profile page, Hive Social allows you to display your pronouns as well as your zodiac sign right away. Hive Social has a dedicated section called Asks, where you can send and answer questions from and to your followers. There's even a dedicated messages screen for you to send messages to your friends.
Pros:
No Promoted Posts Displayed
Home Feed Arranged With Posts In Chronological Order
Easily Ask and Answer Questions via Ask Screen.
Cons:
Android App Loads Slowly
Too Many Unfixed Issues and Bugs
Key Features: Add Polls | Profile Customization | Add Profile Music | Dark and Light Modes |Multiple Moderator Tools Available | Change Profile and Banner Resolutions | Highlight and Select Posts and Comments
Download Hive Social: Android | iPhone
How to Tweet 4K Images on Twitter from Your Phone
Tumblr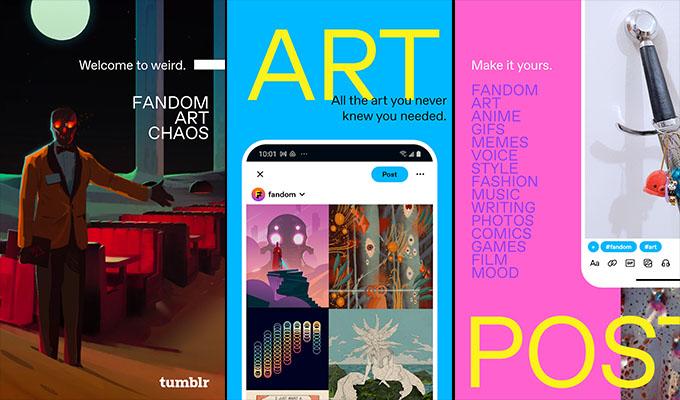 Tumblr is a very popular social media platform that has been around for quite some time. You can easily share posts and images on the platform. Tumblr allows its users to easily customize their profiles however they like. There are plenty of themes you can choose to apply to your profile. Anyone can create an account on Tumblr. You can use Tumblr to share written posts or simply images with several hashtags added to the post.
Tumblr has been the source for a lot of memes and viral posts that later get shared and reposted to other platforms like Twitter, Reddit, Facebook, and even Instagram. Users can also share and create their blogs that can be read by anyone. Or you can choose to keep your account locked and private.
Pros:
Good For Sharing Fun Moments
Easily Get Access To The Latest Blogs and Memes.
Cons:
Not Ideal For Viewing News and Latest Happenings
Can Be Difficult For a Few Users
Key Features: Free To Use | Profile Customization | Supports Images and Video Uploads | Easily Choose Between Public or Private Profile | Quickly Reblog Posts | Comment On Posts | Follow Popular Tumblr Accounts
DownloadTumblr : Android | iPhone
12 Best Tumblr Alternatives for Bloggers and Creatives
Reddit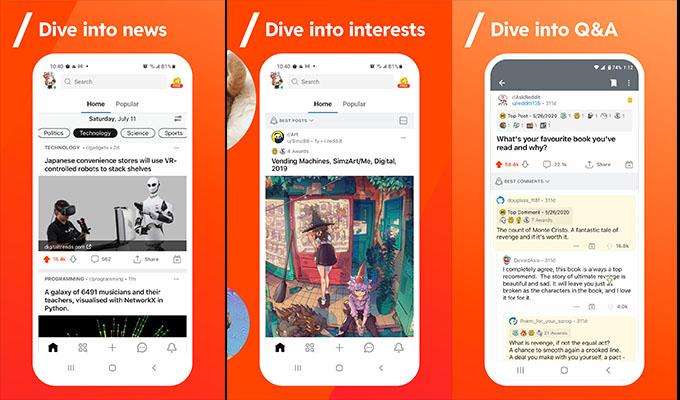 Reddit is one of the most popular online communities out there. You can discuss and get information about the latest about any topic. No matter what part of the world you are from, you are bound to get information and guides from other Reddit users. There are millions of communities or sub-Reddit that you can easily join. Reddit prioritizes privacy, and you can easily create an account anonymously without having to provide any of your real identification information.
Reddit also lets you post images, videos, texts, and even polls. Posts on Reddit can be commented on as well as upvoted or downvoted as per your choice. You can also add a flair to your account that will be different from every community that you join. Creating an account is simple and super easy a lot of users create throwaway accounts so that no one can identify who is posting or commenting what on Reddit.
Pros:
The Fastest platform To Get Updates
Privacy Focused
Cons:
Not Ideal For Sharing Personal Posts Like Other Platforms
Can Be Difficult To Moderate
Key Features: Millions Of Sub-Reddits | Get Insider Info, Leaks, and Latest news | Post Anonymously | Easy Account Creation | Browse Through Reddit Without An Account | Supports Dark and Light Mode
Download Reddit: Android | iPhone
10 Best Reddit Apps for Android Users in 2021
Discord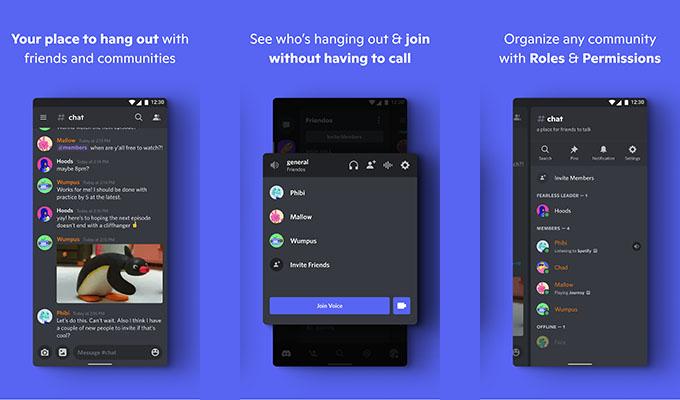 Discord is usually associated with a platform designed for gamers. Things have changed, and now everyone uses Discord for any purpose. Discord allows you to create private servers and also join public servers based on numerous communities from around the globe. Discord allows you to be anonymous by letting you add your user name as well as adjust privacy settings. Discord allows you to send texts, images, audio, and video to the server.
Discord lets you have audio and video calls within the app. You can also screen share and go live with your PC's screen to your friends within a server. There are also a lot of bots that can be added to your server to help with managing different elements of the server. Discord is used a lot by many developers to provide updates as well as take feedback from the users of a particular program, app, or game.
Pros:
Good For Community Discussions
Easy Access Via Web or Apps for PC and Mobile
Cons:
Not Recommended For Lastest News And Happenings
Key Features: Quick Messaging Platform | Multiple Communities To Join | Voice and Video Calls | Create Private Servers | Send and Receive Animated Stickers | React To Messages With Emojis
Download Discord: Android | iPhone
9 Best Discord Music Bots to Stream Songs on Your Discord Server
Clubhouse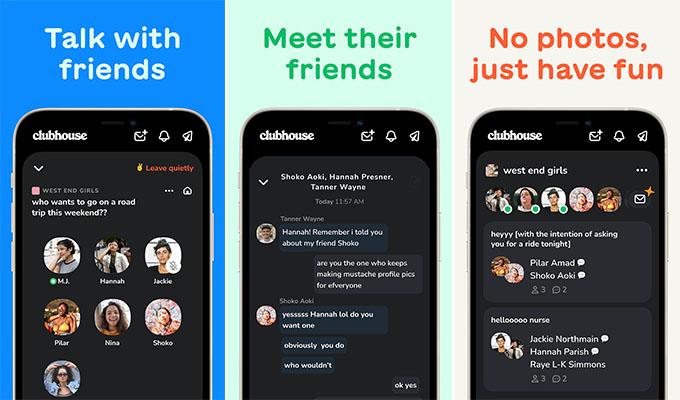 Clubhouse is a social platform that allows you to interact with people from different communities through voice. The platform has no news feed or posts that you upload or react to. You can easily add and follow friends and other users on Clubhouse. You can have real-time discussions with people around the globe on a particular topic. These topics and meetings are usually created by people who have a good idea or are directly associated with a particular topic in the community.
Clubhouse is a great way to stay updated on the latest happening around the world. However, -it is up to the user to determine whether the right information is being shared with the audience inside a club. Alternatively, you can create your own clubs and simply talk and interact with your friends. These clubs can be either open to everyone in public or just your followers or people whom you follow.
Pros:
Meet New People Who Share the Same Interests
Meet and Interact With Famous Personalities
Cons:
No Images or Video Uploads
Users Can Misuse The Voice Chat
Key Features: Audio-based Social Network | Join Multiple Clubs | Create Public and Private Clubs
Download Clubhouse: Android | iPhone
How to Use Clubhouse App: A Complete Guide for Everyone
Facebook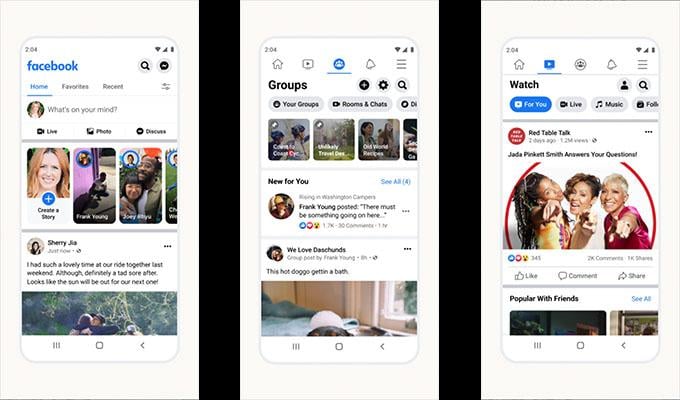 Good old Facebook is another alternative to Twitter that people prefer to use. Facebook is a large social media network that lets you interact with friends, join and discuss different topics and interests, and your personal updates such as posts, images, and even videos. While Facebook might feel like a platform for sharing memes and personal life updates and posts, you can join many groups to discuss and stay updated.
Facebook lets you share images and videos, comment on them, and tag your friends. However, when it comes to staying updated with world affairs and news, it is advisable to follow reliable and trusted news sources.
Pros:
Easy To Use
Large Userbase
Cons:
Prone to Fake News and wrong information
The platform is Filled with Scammers and Spammers
Key Features: Large Group Based Communities |Post Personal updates | Follow and Add new Friends | Comment and React on Posts
Download Facebook: Android | iPhone
How to Hide Photos on Facebook from Your Friends or Others
These are the best alternatives to Twitter that you can use. In all fairness, there is no exact replacement for Twitter. While people are leaving Twitter, the platform itself seems to be improving itself in a number of ways as compared to previous years. It is safe to say that Twitter will still be around given the number of active users has increased rapidly. If you are looking for a good alternative, Mastodon is a great alternative that is gaining traction day by day.