Twitter users know the pain of tweeting high-quality images which are then shown to others in low quality. If you are annoyed with this, Twitter lets you upload high-quality pictures up to 4K quality.
Let's find out how.
Upload 4K Pictures on Twitter
By default, Twitter compresses any picture you upload with tweets. This becomes an issue especially when you are a photographer wanting to upload a recent capture from your camera for your followers. To avoid this, Twitter now helps you with unloading 4K images via tweets.
Related: 6 Best Meme Making Apps for Android Users
You have to enable high-quality uploads in the Twitter app on your phone before trying to upload any 4K photos. Let's see how.
Open the Twitter app on your iPhone or Android phone. Swipe from the left edge to the right to open the side menu in the Twitter app. You can instead tap your profile picture at the top left corner to open the menu.
From the menu, select "Settings and privacy."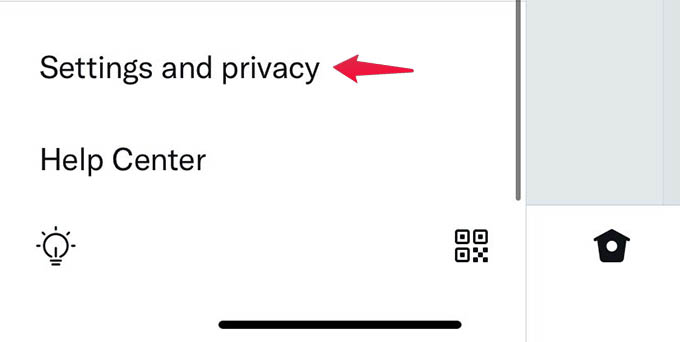 Tap "Data Usage" under the General title from the Twitter settings.

On the next screen, select the "High-quality image uploads" option.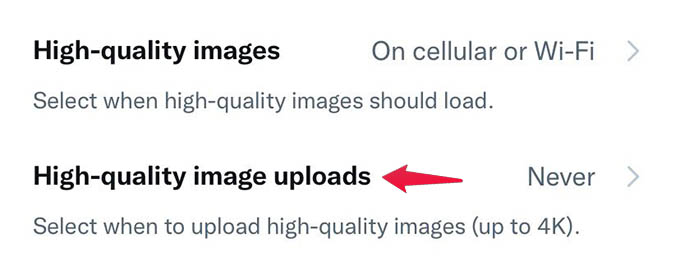 Here you can select when to upload the high-quality 4K images on Twitter. You can either choose Only on WiFi or both On Cellular and WiFi.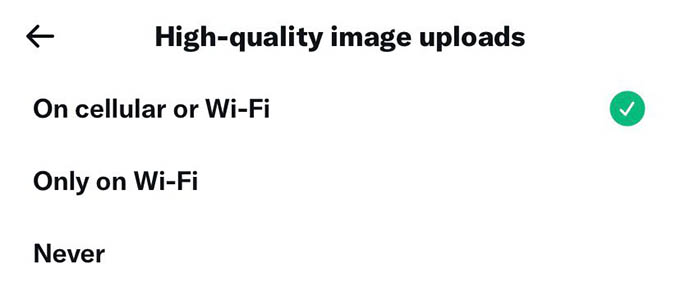 Related: How to Remove Mention on Twitter from Others' Tweets
That's very much it. Once you switch on the high-quality image uploads on Twitter, you can tweet with photos in full quality. In order to see the high-quality pictures uploaded by others, you should enable the high-quality image loading option on Twitter.