Memes have taken the world by storm. They are everywhere no matter which social media platform you use. From Twitter to Instagram and Facebook, memes are how people communicate, and express opinions. But how do you make a meme? Well, there are plenty of meme generator apps that can help you create and post memes in no time. One of them even pays its creator!
Meme Making Apps for Android
Today, we will be focusing on the Android platform as it is one of the most popular with the largest user base. How do you choose an app to make memes? Some criteria can be ease of use, collection of templates, content, social media, ads, and cost.
Let's begin.
Related: 12 Best Free Online Photo Editor Websites
1. Meme Generator Free
Meme Generator Free, as the name suggests, is a free meme-making app. The memes are divided into handy categories like objects, dank, and even drake. There is a search tool which is okay.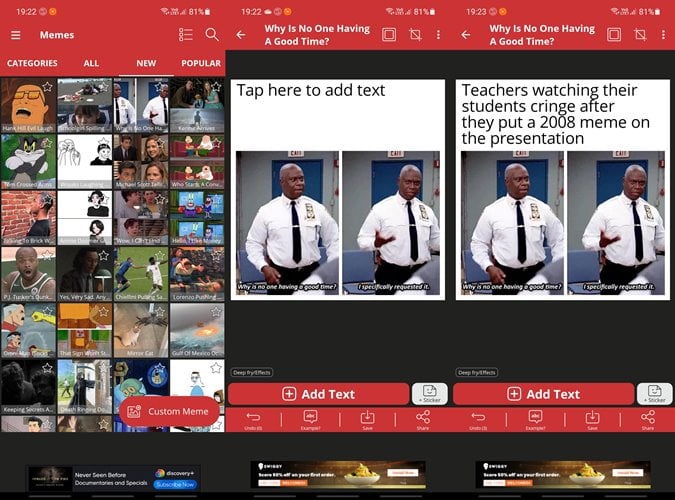 Open a meme and you will see options to add text. If unsure, tap on the Example button in the bottom bar to get some ideas. Some other options include the ability to rotate, flip, add borders, etc. You can save or share your meme directly from within the app.
Meme Generator Free is free but ad-supported but they are not intrusive.
Download: Meme Generator Free
2. GATM
GATM is another meme-making machine for Android smartphones. The collection of memes is different than what we found in the Meme Generator Free app. The steps are more or less the same.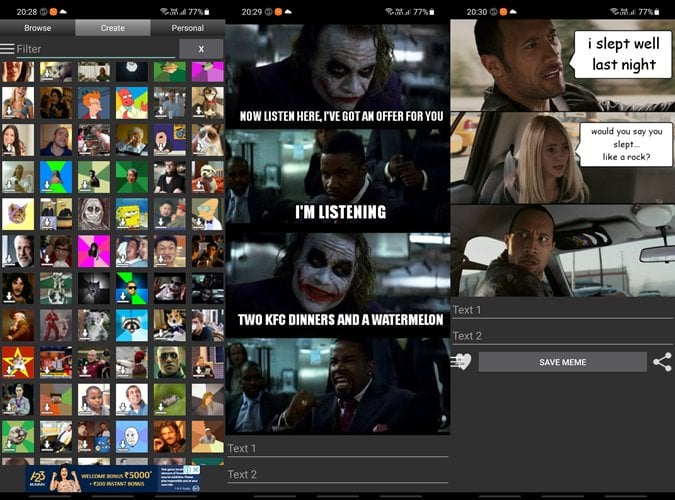 You can choose from the list or grid layouts and quickly add text to the chosen meme. Then all that is left is save and share. GATM is also free and ad-supported. What separates GATM from other meme generator apps is that you can use your own images to create memes. The content is also updated daily so I suggest you bookmark favorite memes to use later.
Download: GATM
3. Picsart
Picsart is one of the best meme-making apps for Android users and I will tell you why. It's also a powerful image editing app that can do so much more than just create memes. It's a full image editing suite with filters, background remover, blur, and more. You can also create and edit videos again with a rich set of tools.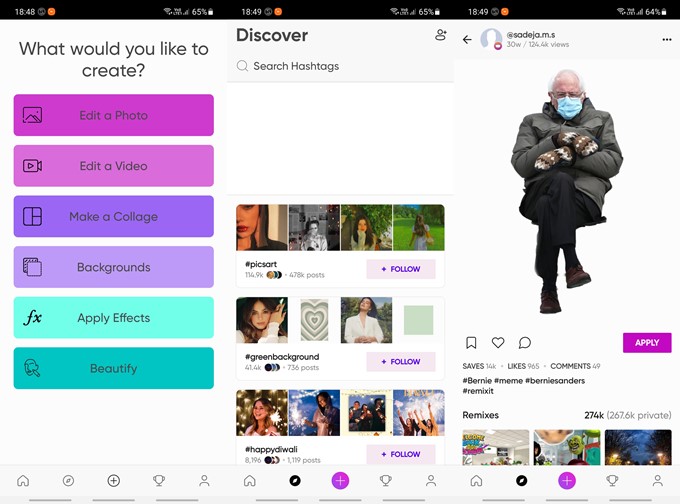 Picsart also has an in-built community where you can share your masterpiece, even memes, and follow other users or build your own following. It's a versatile app that is free to use but comes with ads and in-app purchases with a subscription model to unlock premium tools.
Download: Picsart
Related: 12 Apps to Get Memoji and Animoji on Android
4. Toolwiz
Toolwiz is similar to Picsart in several ways but offers a different interface with new and interesting filters. You also get some different tools that allow you to add interesting new effects. And then there are the meme-making tools that you came here looking for.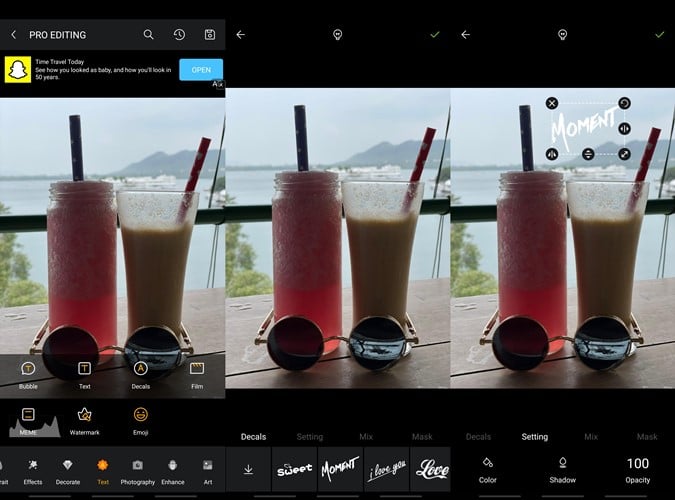 Select the Meme option and you will find ways to add text, change font type, size, and color, add decals that arrange them however you like, add text effects like shadow, and a special film mode.
Apps like Toolwiz Photos add new and interesting ways to edit existing memes and create new ones from scratch. There are so many ways to edit the image in question that you are only limited by your creativity.
Download: Toolwiz
5. MemeChat
The only meme app that pays you to create cool memes. How cool is that? MemeChat wants to support the creator economy in its own small way. It's a social networking app made for meme lovers and creators. Create memes, follow other creators, and there is also a chat function in case you want to have a heart-to-heart.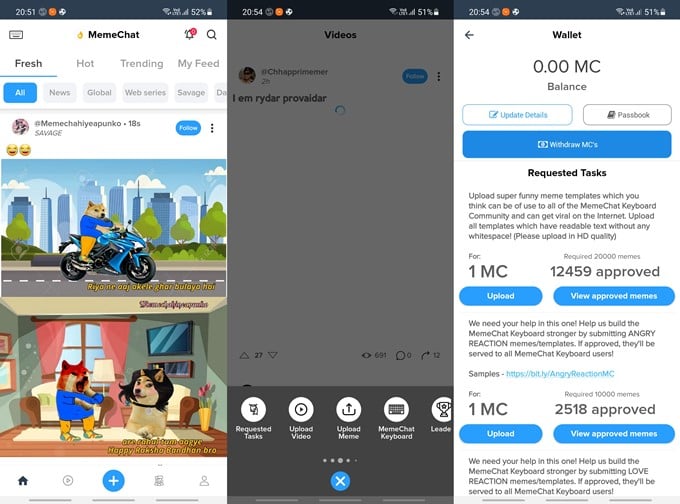 What's more? They also have a meme keyboard which is regularly updated with new memes and stickers depending on what's trending. MemeChat is free to use but contains ads that are how they make money. I guess this is one app where you won't mind viewing ads as you get to be a part of it.
Check out the requested content section where developers of the app are constantly looking for memes on trending topics, shows, and people. For every task that you complete, you will earn meme coins that can be later converted into hard cash.
Download: MemeChat
Related: 10 Best Meme Maker Apps for iPhone
Wrap Up: Meme Making Apps
There are several meme-making apps but we would suggest you go for a combination of image editor and social media. For example, choose one app where you can find good meme templates, one image editor to add stunning effects to the memes, and one meme app with its own social media platform.
Picsart and Meme Generator or MemeChat is a good combination. You get the best of both worlds and the latter also pays to create memes. Don't expect life-changing sums but enough to keep everyone interested and happy. So, which are your favorite meme generator apps? Use the comment section below to share meme apps for Android.