Anybody can @Mention you on Twitter on their tweets. Your followers may get notified when somebody mentions you on Twitter. This becomes a concern if somebody @ mentions you on inappropriate tweets or comments. There wasn't a way to remove mention on Twitter, but soon you will.
Let's see how to remove Twitter mentions from any tweets.
Remove Twitter Mentions from Any Tweets
When somebody mentions on you Twitter, you can easily remove the mention on Twitter from the tweet. You can remove the Twitter mention using both web and phone apps. Let's see how.
First, open the tweet in which you are mentioned in, using a web browser or Twitter app on your iPhone or Android phone.
Sometimes, you will see a message that says "you've been mentioned in this tweet." Tap the "Unmention Yourself" button below to remove the Twitter mention from the tweet.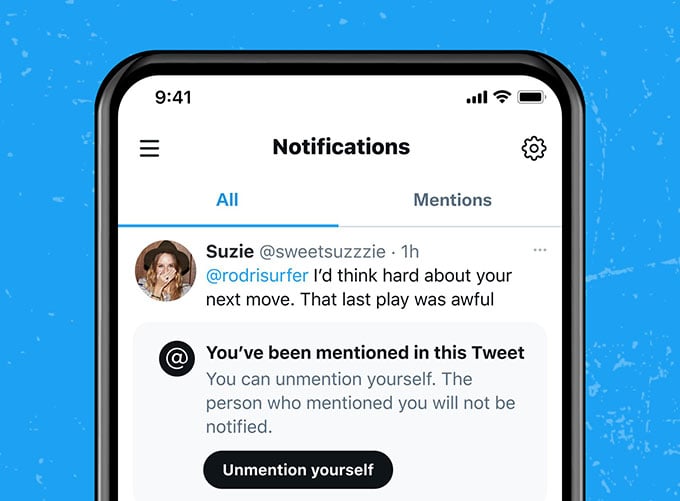 In case you do not see a message and button to remove mention on the tweet, do this. Tap the three-dots menu button at the top-right corner of the tweet card.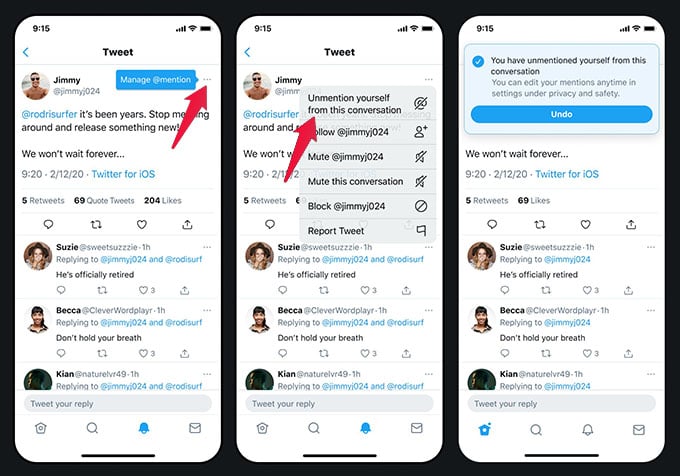 From the menu, tap "Unmention yourself from this conversation" option.
Once you remove mention on Twitter from a tweet, you can suddenly revert it back by tapping "Undo" on the message popped on your screen.
Well, what if you cannot see an option to unmention yourself from a Tweet on Twitter? Here is our answer. The feature to remove mention on Twitter is slowly rolling out to many users and it may take some time before you get it.
Related: How to Mute Words and Phrases on Twitter
Let's say you are lucky enough if you get the option to unmention yourself on Twitter. Otherwise, you need to wait until the feature comes to your Twitter account. There is no other way to remove mention on Twitter. One way is to DM the person and asking them to remove the @mention on their tweet.