Ever wondered about getting your hands on the latest Samsung device without pay for it? Do you want to check out new features of a Samsung Device without actually visiting a Samsung store? These things are now possible with Samsung Remote Test Lab. You can experience the features of new Samsung devices, Apps compatibility and other unique features of a Samsung device virtually right from your PC.
Let us see how to gain access to Samsung Test Lab and experience the Samsung devices from your PC without spending a dime.
Access to Samsung Remote Test Lab
First of all, it is important to have a Samsung account to access the Samsung Remote Test Lab. If you don't have one, then visit Samsung's website and click on sign up button. Fill all the details asked while registering and verify your account via email. Next step is to visit Samsung's Developer website and log in to your Samsung account. Open Samsung Remote Test Lab and click on the featured devices or directly visit the Device list and select any of the available devices which you want to check out.
You can use the search bar to find the device which you want to test. For using any device remotely requires some credit, and you can get free 10 credits in every 24 Hrs by clicking "Get Free Credits!".

Note: For testing the devices, you will need Java as a prerequisite on your PC. If you are yet to get that, Download JAVA from this link and run the downloaded application by following the on-screen instructions to install it.
Select the Samsung Device to Test
Select the device which you want to test and Choose the Android OS version, Model number of the device and the time for which you want to reserve the device for testing purpose and click on start.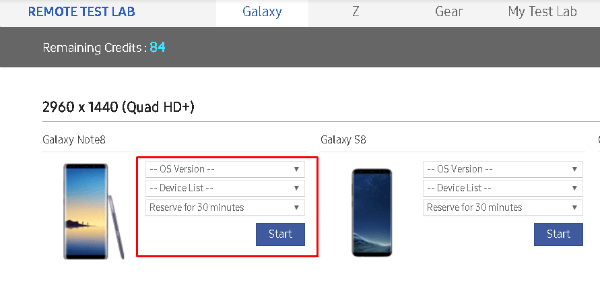 You can confirm the device once again before you click on Start. Now you selected the device you want to test and proceed to the download section.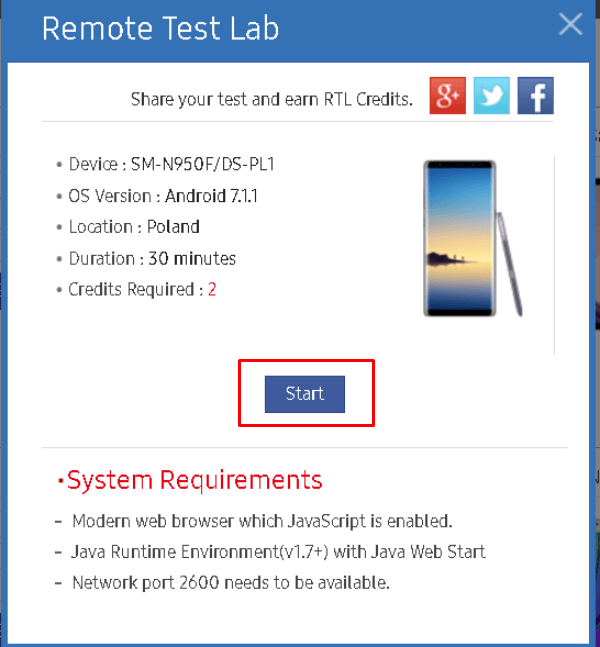 Please make sure you meet the system requirement and selected the right device from the Remote Test lab to proceed.
Download Samsung Remote Test Lab
Once you click on the "START" button to download, a .jlnp file will be downloaded. After completing the download, run the downloaded file. This will download the Samsung Remote Test Lab application for the selected device from Samsung's server. You will get a pop up asking for permission to run the program, click on "Run". After the successful download of the application, it will connect you to an actual device remotely.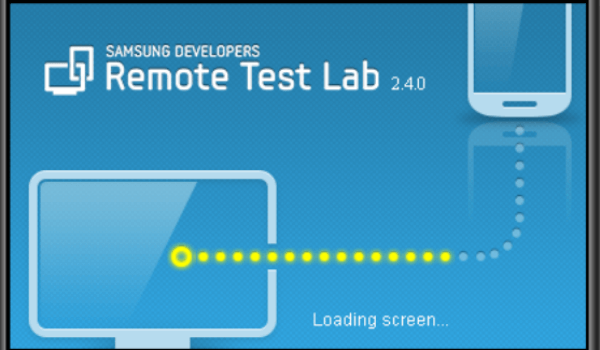 Once the application gets loaded, select your device Language and click on OK. Unlock the device by swiping with your mouse pointer as you normally do on the lock screen. You can then check all features of the device and the pre-installed applications.
Editor's Note: While testing the device, Please remember to refrain from providing any credentials like Credit card details or other personal information and avoid Signing-in to any services.
Test Apps For Compatibility
To test a new application which you have created, "Right click on the device screen and select 'Test" and hover to "Install application".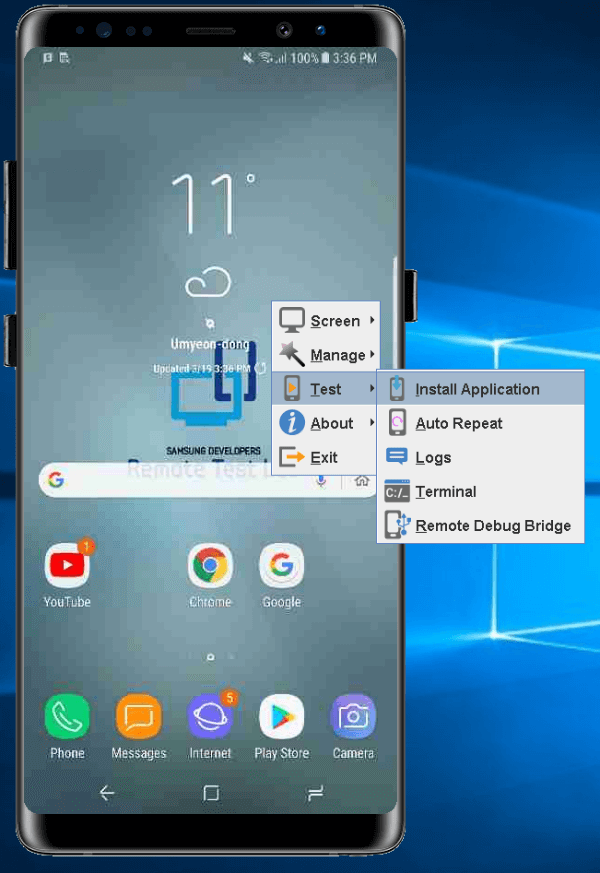 This will prompt a screen where you can select the location of your app on your PC. It will upload remotely to the device and then you can test that app on the device. Make sure to uninstall it after testing.
Samsung Remote Test Lab
Technology changes every day with new inventions. Better products keep emerging all the time. A lot of confusion gets in everyone's way while choosing a perfect device. This may be due to lack of information provided by a reliable source. It's only when you check it out by your own hands, you can put faith and satisfy yourself for a purchase. Samsung Remote Test Lab fulfills that and it will be helpful to the users to choose their devices with confidence.
Remote testing or Cloud testing an Android device means testing the device over the internet without actually having physical contact with the device. Samsung Remote Test Lab makes it possible to check out any feature on the device. Test anything in real-time on an actual Samsung device using this. Furthermore, you can install applications and see that it is compatible with the device you selected. In the above article, we have covered everything you need to know about the Samsung remote Test Lab and how to gain access.