Automating tasks on Google Home was never been this easier. Even though Google Home or Nest speakers have options to set routines that can do multiple actions triggered by a single command, the new Sunset or Sunrise automation can do tasks without even your involvement.
In this guide, we will see how to turn on home lights and Christmas lights automatically on Sunset using Google Home speaker.
Schedule Sunset and Sunrise Actions on Google Home
This was the most anticipated feature for Google Home to schedule tasks on sunset or sunrise. The recent update from Google brings this feature to Google Home users. Amazon Alexa and Siri already have this feature for a long time. Google recently introduced another feature to set schedules on sunset or sunrise with a voice command.
However, now Google lets you schedule your lights to turn on at Sunset and you can set them to turn off at Sunrise. Let's see the steps here;
Open Your Google Home App
Tap on Routines
Tap on "+" to add new routines.
Now, tap on "+Add Starter" to create a new routine on sunset.
There are three options here, to schedule the task, Voice command, Time and Sunrise/Sunset.
Tap on Sunrise/Sunset.
For demonstration purpose, we proceed with Sunset, you can select your choice here.
We don't want to turn on all our lights on at exact Sunset time. Google allows you to turn on devices ahead of sunset or after sunset. We set 30 minutes delay to turn on the devices after sunset.
Next, you have to set your home location for Google Home to get the local sunset time.
Turn on the days you want to run the schedule. We set all days of the week.
You can set your Google Home to give you a message or play an audio when the lights turn on at Sunset. Sometimes, this may be annoying in the long run.
You can also toggle on to get a notification on your phone whenever this schedule runs.
Once you complete this screen, tap on Done to advance the next settings.
Tap on Add Action to set the devices to work on this schedule.
To control the lights, we selected Adjust Home Devices
Now you can see the list of Google Home Compatible devices at you home. You can see here to connect the new devices to Google Home.
Set the status of each device you want to control with this schedule. We set to Turn on our three Christmas decorations.
Tap on Done to proceed to the next screen. You can adjust the thermostat or other devices on this screen to work with this schedule.
Once you are done, you will back to this Routine screen. You can rename the Routine to recognize easily.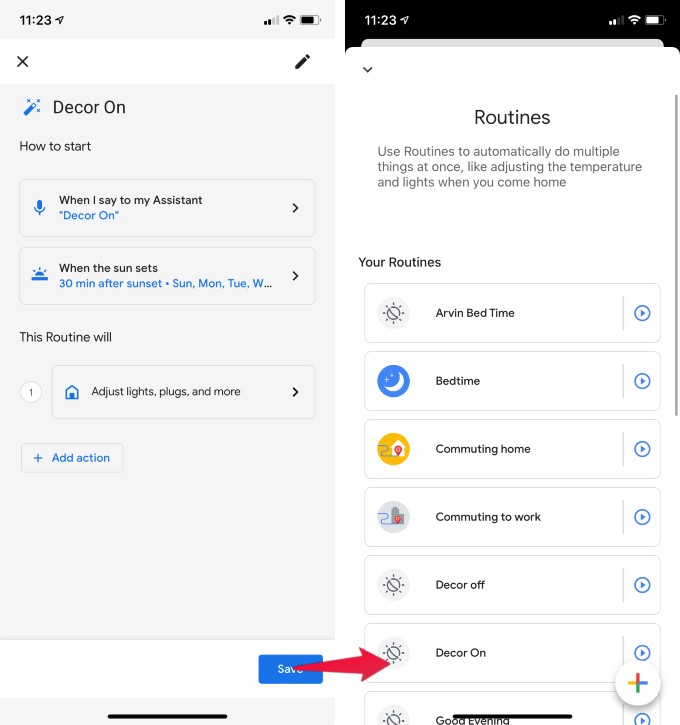 You have to give a voice command also for the Google Home to run as an alternative solution. Even though you set a time or set to run on sunset, the voice command is mandatory.
You can add multiple routines for Sunrise or Sunset to run. Alternatively, you can use a Google Voice command to run the schedule every day at sunset.
Hey Google, Set a schedule to turn on the "bed lamp" at sunset every day.
The command also will work with Google Home. However, you can get more precise control and add more devices to one routine with these manual steps. You can set the same routine to adjust your thermostat and increase the room temperature in the evening.
I see this routine feature more beneficial when you want to adjust with "Day Light Savings" time. You don't need to turn on your lights at sunny evenings. No matter what time it is, these schedules only work based on the Sunrise and Sunset time.