Did you connect your Ring Doorbell to an existing doorbell wiring? Are you having difficulty working your Ring Doorbell onto the existing power supply? When I fixed my Ring Door Camera onto the existing doorbell wiring, that power supply wasn't enough to charge the Ring Bell battery. The first version of Amazon's Ring Doorbell comes with a built-in battery. However, I want to connect the bell to the power supply to avoid frequent manual battery recharging.
The new version of Ring Video Door Bell Pro requires a continuous power supply to work. Here is the guide for choosing the right transformer for Ring Doorbell and connecting to the power supply or an existing doorbell power supply.
Editor's Note: The steps explained here need some technical knowledge. We recommend that you get the help of a licensed electrician to perform these actions. 
Will My Existing Door Bell Transformer Work for My Doorbell?
A Ring Doorbell with HD videos requires an 8-24V AC. However, Ring Pro requires a minimum voltage of 16V to operate. However, it can go up to 24 Volts. To be safe, your transformer voltage rate can be 16-24V AC.
In addition to the voltage rating, you must consider the current rating when shopping for a doorbell transformer. If you have a 16V transformer with a low current capacity, it may not work on your existing doorbell. We bought a 16V 30VA transformer to test with our Ring Door Bell Pro and a Ring Doorbell HD Video version. The transformer rating was good enough to support our Ring Video Door Camera, Ring Doorbell, and our existing doorbell transformer.
Those who have an old house (from 1995 and older) were using the low voltage 10V transformer they were using for their doorbell. Also, musical or mechanical chiming doorbells use a low-voltage transformer or built-in power supply. These will not work with a Ring Doorbell.
Insufficient Power Supply Issues with Ring/Nest Door Bell Pro
You may notice one or more issues after you connect your Ring Pro with your existing Doorbell transformer. Even though your transformer voltage rate is sufficient, the transformer's VA Rating may not be enough to supply your internal and external doorbells. You may notice that your bell is not functioning as expected and see some connection or performance issues.
Your Indoor doorbell may not work.
The indoor Doorbell volume is very low.
Ring/Nest doorbell shut down or freeze after a button press.
Doorbell camera's intermittent shut down.
Camera Live View freezing
Wi-Fi network connection issue.
Losing the camera's connection often.
Issues with night vision.
If you face any of these issues, it's time to try a different transformer with a higher capacity. Check below to find out the right transformer for your Door Bell.
How Do I Visually Check My Transformer Capacity?
If your transformer is already working with your doorbell, it's a matter of transformer capacity. The Ring doorbell recommends 16V AC / 30VA to work with Ring's Door Camera and Doorbell. The capacity of the transformer (VA), can be visually identified by the thickness of the core. The thickness of the core of the transformer varies depending on the rating.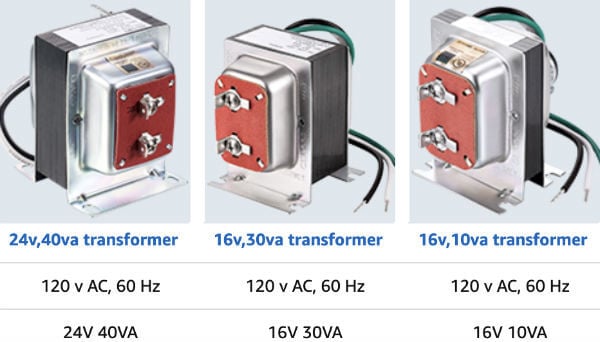 The more current rating Transformer will be bulkier. For a comparison, see the image below with a different VA rating for the transformer. Here, the 16V 10VA transformer with this core and body is not enough to handle the power required for your Ring Door camera and Door Bell.
Best Door Bell Transformers for Ring Pro and Nest Hello
The recommended transformer capacity for Nest/Ring Door Bell Pro is 16VAC 30VA. The previous Ring Door Camera models can also be used the same. We did the research and found the following transformers for most of the Ring Door Bell Camera models.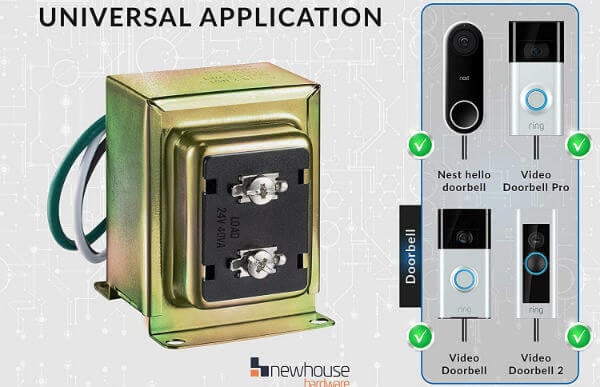 We have tested 16V 30VA and 24V 40VA transformers that we bought from Amazon. The 24V is more powerful and recommended to handle more than one device simultaneously. You can connect this to two Ring Doorbell Cameras or more than one indoor Bell at a time along with the Door camera.
16V 30VA Transformer (for Single Video Door Bell)
The 30VA transformer is enough for those with one Ring Door Bell Camera Pro, one indoor bell, and a ring bell. The same transformer applies to Nest Hello Doorbell. Here are the top three doorbell transformers from Amazon that work with Video Door Bell.
24V 40VA Transformer (for Multiple Video Door Bells)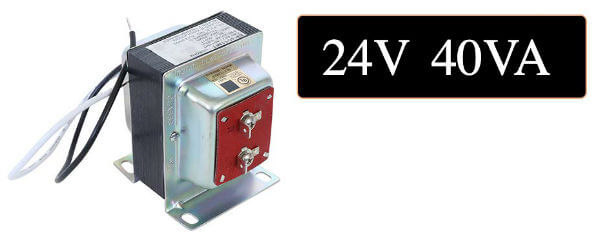 The 40VA transformer is a high-capacity, compatible with Nest Door Bell, multiple Ring Door Bell Camera Pro, and the Smart Thermostat. These transformers are compatible with multiple Ring Video Doorbells. You can use the same power supply transformer for Nest Hello & Ring Door Bell or Nest Thermostat together.
You can try either one of these for your device. These transformers will work even when you upgrade your devices to a higher version that needs more power.
How Do You Check Your Ring Doorbell's Power Status?
We used the Ring Door Bell HD Camera version for all the screenshots here. This device comes with a rechargeable battery. When we connected this device to the existing transformer, the transformer supply was not enough to power up the device.
You can see the Device Health screen showing "Power Source: Battery." Either the Ring Doorbell is not getting enough power from the transformer to charge the battery, or the transformer is completely dead.
Ring Door Bell Pro Transformer Voltage
We bought a new transformer from Amazon ($16V 30VA for less than $20.00) and tested it with a multimeter before connecting it to your Doorbell Camera. Make sure your multimeter to set to VAC range before testing the voltage. You can get a basic multimeter from Amazon for less than 11 bucks (Etekcity Digital Multimeter). We have checked the transformer voltage by simply connecting it to the wall power supply.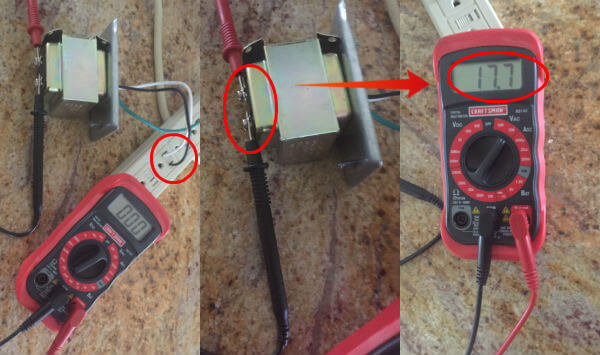 The transfer shows around 17.7VAC at no-load, even though Hoyt is rated for 16VAC. Since the Ring Door Bell supports 16-24VAC, we are good with this voltage rating.
Now we replaced our existing transformer with the new one, and the wires are connected to the second connector that goes to the Doorbell.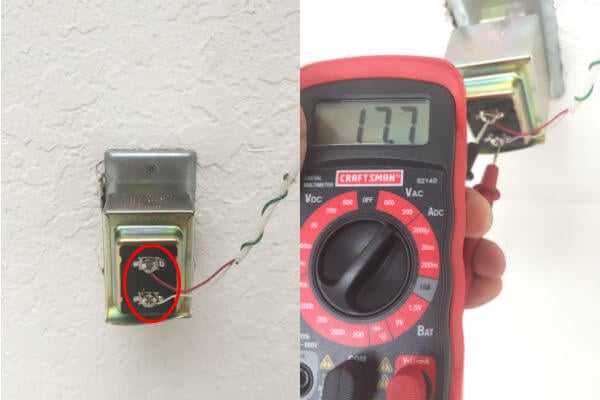 We have rechecked the voltage in load condition to ensure that the transformer supplies enough power and are not dripping any voltage while connecting to the load.
Check the Voltage on Ring Door Bell Panel
Now, you can connect the wires from your old doorbell to the Ring Doorbell panel. You may see three colored wires there, and the green one is the ground. Connect the wires as mentioned in the doorbell user manual. We have rechecked the voltage to make sure everything is working fine.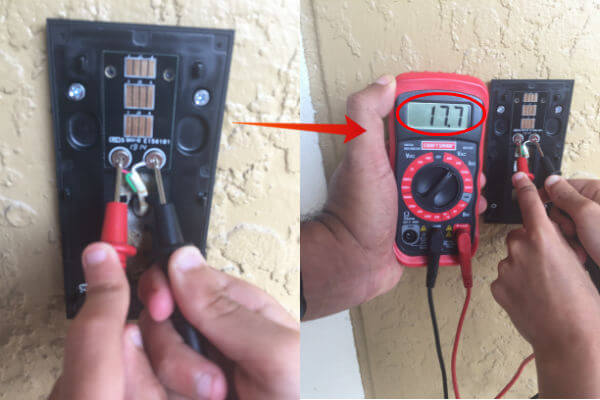 The ring video's voltage on the back panel is showing 17.7V, the same as the voltage at the transformer terminals. Everything is working fine as expected, and it is not time to connect the Ring Doorbell to the panel.
Check Ring Door Bell Power Icon
Now that we have checked the Doorbell's Status on the app and seen the screenshot below. In the second screenshot, the battery icon shows charging.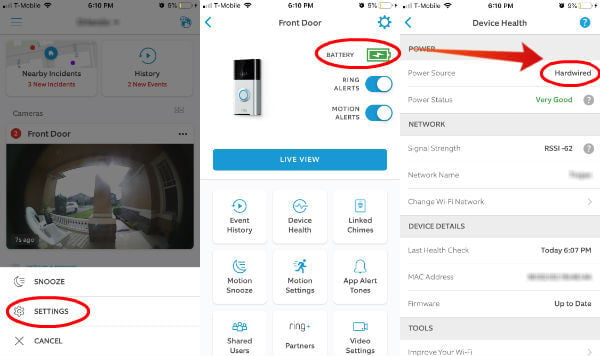 You can tap on the device health. The power source changed from Battery to "Hardwired" status. Your Ring doorbell is connected to the power source and is working fine.
Even though we have displayed all the screenshots with our Ring Doorbell, the same transform and step are applicable for Ring Door Bell Pro, which works only with an external power supply.
The Devices Used in This Article
We have used a couple of tools in addition to the Ring doorbell. If you want to troubleshoot the issue of your ring doorbell, here is the list of devices we have used.
Etekcity Digital Multimeter, Amp Volt Ohm Voltage Tester Meter with Diode and Continuity Test, Dual Fused for Anti-Burn: Buy from Amazon for $10.77

Newhouse Hardware 30TR Door Bell Transformer, 16V 30VA, Compatible with Ring Video Doorbell Pro: Buy from Amazon for $16.91

Ring Video Doorbell Pro, with HD Video, Motion Activated Alerts: Buy from Amazon for $249.99

Ring Video Doorbell with HD Video, Motion Activated Alerts, Easy Installation: Buy from Amazon for $99.99

Helpful Links for New Ring Door Bell Users
Most mechanical chime bells will work with Amazon's Ring Doorbell. The Ring website published all compatible chime bell manufacturers compatible with Ring Door Bell.
Ring recommends using a resistor with a transformer if you don't have an internal doorbell. Please see more details and a connection diagram for those who don't have an internal doorbell.
There is a slight difference in the wiring if you have one or more Ring doorbells or cameras. Please see the wiring diagram for one or more Ring Doorbell Camera and doorbell.
Helpful Links for New Nest Hello Door Bell Users
Before investing money in the Nest Doorbell, you can check whether the new doorbell will work with your current transformer.
You don't need to refer to this article in detail if you are using a Ring Doorbell that is working as expected in the first shot. But, if you face any issues, you can follow this article to figure out the issue and find out the right transformer for the video doorbell.