Are you looking for self-destructing message apps for iPhone that give you protection and privacy for your messages? Please go through this article to find out the best free self-deleting message apps. Self-destructing message apps are more in demand among teens and students who do not want to keep any history of their conversation. This self-destructing messaging apps delete the messages from your inbox within a couple of seconds after you open the incoming message. This is an attractive feature for the teens those who don't want to keep their photos and messages in the receiver's inbox.
For those who want to keep their communication free, here is the list of best Self Destructing Message Apps for iPhone.
Snapchat
Snapchat is the most famous app between the teenagers for sending self-destructing messages. The snap chat app allows snap a photo or a video and you can add a caption or a note before you send it your friend or group of contacts.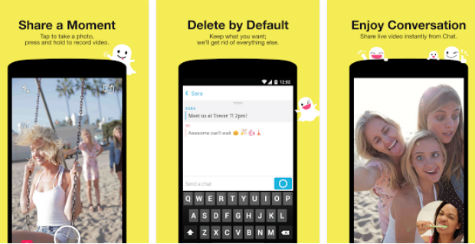 They will view the snap or video and then the snap disappears from the screen after a couple of seconds unless they take a screenshot.
Key Feature: Snap lives for 24 hours until it disappears, Self-delete message after they open | Download from iTunes
Related: Top 6 Cross-Platform Messaging apps for Windows, Mac, iOS, Android and more.
Telegram
Telegram is a messaging app with a focus on speed and security. It's super-fast, simple, secure and free. Telegram seamlessly syncs across all of your devices and can be used on desktops, tablets and phones alike.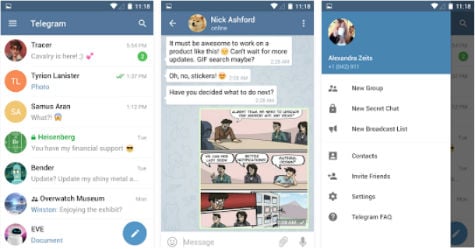 For those interested in maximum privacy, Telegram offers Secret Chats. Secret Chat messages can be programmed to self-destruct automatically from both participating devices. This way you can send all types of disappearing content — messages, photos, videos and even files. Secret Chats use end-to-end encryption to ensure that its intended recipient can only read a message.
Key Feature: Secret Chat messages can be programmed to self-destruct messages automatically from both participating devices | Download from iTunes
Wickr
Wickr is one of the free Self Destructing Message App for iPhone. This messaging app enables you to send text, picture, audio and video which will delete the messages after a short delay.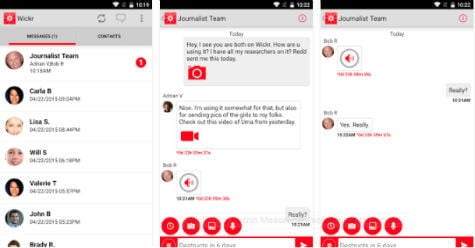 Compare to Snapchat, Wickr offers military-grade encryption of text, picture, audio and video messages. The best feature of Wickr is the sender-based control. Sender-based control determines who can read messages, where and for how long.
Key Feature: Can control the view time, and all messages are sent with military-grade encryption, and there is no server between the sender and receiver | Download from iTunes
Also Read Best Parental Control Apps for iPhone & Android.
BurnChat
BurnChat is another Self Destructing Message app that allows you to communicate privately. It offers the messages as screenshot-proof and untraceable. Once you open a message, it self-destructs while sliding to next message. It is not storing the message history so that there is no need to worry about digging out the history in future. Also if you are not reading a message, the message will self-delete to maintain the secrecy of messages.
BurnChat masks the identity and separate sender messages from user ids. The sender is never shown on the same screen as the message. This means that even if someone takes a screenshot, there is still no way to know who sent it.
Key Feature: Offers the messages as screenshot-proof and untraceable. Once you open a message, you have 7 seconds to read it before it self-destructs | Download from iTunes
Kaboom
Kaboom is the messaging app that lets you communicate without leaving a record behind.

 With Kaboom you can go "off the record," and have photos and texts that automatically disappear; send self-destructing photos and videos that only last for seconds to more apps like Facebook, Twitter, and Email, and send the messages even without taking a Kaboom account. This app also lets you remove messages that sent to friends' phones with synced deletion

.
Key Features: Multiple app support, send self-destructing photos and videos that only last for the set time, Kaboom keyboard | Download from iTunes
StealthChat
StealthChat is a new security app for calling and chatting with your friends and partners. With advanced encryption technology, your phone calls and chat messages are private. All calls and messages are free over cellular and Wi-Fi connections. StealthChat is free, fast, and lightweight. This app has been built for privacy and security from the ground up. It does not save any information about your chats, messages, calls, pictures, photos or phone book on the server.
StealthChat provides a "burn" timer to automatically delete messages and pictures after they have been read. You can use the native Touch ID instead of the picture lock to unlock the encrypted screen display (iPhone 6 and later only).
Key Feature: StealthChat does not save any information about your chats, messages, calls, pictures, photos or phone book on the server | Download from iTunes
CoverMe
Send texts to any number from the private new number through CoverMe. You can also make secure private phone calls to any person without any trouble with the app. You can get full control over your messaging process and text others in a manner like never before.
With CoverMe app, you will instantly know that the recipient has read your sent messages and make it disappear after being read. No need to worry about the private messages being spread around and sent to unknown people. Just shake the device to hide the secret text messages with a lock and login screen. With the private vault feature of the app get extra security ensures the protection of your data.
Key Feature: Private Phone Number for calling, Shake to Lock, Secure Vault to Safeguard Files | Download from iTunes
Secret for iMessage
Access Secret for iMessage to send private messages to anyone that will automatically self-destruct from all devices. Control the number of views of the message and duration of each message for viewing by the recipients. You can even revoke the already sent messages if you want to avoid the message to go to the person.
The messages sent to the people through the app can also see it even if they do not use the app over the web. Use the app anonymously without noticing anyone or registering for using the service. You can easily share the photos whether they are present on your device or take a new one to send to the person.
Key Feature: Revoking of Messages, Access to Camera & Microphone depends on the user, Use the service through web | Download from iTunes
DatChat
Protect your privacy with self-destructing and encrypted messages through DatChat. Keep your messages secure, private as well as away from the wrong hands with the app. You can always Un-Send a message anytime and 'Nuke' the entire conversation to eradicate the conversation. You can have multiple accounts to message and send pictures to others when logged in the particular account.
Group and individual conversations also come with self-destruction feature that does vanish without a trace. The self-destruction of the message takes place when it reaches a particular view limit as well as is manually destructed deleting them forever.
Key Feature: Fast & Easy Control on Message content, Wipe out an entire conversation, Hide in Plain Sight | Download from iTunes 
Confide
Confide is your personal confidential messenger coming with end-to-end encryption and self-destructing messages. Get the comfort of knowing that your private conversation remains private with the app. Send texts, photos, videos and voice messages in the way that do disappear forever once they are read by the recipient.
You can perform 1-to-1 and group messaging to talk to other people. Retake control of all your digital conversation with Confide and avoid the screenshot of any private text or content in every manner. The app also offers a premium version in the form of Confide Plus giving the users more features as well as more control over their way of messaging.
Key Feature: End to End encryption, Retract a sent message, Secure yourself with patent-pending ScreenShield technology  | Download from iTunes
Dust
Dust erases almost every record of the message from the recipient's phone. Use the app to overcome the worry of sharing the personal content to other people. Messages present on Dust are not recoverable and there is nothing stored on the servers of the app. The conversations are heavily encrypted and not accessible by any person or organization.
The app is a safer place to have private conversations that you want to be private. Every message on Dust is automatically erased after 24 hours. Any person can erase them immediately after the message is read by the recipient.
Key Feature: No use and access to device storage, Screenshot protection of every message, Automatically erase of messages after 24 hours | Download from iTunes
Self Destructing iPhone Message Apps
Based on the privacy and security offered by these iOS self-destructing message apps, these are favorite apps among the teens and students. The best feature that these apps won't keep any history of conversation that helps to keep a clean inbox with low memory consumption.