Say goodbye to the disruptive jolts that wake up your iPhone's lock screen at all hours. We've all been there in the middle of an important meeting or deep in slumber, only to be abruptly disturbed by a flurry of notifications vying for attention. Are you fed up with your iPhone screen lighting or waking up whenever you receive a message or email? It will be annoying, especially if you are tired or in a holiday mood. Of course, you can use Focus modes to avoid notifications, or the ringer switch to turn off the sound.
There are workarounds to reduce notifications or receive them silently without lighting up your screen. You can regain control over your iPhone and end these unwanted interruptions. Get ready to reclaim your peace of mind as we unveil the secrets to stopping notifications from hijacking your precious lock screen. Say hello to uninterrupted serenity with a few simple adjustments.
Disable Lock Screen Notifications for Individual Apps
There is no direct system-wide setting to stop notifications when your device is locked. However, you can hide the notifications for a specific app from the locked screen of your iPhone. Let's see how to do that.
Go to Settings->Notifications. Under NOTIFICATION STYLE, tap the app (e.g., Reddit) for which you want to hide notifications.
In the new screen, go to the section ALERTS and make sure the check box below Lock Screen is turned off.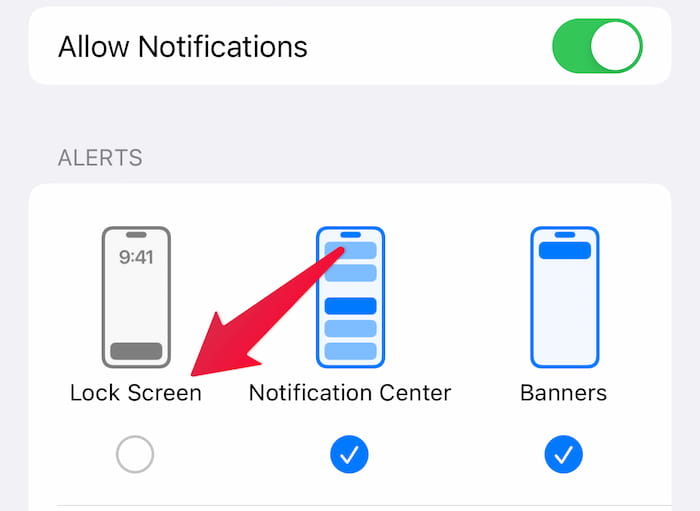 That's it. From now on, your iPhone screen won't light up and show the notification for this app while it is locked. Of course, you can always view the notification from the notification center.
On a locked screen, swipe up from the middle of the screen to access the notification center. On other screens, swipe down from the top center.
Use Scheduled Summary to Reduce Lock Screen Notifications
Instead of disabling lock screen notifications for individual apps, you can also try out the Scheduled Summary feature on iPhone. As per the name, Scheduled Summary will only deliver notifications for the apps you had selected at the scheduled time instead of immediate delivery.

Scheduling notifications will help to reduce the frequency of your iPhone lighting up. If you have not tried this feature yet, check out our guide on How to Schedule Notifications on iPhone.
Use Do Not Disturb Mode
Let's say you don't want your iPhone to light up and disturb you just for 1 hour. Then, the above two solutions won't help the cause. The best option is to use the Do Not Disturb Mode. Swipe down from the top right to launch Control Center and tap the Crescent Moon icon.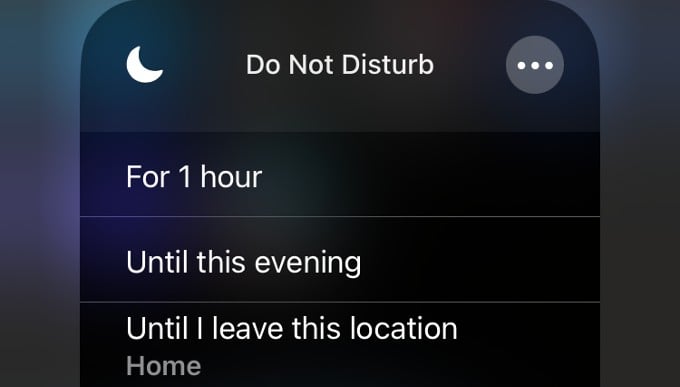 Next, tap the three-dot icon on the Do Not Disturb field and tap For 1 hour. Now, you can take rest and be at peace for 1 hour without any alerts like calls, messages, emails, etc., on your iPhone.
Do you want to prevent your iPhone from lighting up frequently? Disable lock screen notifications for all the social media apps like Instagram, Facebook, and Twitter, or schedule them.
Regaining control over your iPhone lock screen notifications is within reach. By implementing the strategies and techniques we've shared, you can create a peaceful digital environment that aligns with your needs and preferences. No more disruptive chimes or flashing banners disturbing your focus or rest. Take charge of your device and enjoy uninterrupted productivity, relaxation, and undisturbed sleep. Remember, the power to silence those intrusive notifications is in your hands. Embrace the serenity and let your iPhone lock screen become a gateway to tranquility.
Why does my iPhone screen turn on when I get a notification?
By default, all the notifications will be sent to both the lock screen and the notification center. That's why your iPhone screen turns on. If you don't want that, you must disable lock screen notifications for the individual app.
Is it possible to disable all lock screen notifications?
No. You can disable the lock screen notification only for individual apps, as no system-wide option is available at the time of writing.
How do I stop notifications on my lock screen?
To stop notifications on your lock screen, you need to disable the lock screen notifications for every app.