Road trips are fun and exciting if you well prepared and planed for it. If you are an Android user, you can plan your next trip with your Android phone. There are apps in Google Play Store that can make your trip more comfortable, easy and fun.
There apps are good collections of tools that can help you in different situations. As a first step, you need the help of a good road map app while you drive on the road.
Related: 7 Free Android Apps Help You to Locate Your Parked Car & Parking Garages Near You
Of course you can depend on your old GPS device while your drive, but your Android maps will be always up to date reliable and free. Some of these apps are offering offline maps that will help you while you drive out of cell coverage area.
Waze is a community-based traffic & navigation app for Android. Waze is absolutely free service offers like automatic re-routing as conditions on the road change, learns your frequent destinations, commuting hours and preferred routes.
Related: Top 4 Free Android Map Apps for Your Next Trip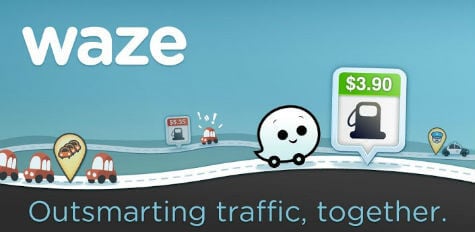 Most of all, Waze will show you the live traffic, nearby gas stations and cheap gas price. This app is an all in pack for all your travel need.
Download Waze
Alternative App: Google Map
Find Things Nearby
AroundMe quickly identifies your position and allows you to choose the nearest Bank, Bar, Gas Station, Hospital, Hotel, Movie Theatre, Restaurant, Supermarket, Theatre and Taxi.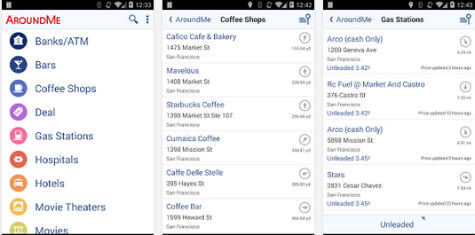 AroundMe shows you a complete list of all the businesses in the category you have tapped on along with the distance from where you are.
Download AroundMe
Alternative App: Yelp
Find Cheap Gas
GasBuddy helps you find the cheapest gas prices with one tap. You can get the gas price local to you and you can search by city/zip/postal code.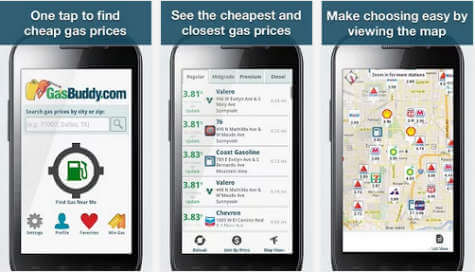 GasBuddy uses gas price information provided by users to bring drivers together to support the common goal of saving money on gas.
Download GasBuddy
Alternative App: Gas Guru
Get Road Traffic and Hazard Warning
Trapster is driving companion app. The app helps the drivers work together to alert about dangerous obstacles that pop up during the road trip.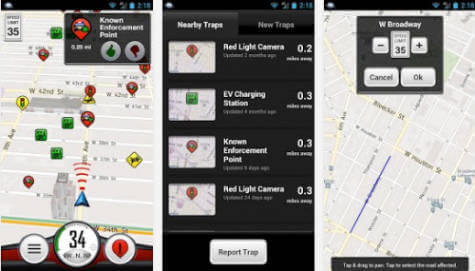 You can help your fellow drivers by running Trapster and reporting traps and hazards such as accidents, construction zones, traffic jams, live police, when you see them.
Download Trapster
Alternative App: Speed Camera Radar
Where to Repair Just in Case
It may happen, accidents or breakdown. We have to prepare for it. Whether it's an auto emergency or a roadside breakdown, you may need immediate professional assistance.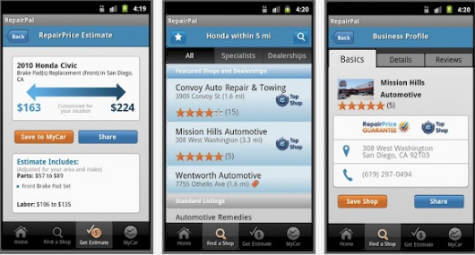 Auto Repair & Car Maintenance app tells the right price to pay for your repair, finds you a great mechanic in the area, tracks all your repairs, and gives you one-touch access to roadside assistance.
Download Auto Repair & Car Maintenance
Alternative App: Auto Repair
Where to Stay
You'll find the accommodations with Booking.com apps anywhere, anytime with best price. With one tap you'll find the best hotels near you and save with deals.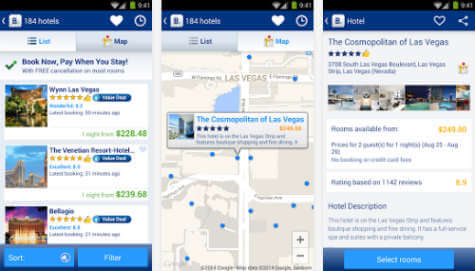 Your booking confirmation is available offline in the app, so you won't need a printer or internet connection to check in when you arrive at the hotel.
Download Booking.com Hotel Reservations.
Alternative App: Hotels.com
Bonus Android Radio Apps
You like to listen your favorite local radio even yo hare away from your home. Refer this post Top 6 Free Radio Streaming Apps for Android to listen your favorite radio station using your Android phone while you away from home.
Here you can refer the full list for the Android Map Apps and this post will help you to save money with Android Phone 7 Android Apps That Help You To Save Money Every Day