Got fed up with trying to sync with Google Calendar? Probably you might be registered your Google Calendar account after January 30, 2013. It is the date where Google stopped Microsoft Exchange Active Sync Protocol in their servers.
The result is, non-synchronization of new Google Calendar accounts to Windows 8 Calendar App. Everyone is expecting that this would be resolved soon. Meantime, you can Subscribe your Google Calendar to Windows 8 Calendar app to add your events in Google Calendar to Windows 8 Calendar app. This solution will help you to see your Google Calendar events in your Windows 8 Calendar.
Related: How To Add Country Holiday Calendar on Android Phone
First, go to the Google Calendar page in your browser. and go to settings and click on your calendar name. It will show the calendar details.
Go to the bottom of the screen and click on "ICAL" button against to "Private Address" field. Don't worry. Nobody will be able to use it unless you are publishing it.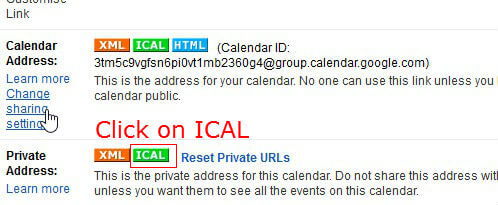 Your calendar's private address will be displayed as a link in the pop-up screen. Select that link and copy that. You may paste and save this link for future option.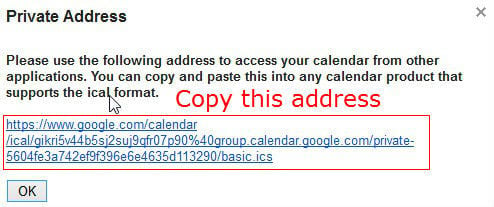 Now Open your Hotmail calendar account from here. Sign in with your default Windows 8 login account (eg:[email protected]).
Your calendars will be displayed here. In the top options, click on "Subscribe" link.

In the opened window, fill the name of the calendar to be displayed. In the URL field, Paste the Calendar address we have copied earlier. Here you can select a color to be displayed for the particular calendar. You can also specify a charm here. After filling the details, click on subscribe button.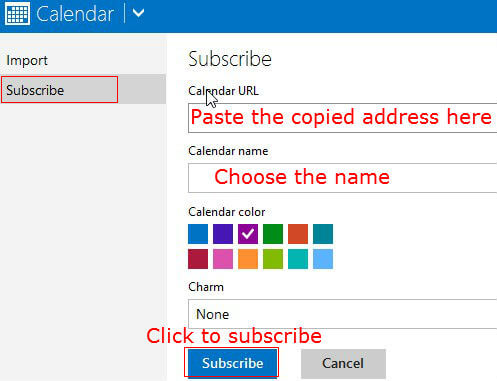 The successful message will be displayed. Click Done and see your calendar is added to the calendar list. Similarly, you can add all your Google secondary calendar's here. After adding all your calendars, you can close this browser window.

Now you have to close your Windows 8 Calendar app and reopen it to update the changes immediately. Or you may restart the system to get the display of added Google calendars.

You can see the existing events are properly syncing up while adding the calendar. The events you are adding to your Google Calendar may not be synced mostly as of now. If you want to update the Windows 8 calendar with newly added Google calendar events, then Unsubscribe that calendar from https://calendar.live.com and repeat this procedure from the beginning.
You can also choose the local calendar sync method between Google and Windows calendars where the main calendar will be synced automatically using the Google Calendar Sync application. For Details, see Sync Google Calendar to Windows calendar locally