Do you wonder how to take screenshots on a Chromebook? Unlike Windows, macOS, or Linux, Chrome OS emerged after the smartphone revolution. Naturally, Chrome OS makes taking screenshots pretty easy. If you're still wondering how to take a screenshot on Chromebook, here's how.
First, there are many ways to take a screenshot on Chromebook. You can take full-screen screenshots, rectangular regions, or a window snap on Chromebook. You can use the interface or keyboard shortcuts; the choice is yours.
How to Take Screenshots on Chromebook
Chrome OS 89 introduced a graphical tool that lets you take screenshots and record the screen. Before this, your only option was to know the exact keyboard shortcuts. That would have been incredibly challenging given that Chrome OS is now also powering tablets that don't have a keyboard.
Click on the system status icons in the bottom-right corner of the screen, located on the Shelf.
Expand the quick settings panel by clicking the up arrow if it's not already expanded.
Click on Screen capture.
Make sure the camera icon is highlighted on the screen capture tool, if not, click on it to select it.
Then click either on the full screen, partial screen, or window capture buttons.

For Full Screen screenshots, click anywhere on the screen.
For Select Area/partial screenshots, select a region by clicking and dragging the cursor to create a rectangle, then click Capture to take a screenshot.
For Window screenshots, click on the window that you want to screenshot.


You will see a notification at the bottom right corner when the screenshot is taken.
You can paste the screenshot directly onto documents or websites like Windows PC. Click the "Edit" option on the notification to make changes to the screenshot. You can also easily interchange screenshots and screen recordings from the toolbar to record your screen activities.
Related: How to Disable Touchscreen on Chromebook
Keyboard Shortcuts to Take Screenshots on Chromebook
If you think that many clicks to take a screenshot is a bit of a hassle, you can use the good old keyboard shortcuts to take screenshots on Chromebook. You can still do full-screen, partial, or window screenshots, but you must remember the shortcut. Remembering the key combination is not a big deal if you do this often.
All these shortcuts involve the Window Switch key, also called Show Windows, or just the Window key or the overview key. Regardless of what you call it, it looks like this:

For convenience, we will call it the Window key.
Full Screenshot: Press Ctrl + Window.
Partial Screenshot: Press Ctrl + Window, then click and drag with the cursor to select an area, then click Capture.
Window Screenshot: Press Ctrl + Alt + Window and click on the window that you want to screenshot.
Regardless of how you take the screenshot, as before, once the screenshot is taken, you will see the notification in the bottom right corner of the screen.
Related: Use these Best YouTube Keyboard Shortcuts to Save Time While Watching YouTube Videos
Where Do Screenshots Save on a Chromebook?
When the screenshot notification shows up, it also allows you to edit or delete the screenshot. If you miss it or want to find where it is, you can find it in the Downloads folder.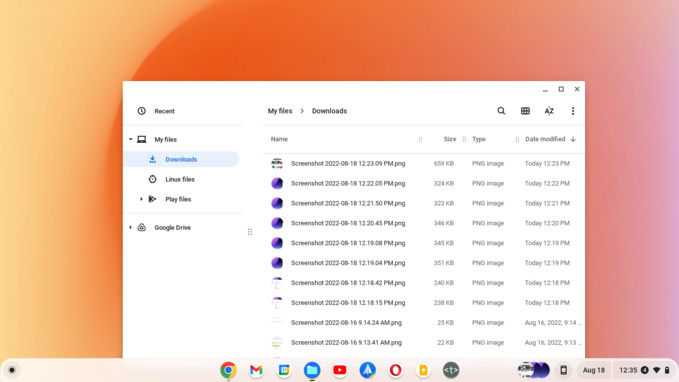 To access the Downloads folder, open the Files app from the app drawer. Select Downloads from the sidebar in the Files app. Here you can find all your screenshots that are labeled Screenshot, followed by the date and time they were taken. You cannot change the screenshot location on Chromebook, and it will remain the destination folder for all your snaps.
Related: How to Change Download Location in Google Chrome
Chromebook Screenshot Tools
There are third-party free and paid apps to take screenshots on Chromebook. If you want more features on these screenshot default features, you can depend on these Chromebook screenshot tools. Here is the one you can download direct from the chrome store: Screenshot Tool – capture & editor
FAQ: Screenshot on Chromebook
How do I use snip on Chromebook?
Snipping is a Windows feature, technically, but essentially it is just another name for the screenshot capture tool on Chrome OS. You can "snip" on Chromebook using the screenshot capture tool or keyboard shortcuts. Both methods are detailed above.
Can you print the screen on a Chromebook?
Print Screen is simply an older term for screenshots that Microsoft came up with back before screenshots were popular. So, yes, you can definitely "Print Screen" on Chromebook. The methods to do so are described above.