Apple AirPods are designed to work well as one of the most user-friendly headphones out there, with tons of features preloaded. With the inbuilt H1 Chip, the Apple AirPods automatically detects the movements and motion and act accordingly. By identifying your movements, AirPods can detect if it is in your ear or not, and automatically turns off the music when you remove it.
In this article, you will find how to turn off the automatic ear detection in AirPods.
Turn off Auto Ear Detection on AirPods
Apple AirPods are built to identify the position and angle which it is placed, that helps for automatic ear detection. Apple sells the AirPods with the Ear Detection feature turned on by default. However, many people find it annoying while listening to music.
When you remove the AirPods from your ear, the playing music or media will pause until you put it back to your ear. It happens every time, even if you are putting the earphones to skip specific parts in the music. In such cases, you will have to turn off the feature to use as a normal earphone.
Follow the steps to enable or disable the auto ear detection in AirPods, right from your iPhone.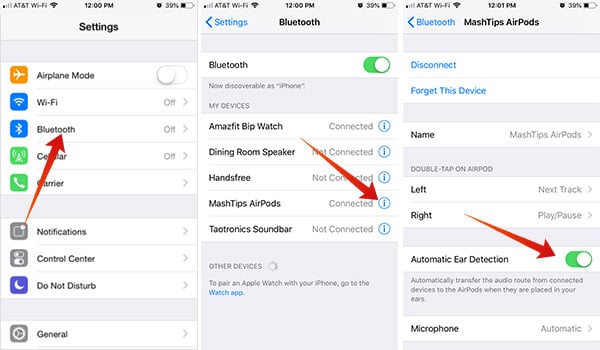 Connect your iPhone with Apple AirPods. You can go through our article on how to connect AirPods to an iPhone if you have not paired it yet.
Launch the Settings app from the home.
Enter "Bluetooth" settings.
There you will find every connected, paired Bluetooth devices on your iPhone.
Tap the "i" icon on the AirPods that you are using currently.
You can find various options for the AirPods. Tap "Automatic Ear Detection" to toggle it off.
Now you successfully disabled the Automatic Ear Detection feature from your AirPods.
Also Read: How to Hard Reset Apple AirPods?
Enable Automatic Ear Detection on AirPods
Disabling the ear detection on your AirPods will result in playing the media even when you are holding it out of the case. In order to avoid this, all you can do is to enable the same. Here is how to enable automatic ear detection in AirPods.
Open Settings on your iPhone.
Enter "Bluetooth."
Tap the "i" icon alongside your AirPods.
Toggle on "Automatic Ear Detection."
Although, enabling the automatic ear detection feature is one of the ways to save battery charge of your AirPods. Since the media is not playing after removal from the ear, there will be less energy consumed thus results in a better battery backup.