Android smartphones can do many things directly from the home screen, thanks to the app widgets. With Google Action Blocks, this functionality is further extended. Action Blocks lets you create rectangular widgets on your home screen to do almost anything without opening any apps. You can use this to turn your Android home screen into Android TV remote app, among other things.
In this guide, let us take you through the steps to turn your Android phone's home screen into a TV remote so that you can control your Android TV without opening any apps.
Add Android TV Remote Widgets on Home Screen
Now, this will not be quite like having a big Android TV remote app widget on your home screen. But you can still use your phone as a TV remote. Basically, we'll just create Action Blocks that are set to control your Android TV. For example, we'll use "Turn on TV" which is a fairly basic action.
Related: Get These Custom Android 12 Widgets to Personalize Your Phone Home Screen
If you have multiple TVs set up in Google Home, you'll need to use the specific name of the TV, such as 'Living Room TV'. Needless to say, your Android TV must be set up in the Google Home app for this to work. To get started, you need an app named Action Blocks installed on your phone.
Download: Action Blocks (Free)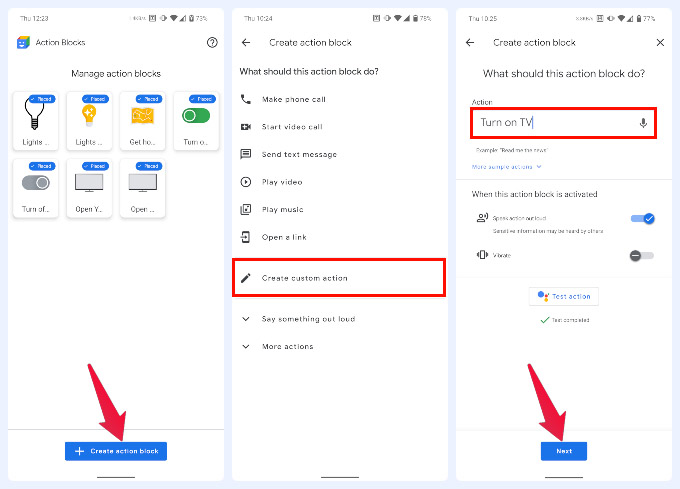 Launch Action Blocks.
Tap on the Create action block button.
Select Create custom action.
In the Action input field, type the voice command which in our case is, "Turn on TV"
Tap Next. You can also tap Test action to see if it works before tapping Next.
Give a recognizable name to the Action Block and select any image for it.
Tap Save when you're ready.
On the pop-up that appears, tap ADD TO HOME SCREEN.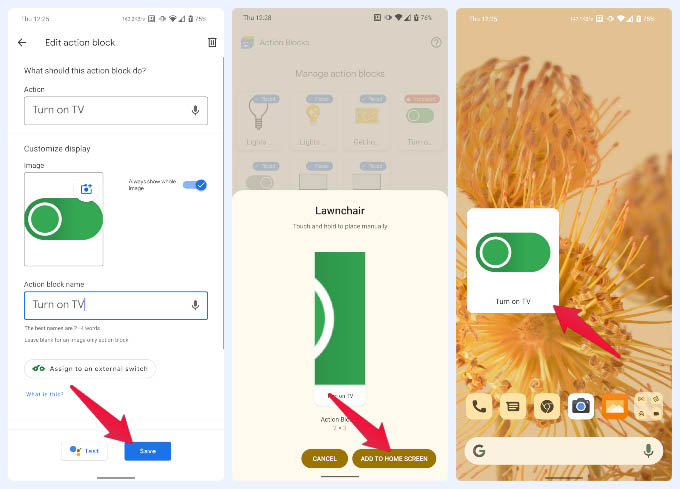 The Action Block will be placed on your home screen. You can easily resize it like any other widget. When you tap on it, Action Blocks will launch Google Assistant with the command "Turn on TV" already fed to it. You can similarly create Action Blocks on your home screen for several other TV functions. Some examples would be, "Mute TV", "Lower volume on TV", "Change to channel 251 on TV", etc.
Related: 10 Best Android TV Box to Convert TV to Smart TV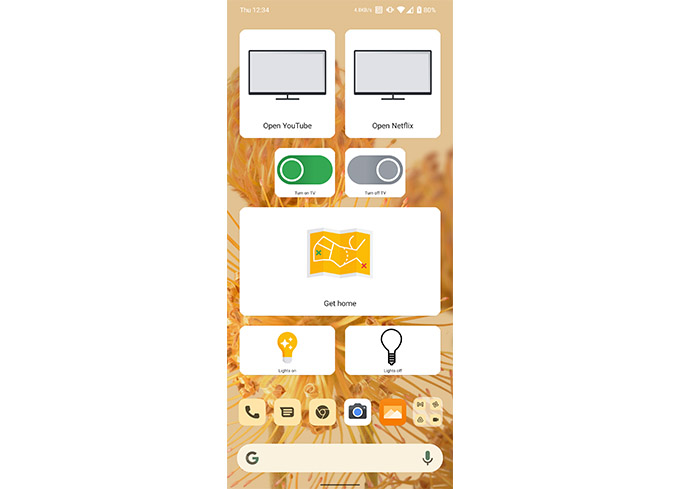 You can potentially add very specific actions that you don't even get on your Android TV remote app. But you don't have to stay limited to using your phone as a TV remote. As long as you know the voice command, you can turn it into your smart home remote. With Action Blocks, you can control any Google Home compatible device in your house. This includes Thermostats, Lights, Speakers, etc.
Basically, you can use your phone as your smart home remote, right from the home screen. Usually, you will have to do this from the Google Home app or the quick settings.