Nearly all iDevice holders have experience in syncing media files between iOS and computer with iTunes. As a native member of Apple family, iTunes runs much better on Mac than on Windows. And iTunes cannot sync iPhone iPad problems have never stopped or even decreased on Windows PC, including the newest Windows 10.
iTunes, released early in 2001, is originally a pure music manager to help Mac users rip/mix music and burn CDs. It's not until two years later did iTunes start to support Windows and import iTunes Store for music purchasing. At present, iTunes has developed into an all-around media player and iOS file manager. And the file types include Music, Movies, TV Shows, Podcasts, iTunes U, Books/Audiobooks, Ringtones, Apps and Internet Radio.
Usually, if your iTunes won't sync any of those files between iPhone/iPad/iPod and PC after right connecting, a related alert message with a certain error number will pop up here. According to a large number of consumer feedbacks, here we picked out several top iTunes sync errors on Windows:
– iPhone cannot sync with iTunes after Windows, iTunes or iOS upgrade.
– The iPhone xx cannot be synced. An unknown error occurred, like the error -54/-50, and 0xE8000065.
– The xx cannot be synced. A duplicate file name was specified.
– iTunes keeps crashing when syncing.
– iTunes missing songs missing after sync on Windows.
– iTunes (version number) runs very slow on Windows.
– iTunes syncing gets stuck on "waiting for items to copy".
The reason of each iTunes sync error on Windows varies from situations. Some iTunes won't sync issues can be tackled by an easy reboot of computer/iDevice, driver updating, firewall setting, anti-virus software disabling or the syncing pattern transferring (like from USB to Wi-Fi). But in many cases, nothing happens even after users have tried all of the possible "techniques" found online, which to some degree leads to the process of fix iTunes syncing error becomes a worn-out overhaul of Windows computer.
Is there any simple and fast solution that makes the way through iTunes syncing error? Well, the best iTunes alternative for Windows and iOS management software – WinX MediaTrans just comes in time.
It's intensified iOS & Windows compatibility makes media content transferring between iMobile and PC fairly easy and stable with only a USB cable, no Apple ID needed, no unexpected data loss, freezing or crashing at all. Let's just get started to be acquainted with the features of WinX MediaTrans.
1. Music Manager:
Music can relax the body, evoke emotions, and sometimes erase the pain. At present, more and more people tend to enjoy music directly on mobile, rather than specialized music player (that Apple has killed off iPod Nano and Shuffle recently is a typical example). This iPhone music manager empowers you to selectively sync any music files between iOS-based gadget and PC without data loss, create a new playlist according to your taste, edit any song's information, make a free 40-second ringtone out of any music piece, and delete whatever music file permanently from the device.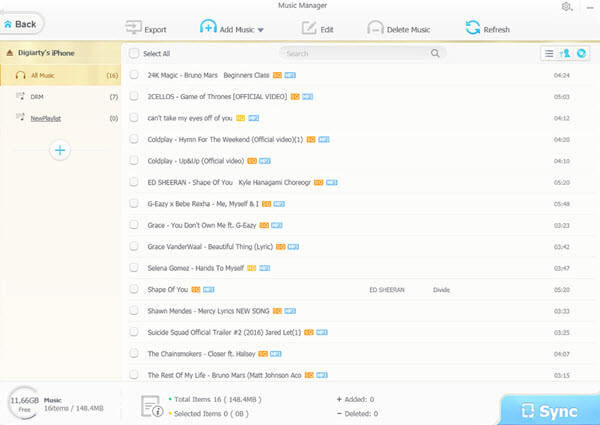 2. Video Manager
Video, as another crucial element of multimedia entertainment, is generally larger in size than music and occupies more space, which gives rise to the frequency of video syncing. This helper perfectly supports two-way transferring video clips (4K included) from iPhone iPad to Windows and vice versa in a snap, deleting movies from categories (except Video Recorded and Movies) as you prefer. Considerably, when external video (in any format) is added to iOS from the computer, this video manager will intelligently make it playable on iPhone iPad in full-screen by auto converting video format and doing 90 degrees rotating.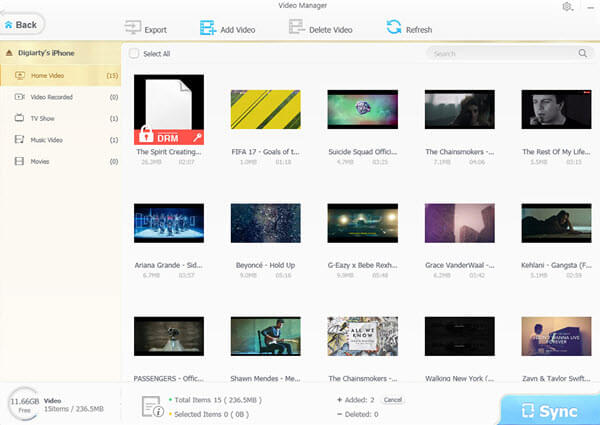 3. Photo Transfer
iTunes puts more focus on music and video syncing, leaving photo backup to iCloud (with only 5GB free storage) instead. In contrast, making a photocopy to the hard drive is more acceptable. Similarly, the photo manager of WinX MediaTrans is also capable of adding, exporting one or more photos freely, as well as creating new image album to gather certain pictures in one folder, which is also deletable.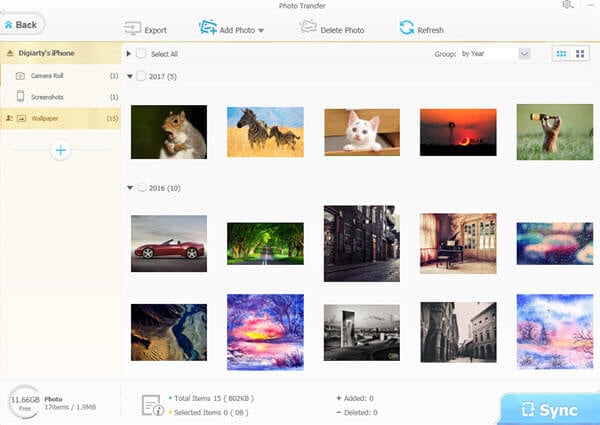 4. Others
Book manager – Two-way sync EPUB books, PDFs, and audio books, support file deleting; Voice & Ringtone Manager – Two-way sync ringtones, Tunes U and Podcast, support voice memos exporting and file deleting;
Voice & Ringtone Manager – Two-way sync ringtones, Tunes U and Podcast, support voice memos exporting and file deleting;
Flash Drive – Act as a professional USB driver to make your iPhone/iPad become a normal flash drive for file transportation.
iTunes sync errors can be figured out effortlessly by WinX MediaTrans. But many other iTunes install/update/restore/edit problems can still drive Windows users nuts. The good news is Microsoft has announced iTunes, with full support for Apple Music and iDevice syncing, will be available through Windows Store late this year. By then, it will be available on more Surface tabs and notebooks running locked-down Windows 10 S., Of course, a big improvement on user experience is what all Windows users highly anticipate.
---
This is a sponsored article.