Xiaomi phones have become one of the fastest selling smartphones. The reason behind the success of this smartphones is their uniqueness in features and unbeatable price. Each Xiaomi devices comes to the market with their Android MIUI skin. Actually, the operating system in Xiaomi will be Android but it comes with MIUI style and features.
Apart from the regular features, there is a hidden feature in Xiaomi that most of its users don't know, called Engineering mode on their smartphones. While other smartphone users depend on third-party applications or the authorized service centers for checking hardware and software issues. Xiaomi smartphones provide an easy method for checking the proper working of its hardware for notifying the apps causing a problem for the smooth functioning of the smartphone. By using this feature, one can easily perform a hardware test on this cool device by either a complete hardware test or single tests.
Here you can see how you can perform hardware tests or how you can enter the engineering model of your Xiaomi device. Make sure that you have kept your headphones and Bluetooth device accessories with you. If you need to test it completely, we need to connect the device to the internet with a Wi-Fi hotspot and keep the required accessories connected for further checking.
Enable Engineering Mode in Xiaomi
From the Xiaomi device, Go to Settings > About phone. Tap on Kernel version 3-4 times. Now, it will show that you are x times away from entering CIT.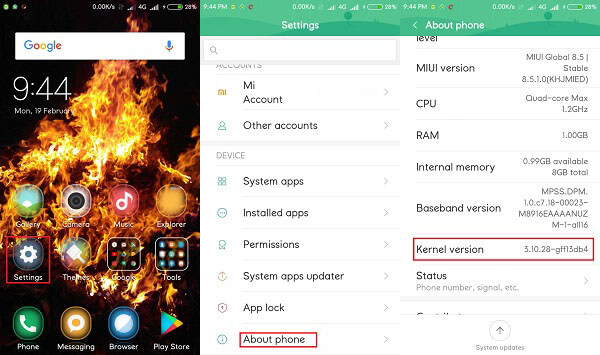 Taping on
kernel version
4 times will make your entry to the
Engineering mode
or the
debug mode
, in which you can see Automatic test, Single item test, Test report, SW add HW version and Device View.
Alternate Method to Enable Engineering Mode
This method may not work on all Xiaomi devices. For this, all the user need to do is to take dialer from their Xiaomi device, and type
*#*#64663#*#*
which will give direct entry into the engineering mode.
Related: How to Make Sure Android Hardware is Working Properly?
Use Engineering Mode in Xiaomi
Engineering mode provides Automatic test, Single item test, Test report, SW adds HW version and Device View.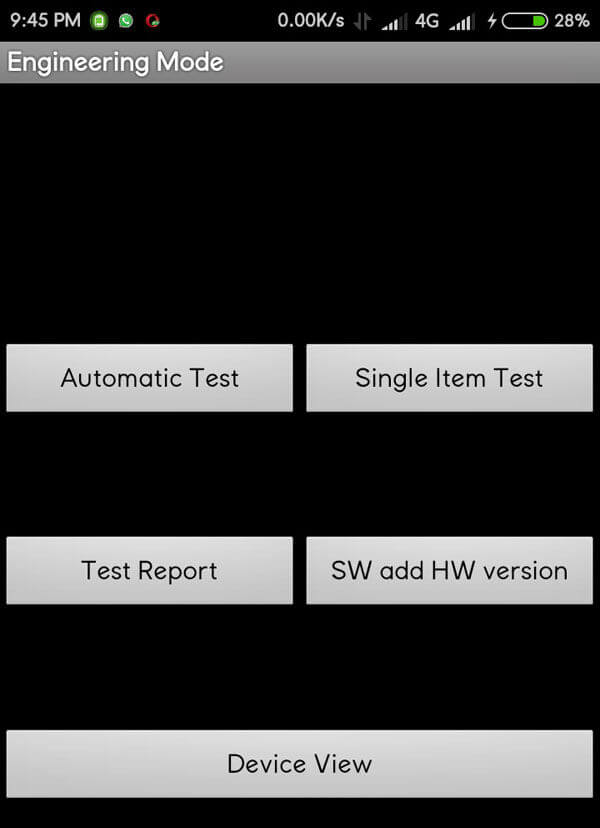 Just click on the Automatic test, to guide the user to test each and every hardware components automatically. Now, choose "single item test" to customize the test according to the will of the user. The user can choose whatever hardware he wants to check for ensuring its proper working.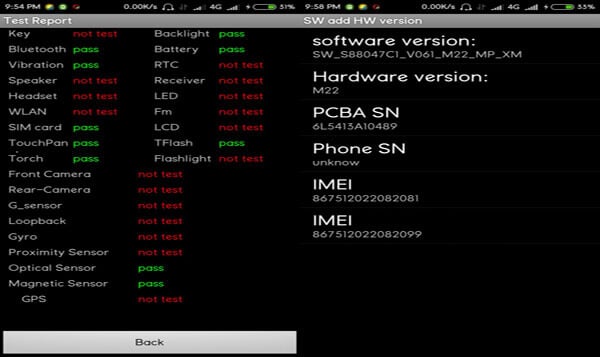 For looking up the last result of the hardware test, the user can choose Test report. From these test reports, the user can find out which hardware of his device is not working properly. Moving to Software and Hardware version will show software details such as camera, secondary camera, battery etc.
Single Item Test on Xiaomi Phone
There is an option to select the single hardware for testing purpose. Let us see what will happen if we choose some hardware components from single item test.
Check Brightness of Xiaomi
Choosing backlight will test the brightness of your Xiaomi device. Back light test will give some options for the user i.e. back light min, half back light, and max back light to test. User can manually check minimum, half or maximum back light settings are working properly in their device by clicking on them. Other two options seen on the back light test are Cycle test and Stop cycle. Performing a Cycle test will automatically increase the brightness of your phone from minimum to maximum. For stopping the cycle test the user need to click on Stop cycle. If the user found it working properly they can click on success in the right downside of the screen or click on failed if it is not working properly. This will be saved for later viewing on the test report.
Check Xiaomi Phone Battery
The Battery test will show the technical details of your battery. Battery status, battery health, battery level, battery scale, battery voltage and battery temperature can be verified in this battery test of your device.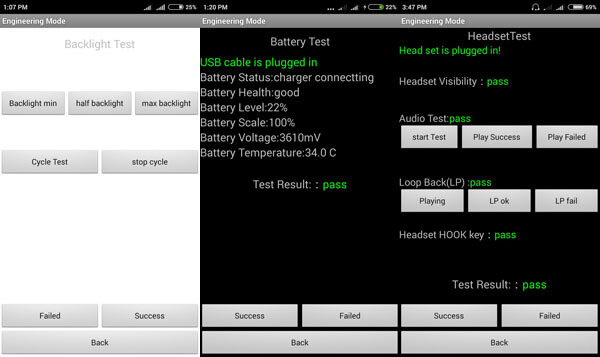 Perform Headset Test on Xiaomi
Before performing a headset test, make sure that you have connected the headset properly to the device. You can see 3 categories in headset test i.e. Audio Test, Loop Back & Headset HOOK key. Choosing Audio Test will play music in the phone which can be heard through your headphone which implies the audio test has been passed. Loop back will test the recording of audio through headphone mic. Choosing Headset HOOK key will test the answer key on your headphone.
Xiaomi Phone Proximity Test
Proximity test will test the proximity censor in your Xiaomi device. The screen color will be black when you enter the proximity test and it will show the text Far away.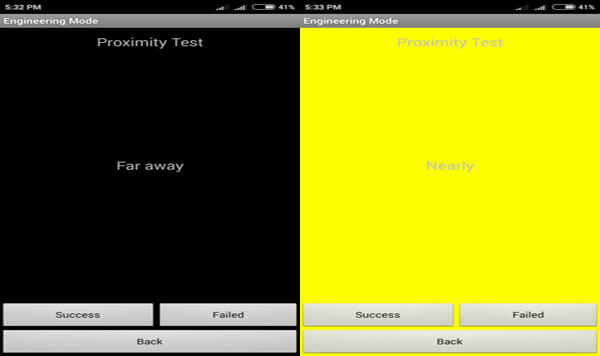 Move your hands near to the censor part at top of your device. If the censor is working properly, the screen color will automatically turns yellow showing the text Nearly.
Xiaomi Device View
When you want to get the all details of the device hardware, you can select the device view option. Device view shows version details of some hardware components in your Xiaomi device.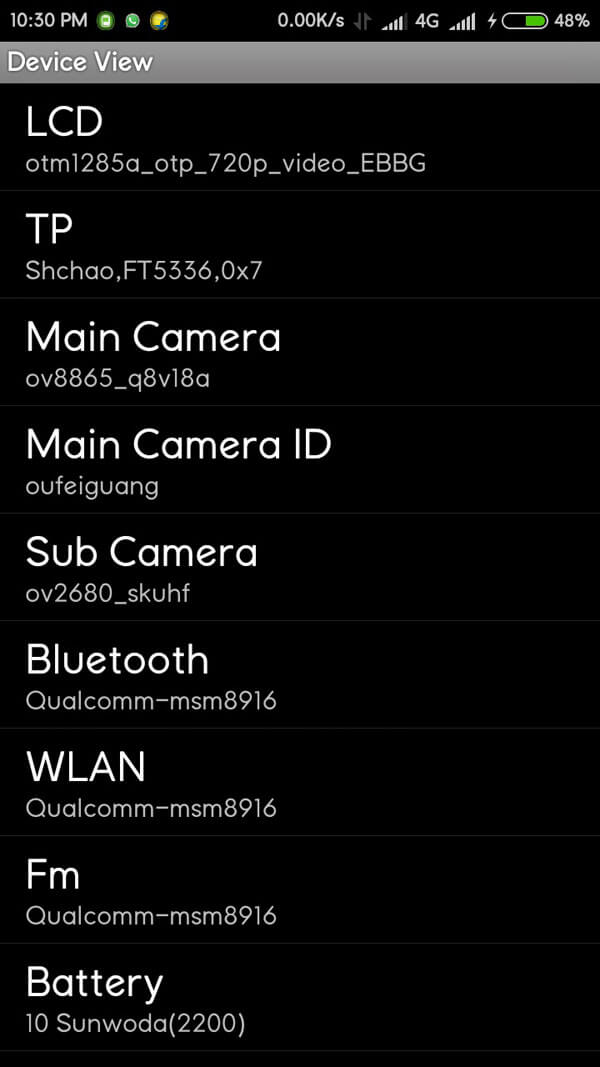 The device view screen shows version details of LCD, TP, Main Camera, Main Camera ID, Sub Camera, Bluetooth, WLAN, FM & Battery. From this, we can identify the components used for the Phone.
Xiaomi Engineering mode
This feature will be useful for its users when they find their smartphone not working properly after an accidental drop of the device to the ground or wet surface. It is also useful in cases where we need to purchase a refurbished Xiaomi model. The built-in hardware test will cover almost all areas such as cameras, speaker, mic, network etc.
Xiaomi engineering mode will find the hardware issues of the phone by following these given simple procedures. This will prevent the users from going to service centers unnecessarily, which also results in time and money saving. Xiaomi is available in the market at unbeatable prices which will not compromise on its high-class features and makes a friendly relation with its users.