Apple removed the YouTube app from iOS6. If you want to enjoy your YouTube in iPad or iPhone iOS 6 devices you can use these YouTube alternative apps listed below. These feature-rich YouTube for iOs 6 apps give you a better video playing experience compare with your native iOS YouTube apps.
You can install most of these iOS video apps free of cost. These apps support videos from other channels like HULU, CNN, ESPN and more. These apps help you to share videos with your friends, Facebook and Twitter.
YouTube
This is the official YouTube apps to watch the world's videos and keep up with your favorite YouTube channels. You can sign in to access your subscriptions, playlists and uploads.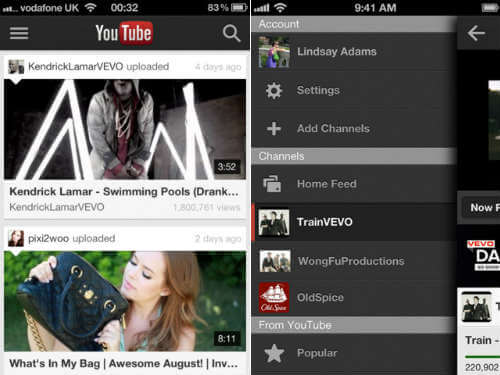 YouTube apps from Google featured with YouTube's vast video catalog including official music videos
, voice search and query autocomplete to find videos and channels more easily, instant access to your subscriptions with the channel guide UI and additional features like read comments, browse related videos, enable subtitles and more.
Download from iTunes: YouTube
Jasmine
Jasmine is a full-featured YouTube client for iOS featured with a smooth and responsive interface
, Night theme & dimming support for browsing in low light
. Jasmine provides full support for managing playlists and it is capable to play audio/playlists in the background while using other apps.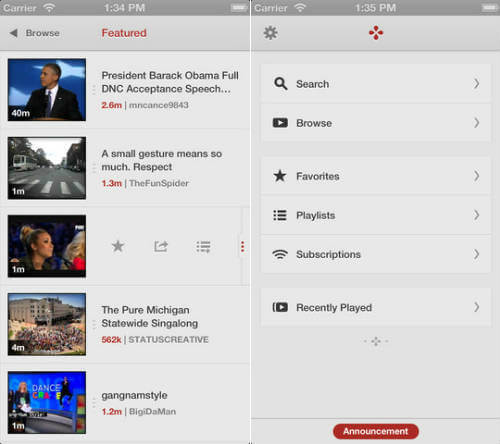 Parental Controls to curate content and restrict video discovery (PRO) features can be another attractive feature and it can browse and discover channels. The Jasmine app supports AirPlay
 and you are capable to share videos via Twitter & Facebook.
Download from iTunes: Jasmine
Squrl
Squrl is the best way to watch and discover videos. Simply select your interests and Squrl creates personal video channels of addicting video united from the most video sources anywhere, no signup necessary. You can build and organize your own YouTube playlists and channels
.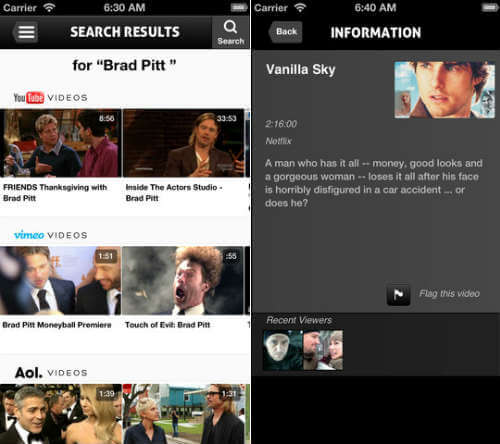 Squrl's interest-based channel guide now unites in one place thousands of playlists and millions of videos from quality sources from sources like Hulu, CNN, ESPN, NASA, CNBC, Devour, Reddit, TMZ, TED, Tech Crunch, Vimeo, Pitchfork, Food Network, Funny or Die, IGN and many more.

 You can connect with your friends and see what they are watching and sharing via Facebook and Twitter.
Download from iTunes: Squrl
YouPlayer
YouPlayer is a YouTube browser and player for iOS6 with support for the iPhone 5 and iPad.
 You can play any videos available for embedding including most music videos.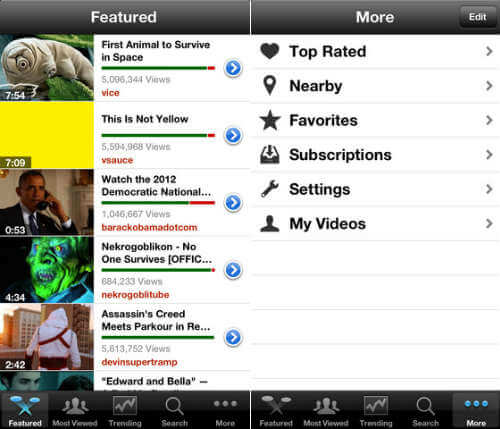 You can change the background color of the panel added your lock screen to fit nicely with whatever wallpaper you use.
Download from iTunes: YouPlayer
Showyou
The best way to browse videos from YouTube, Vimeo, TED and more.

 

Showyou gives you the best videos on the web, selected by your friends and people you care about.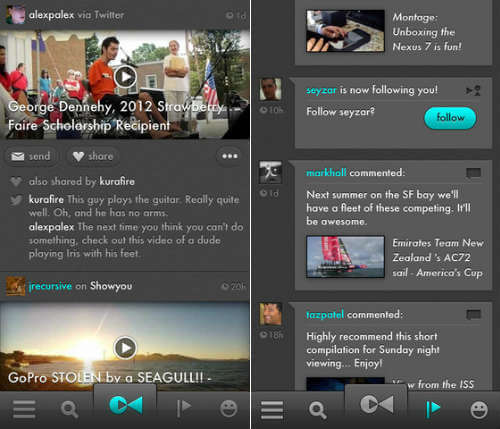 You can browse through videos from your friends on Facebook and people you follow on Twitter in a delightful and immersive two-dimensional grid on the iPad. Showyou is capable to follow video feeds from other users and channels, including the Daily Show, Colbert Report, TED, Reddit TV, Pitchfork and more.
Download from iTunes: Showyou
LoopTube
LoopTube is designed to play YouTube videos one by one in a loop. This is the entertainment application for everyday use to see favorite videos in a loop without tapping play next and full-screen button.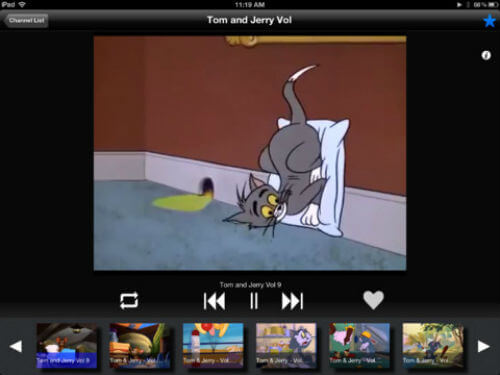 Using LoopTube search with keyword and save the keyword in channel list for repeated use. LoopTube will play the next video automatically when current video ends playing.

 You can play a single video repeatedly from YouTube. You can search YouTube videos by keywords, save keywords in Channel List for further use and able to save a single video in Channel List for further pay.
Download from iTunes: LoopTube
All of these apps are performing well for iOS 6 with YouTube and other video channels. You may find out more YouTube alternative apps supporting iOS 6 devices. Please share your favorite apps here.