Setting up or upgrading your Android device is a simple thing if you are getting your update via OTA. After up-gradation or setting up the important thing you wanted to perform copy or add some of your music or image files to your device.
The USB configuration of Android 6.0 marshmallow is slightly different than other versions which will confuse you if you are not familiar with. Here we will see how to setup your Android 6.0 device USB configuration to access files in Windows.
You might not be seeing any USB setting through out the Settings menu in Android 6.0 M device. To start with, we need to plug the USB cable to the computer you wanted to access the files.
Related: Bluetooth file sharing using Smartphone with Android 6 Marshmallow
We can see that there will not be any indication regarding any changes or notifications in your android device. After plugging USB cable to computer verify that the computer is recognized your device. If it is available in the computer, then open notification drawer by swiping down from top.
There you can see the USB options setting notification to proceed further. Open it and you can see the options. Android 6.0 marshmallow provides more USB options compared to the previous versions.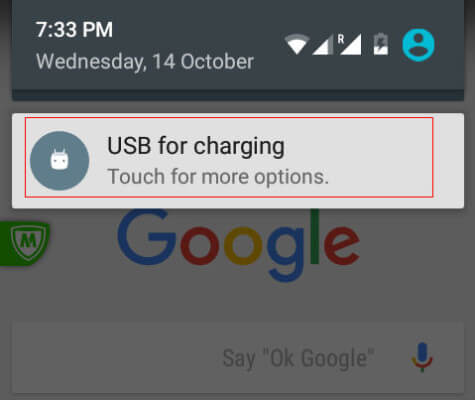 The first option is to have a "Charging" only option which can be used to connect to a USB port to charge the device without any notification to the computer. This will be the default option for the device and hence the device will not allow to access the files unless we are changing it.
Another 2 options are familiar with Android users and they are MTP device and PTP device to transfer files and photos. The last option is the newer one called "MIDI" which is to be used to convert the device as MIDI device. Select "MTP" device or PTP device according to your choice to access the files with computer.
After changing the setting to MTP or PTP option, then open the device in the computer where you can see the device Storage and files inside it.
Related: Save Your Data!, Best Android OTG (On The Go) Devices to Backup Phone
Since the default option is the Charging only there is no need to change back the setting to it. Once you are finished, simply plug it out and when next time you are connecting, it will ask for your setting again. We can see more changes inside the Android 6.0 Marshmallow version when compared to the older versions of Android.