Your old iPad has a built-in feature to slideshow your pictures from the photo album. But dedicated photo frame app gives you more flexibility and features. You have more flexibility while you use your iPad as a Digital Photo Frame. There are more features that you can get with your iPad with digital photo frame app than traditional Digital Photo frame. In this list, there are some apps exclusively to stream videos and pictures from Flickr and Google Photos. But we prefer the apps that can handle the pictures from your photo album and online resources at the same time.
Let us see best iOS Apps to Convert Your Old iPad to High-End Digital Photo Frame for free of cost.
iPad Picture Frame Feature
This is an inbuilt feature from the iPad. You can put the iPad into photo frame mode directly from the lock screen. You can enable Picture Frame mode directly from the lock screen by sliding the icon over to the right of the Slide to unlock and start the slideshow.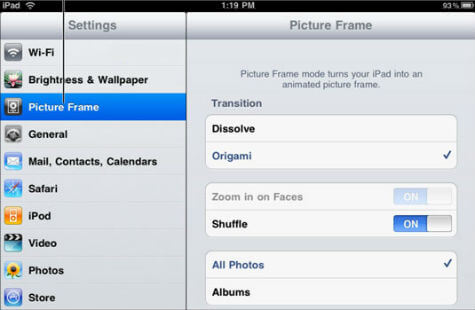 Pictures will be picked from your photo library and you can do some basic setting and adjustments from settings screen (Settings > Picture Frame).
We mentioned to Convert Your Old iPad into Beautiful Weather Station already and there is another interesting thing that you can do with your old iPad, A Digital Photo Frame.
Picmatic
Picmatic is the photo frame app coming with a lot of nice features. Picmatic automatically puts your photos on display for you and your friends to enjoy. New photos transition in constantly so you never get bored looking at the same things.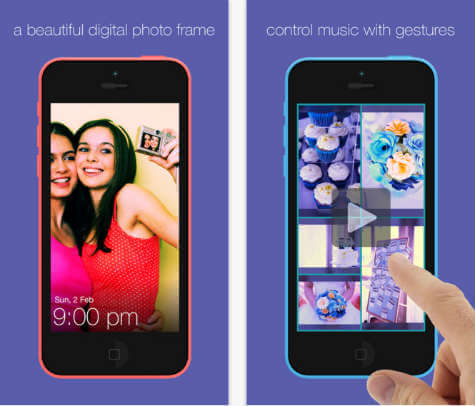 The features include music easily control through gestures, tells the time, you can choose filters to change the look of your photos on display, transition effects, clock customization etc.
iTunes Link: Picmatic
PicFlip
PicFlip mix your photos and music to make amazing video slideshows. You can choose from over 16 transition effects and create short video slideshows with photos from your albums or your Instagram account.
PicFlip makes easy to create slideshows within few minutes. You have to select photos from camera roll, albums, or Instagram and sort photos, add text and finally select music and set the timing to play with desired transition effects. You can export the video to your camera roll and share on Instagram, Youtube, Flickr, and Facebook etc.
iTunes Link: PicFlip
Cherishables
Cherishables is a unique photo app that offers an easy-to-use, customizable photo management experience. Show off the photos you cherish most with one-touch access from your device's home screen or take it further and create one-of-a-kind photo gifts.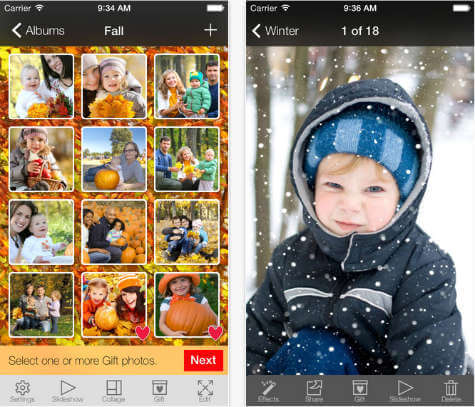 The features includes set a default album to instantly play a customized slideshow of your favorite photo album from your device's home screen, organize your favorite photos from Facebook, Instagram, your camera roll, or take a new photo inside the app, enhance the presentation of your photo albums with our thematic background designs or add your own etc.
iTunes Link: Cherishables
Flickr Photo Frame
Flickr Photo Frame can make your iPhone or iPad a digital photo frame easily. Flickr Photo Frame plays slideshow using photos on Flickr, so you don't have to bring photos into your iPhone/iPad.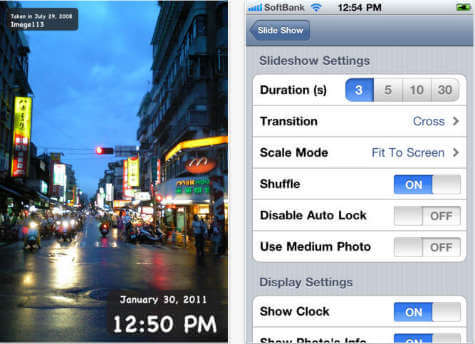 This app can also play photos of users in your contact as well as your own photos, you can see photos of your family who live far away from you. This product uses the Flickr API but is not endorsed or certified by Flickr.
iTunes Link: Flickr Photo Frame
Picasa Collage
Magicollage for Picasa gives its users the ability to wirelessly sync your Picasa photos to selected albums, instantly view web photos from your synced photos, easily access your Picasa web albums, and create unique slideshows. You can even view your friend's public albums and see what they have been up to.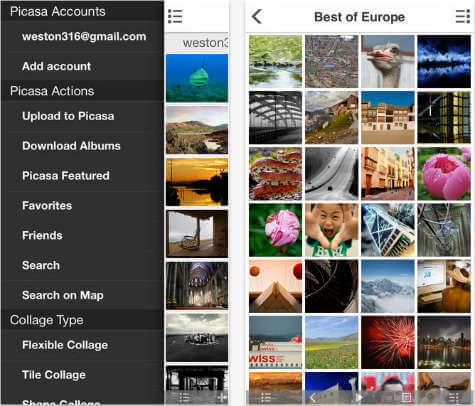 You can batch move, download, upload, email, save and delete your photos all with the click of a button. The best thing is that you will have the ability to view your photos at any time once they are synced with the app.
iTunes Link: Picasa Collage
Digital Photo Frame
Digital Photo Frame uses all the most important capabilities of the iOS device to turn your iPad or iPhone into a high-quality photo frame. Digital Photo Frame extends active life of any iOS device allowing them to serve as a great photo frame and remind the perfect moments of your life.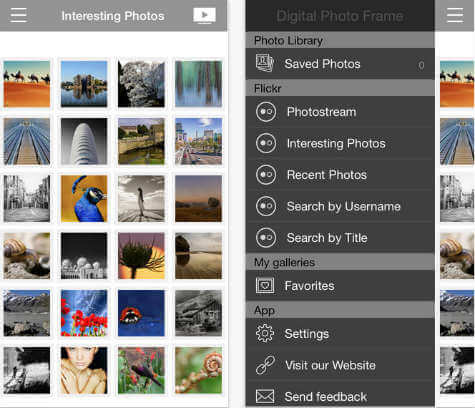 The features include the ability to Explore, search and download Flickr photos, thumbnails view, slide effect, show time and date on the screen, share the photos on Facebook, Flickr, E-mail, AirPrint etc.
iTunes Link: Digital Photo Frame
Pic Music
Pic Music allows you to mix your favorite music & pictures to play a video. With this iPad photo frame app, you can select multiple photos and instantly preview slideshow video. In addition to this, you can trim and add desired music in the background. The photo cropping, photo transitions, and subtitles are the additional features of this picture frame app.  As a bonus, with this Pic Music photo frame app, you can post an entire Panoramas on Instagram without cropping
iTunes Link: Pic Music
ProShow
With ProShow picture frame app, you can combine photos, videos, music, and text to create an amazing video slideshow in just a few taps. Perfect for sharing family memories, showcasing your photography, making polished wedding videos and more. You can add photos and videos from Camera Roll on online. There is free and build in music service for the background, and tones of themes and effects for the photo frame. You can pick custom effects and runtime in addition to the short video making capability.
iTunes Link: ProShow
Slide Maker
Slide Maker mixes your photos & music to be a short FANTASTIC video slide show. You can share them with your friends via Instagram, Facebook, Twitter, Viddy, YouTube etc and get tons of like.
iTunes Link: Slide Maker
iOS Slideshow Apps for Digital Frame
You can connect your iPad to an online photo community like Flickr, Picasa or Instagram account and enjoy professional pictures on your iPad. There are good apps from iTunes that can iPad stream music from the cloud network to iDevice offline and enjoy music.
Editor's Note: Please be aware that most of these apps support only two – three previous versions of the current iOS. When we update this article, Apple released iOS9 and most of the apps are supporting up to iOS 6 or iOS7 version.
Related: One Terabyte Free Memory to Backup iPhone & iPad Photos & Videos
You may be already updated your old iPad into the latest model with retina display and more processing power. If you are planning to trash your old iPads, please be aware that your old iPad still can do wonderful things that you can's imagine. iPad Photo Frame apps are more flexible compared to built-in Digital Photo Frames. That even eliminate the need for photo download and memory utilization by directly connecting the iPad to your Flickr, Picasa or Instagram account to display images directly with music and timer.