Don't let your old iPad to stay on your shelf with all the dust. Your iPad may be slower and may not have a retina display, but still, you can utilize your old slow iPad or iPhone to do the beautiful things in your home. Why do you want to use the iPad instead of readily available traditional weather stations? Well, the simple answer is flexibility. You can do more customizations and get more features with powerful iOS weather apps on your iPad and iPhone devices.
The best thing is these apps can save a history of these weather records and recover back at any time you want. You can set your iPad with the weather app on your wall. The same iPad can play music with an iOS music app at the same time. Finally, this iPad can connect to your sound system via Bluetooth and play your favorite music on the same device.
WunderStation
WunderStation brings you rapid-fire current conditions, forecasts, and historical weather data from any weather station in Weather Underground's network of over 45,000 personal weather stations. View, analyze, share and compare data from local personal weather stations with elegant, customizable graphs, infographics, animated wind direction, rainfall totals, and more.
WunderStation allows you to customize how you view and analyze weather data. Add any station from our network to your list of stations to compare current and historical conditions. Expand individual widgets and toggle between an animated infographic view or a graph view, and add layers for additional measurements to compare trends over time.
In addition to the standard weather measurements, WunderStation can also chart additional sensors (indoor temperature and humidity, UV index, and solar radiation). These extra features include viewing current conditions from any weather station. You can see the temperature, feels-like temperatures, wind speed and direction, wind gusts, humidity, dew point, pressure, rain accumulation and rate, and moon phase.
WunderStation app can display a 10-day and hourly forecasts. This display includes temperature reading, feels like, dewpoint, pressure, humidity, the chance of precipitation, cloud cover, wind speed and direction, sunrise and sunset, etc. The extra reading also includes historic highs and lows for temperature, humidity, pressure, rain accumulation, precipitation rate, and dewpoint viewable by days, weeks, months, or years, etc.
Download for iPad: WunderStation
Related: These Apps Can Do Wonderful Things That You Can't Imagine.
Weather Cast HD
Weather Cast HD is an ideal app for your iPad that brings you weather forecasts right on your iPhone or iPad. It can display your current weather conditions and 4day forecasts in your city and anywhere in the world. WeatherCast HD gives you an accurate weather report of the current weather conditions and forecasts in your town and just about any location from around the world.
All kinds of weather are brought to life on your device, with spectacular images that dynamically change to reflect real-time weather conditions. These features make it easy to instantly and visually see if it's sunny, foggy or snowing! This pocket radar will provide you with a short-term forecast of heavy rains, storms and other severe weather conditions.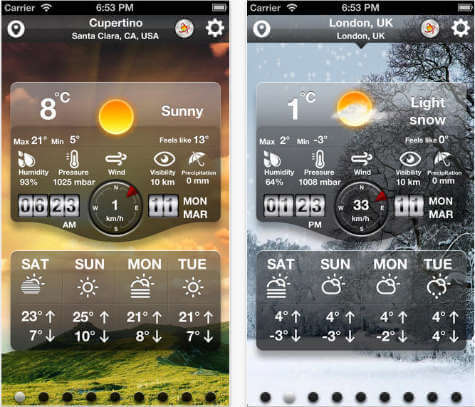 The additional measurement includes to see today's Minimum temperature and Maximum temperature, "Feels like" temperature, wind direction, and speed, Humidity details, Air Pressure information, Precipitation information, Visibility details, etc.
This app uses a GPS tracker to identify your current location and display the current weather conditions there and allows you to view weather conditions and forecasts for over 2 million cities from around the world.
Download for iPad: Weather Cast HD
Weather Station by Netatmo
Weather Station is the Personal Weather Station and its App designed for iOS devices. You need a Netatmo Weather Station to work with this app. You can measure locally with your Netatmo Weather Station and monitor directly from your iPhone with the Netatmo app. This iOS weather app shows your station's measurements including temperature, humidity, barometer, felt-like temperature, CO2 and air quality directly from your iPhone.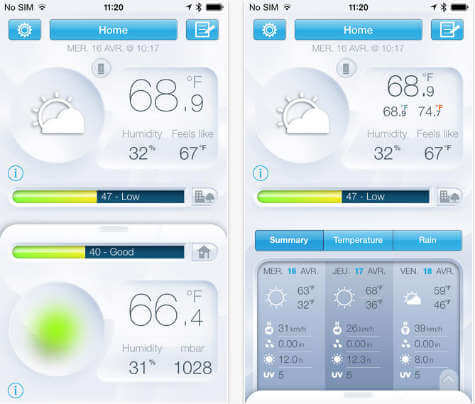 With this Netatmo app, you can add more weather stations to measure both outdoor and indoor measurements in one easy gesture. In addition to this, this weather app can automatically record your station's measurements to your Netatmo account, which displays weather and air quality history in beautiful and intuitive graphs. Etc.
This Weather Station app can push notifications for peak and variation events like CO2 concentration, extreme temperatures, low and high pressure, etc. The Netatmo Personal Weather Station can directly buy from the Amazon Store.
Download for iPad: Weather Station by Netatmo | Netatmo Device from Amazon
Related: A nice weather forecast for your Windows Outlook Calendar.
Digital Weather Station
This Digital Weather Station app is a simple and easy to use App, which can serve as a basic weather station for you with your iPhone or iPad. This iOS weather app can quickly determine your outdoor temperature by your location, current wind speed, humidity, a summary report of weather and it can refresh at any time for the latest data.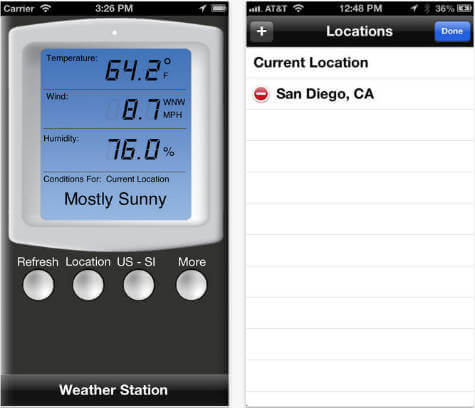 This iOS app is great for hiking, camping, outdoor activities, a day at the beach, or just general curiosity. The weather data is obtained by using location-based services and GPS.
Download for iPad: Digital Weather Station
Personal Weather Station Monitor
This Personal Weather Station Monitor app helps you to view weather readings and charts for multiple personal weather stations on the Weather Underground network which encompasses thousands of weather stations around the world.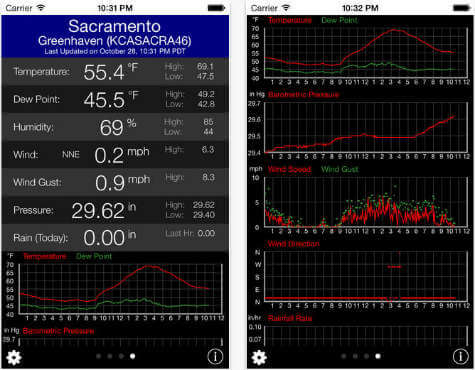 The data that can display by this app includes current and high/low weather data for temperature, dewpoint, barometric pressure, humidity, wind, rain, solar radiation, and UV Index are visible for multiple stations.
Download for iPad: Personal Weather Station Monitor
In case you don't like any particular weather app, you can change the entire weather station app to a new app with more updated features and functions. With your iPad, you can always try different apps, set the alarm with your desired music, etc. A smart weather station can monitor inside and outside weather temperature 24/7 for you. It can predict the weather for the coming week, warn you of an emergency.
iPad weather station features are not limited to temperature monitoring. You can add more cities to monitor the weather and time. You can get wind, pressure, rain, humidity, temperature and display all required parameters in on the screen.
Before throwing our your old iPad or partially working iPad, think twice. You can convert your old Apple devices into a beautiful weather station. When you are planning for the next trip or vacation, have a look or your personalized weather station. Now you can plan ahead and be prepared for any weather, no more surprise weather for you.