Watching television shows and movies on the living room TV on normal sound experience is difficult for senior citizens and those who are hearing impaired. You might want to increase the soundbar volume for them. But it could annoy your neighbors with the loud noise. In such cases, getting loud wireless TV headphones is helpful. The Avantree HT280 is one of such wireless headphones for TV that allows proper movie-watching experience for hearing impaired and senior citizens.
Here is a quick review of Avantree HT208 wireless TV headphones. This could help you decide whether to buy one for senior citizens at home.
Avantree HT280 Review
Looking for wireless headphones for the senior citizens and hearing impaired will land you at plenty of products. However, not all of them are loud enough to meet your expectations. This is where the Avantree HT280 stands out. The company makes it exclusively for those who have a partial hearing impairment. This pair of headphones can definitely help them watch movies without any listening issues along with other family members or friends.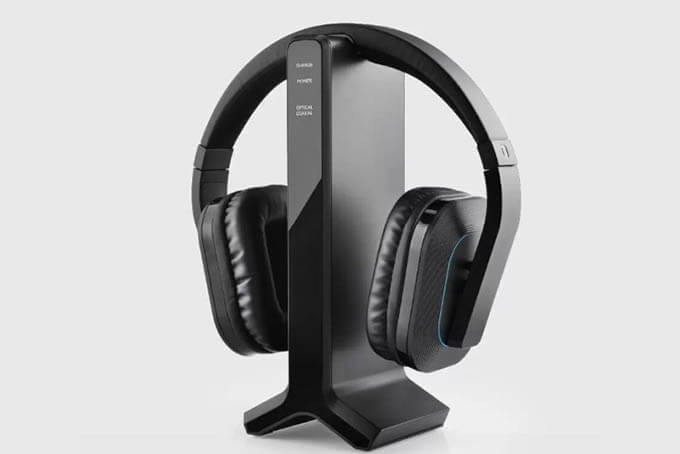 Coming to the design aspects, the Avantree HT280 has a large ear covering over the ear earpads with soft cushions to help senior citizens wear this for long enough time. The square-ey design aspect follows throughout the headphone design helps you hod this without slipping from the hand.
The plastic material used in the build is of decent quality, but not a great one though. However, you are not getting a cheap look at this price tag. The transmitter unit for the wireless TV headphones also acts as a charger for the headphone unit. You can dock the headphone on top of the glossy black tower-like transmitter unit. Whereas, the transmitter has a dedicated power source.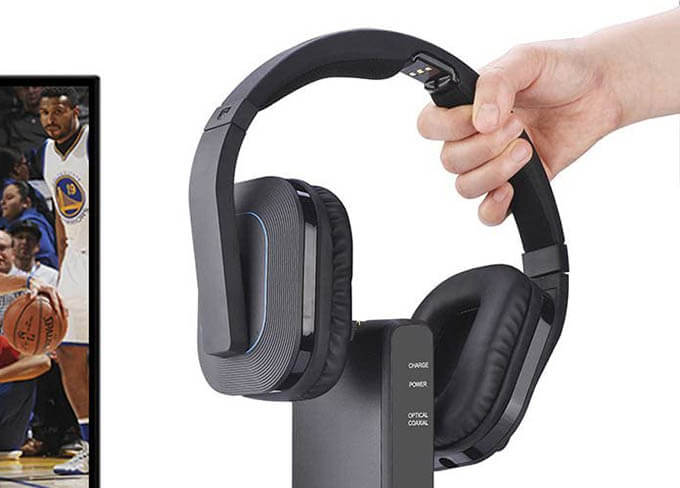 This is a completely plug and play wireless headphones for watching TV. You do not have to bother about pairing setups or any other configuration while using the headphones even for the first time. Both the devices pair together when they are turned.
The connectivity feature is based on 2.4GHz RF and not a Bluetooth device. There is no latency or delay in audio due to the tech used. Therefore, if you are looking for Bluetooth wireless headphones for your TV, check out the Avantree HT5009 Wireless Headphones with 40 hours of battery backup.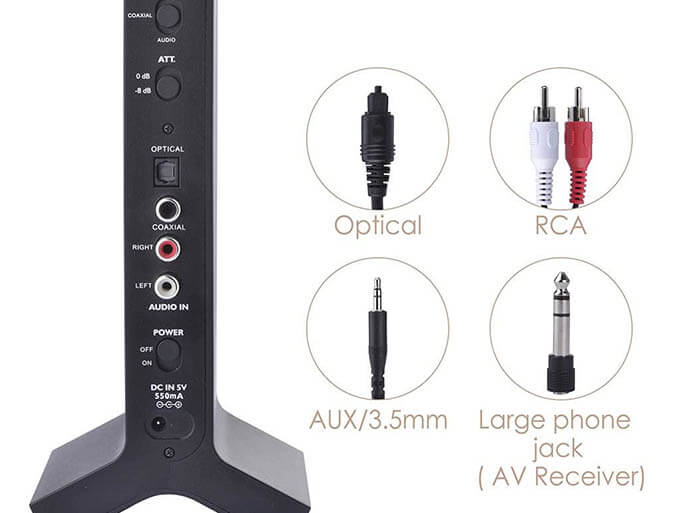 The transmitter can be connected with your living room television. It supports various connectivity ports including RCA, Optical Audio, and 3.5mm AUX. Plus, the bypass feature lets you connect both the headphone transmitter unit as well as your soundbar to the TV at the same time and play the sound between those two.
This feature can let you watch the movies using the soundbar, at the same time playing it louder through the headphones for those who are hearing impaired. The Avantree HT280 delivers 30% more volume than any other standard headphones.
The Avantree HT280 wireless TV headphones pack two rechargeable AA batteries. They can last up to 12 hours of playback in a single charge.
This weeks' Smart TV Deals with Discount for Samsung and Sony 4K TVs
Pros and Cons
Pros
Loud headphones.
Charging dock station on the transmitter itself.
No latency.
Cons
Not compatible with Bluetooth devices.
Too heavy.
Looking for more options? We have listed some of the best wireless TV headphones you can buy at great deals.
Today's Deal: $5.00 Off
Final Verdict
The Avantree HT280 is a wireless TV headphone, made for everyone, but more focused for those who are either old or hearing impaired. The headphone can deliver loud noise than any other headphones. So, it can help hearing-impaired watch movies with others without worrying about the challenges. The easy charging dock system is also an easy-to-use method for those who are not tech-savvy and makes things simpler in other aspects as well.
This might be one of the best gifts you are going to give to your aged parents or grandparents this year.