We all strive to give more attention to our little ones but one way or the other, things at times can get fussy. This is where the baby monitors come handy. These video monitors always keep an eye on your child even when you're far from home. These could come real handy to those mothers who've just had their first baby.
Hence, this time, we've compiled a list of some of the best baby monitors you could get online. From the basic audio monitors to the video and wireless ones, we've covered quite a lot of bigwigs this time. What's the wait, hop on and go through our list of the best baby monitors.
The Best Baby Monitor
Infant Optics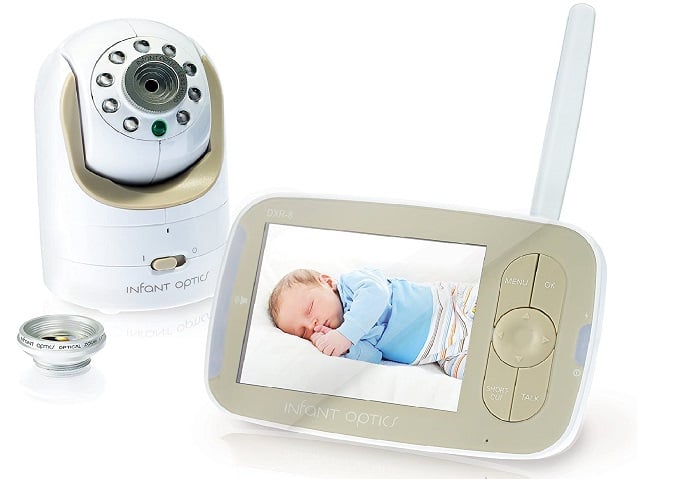 The Infant Optics Baby Monitor tops our list with its performance and positive customer reviews. It is one of the best baby monitors that come with a reasonable price tag that meets your expectations. This baby monitor helps you keep an eye on your baby during the napping hours. It works like a 24-hour surveillance cam but is a bit robust and cute. It lets you listen to the noises in your baby's room and can let you know when the baby wakes up. The DXR 8 is one of the few baby monitors that come with the ability to change the lens.
Infant Optics gives you access to zoom and customizes without even tilting the camera module. You need to buy the lens kit separately. Apart from that, you can expand up to 4 cameras with the scan mode. There is the IR night vision that lets you keep a record of the room while the light is out. The alarm mode, two-way talk, and the remote thermometer help you keep track of your kid's activity.
Related: How to Make Alexa Play Lullabies When Your Baby Cries
Best Featured Monitor
Motorola Baby Monitor

The Motorola Baby Monitor comes with a large 5" LCD screen that lets you be aware of your kid. There are LED notifications for the sound level to get a note on whether your kid is awake or not. This baby monitor works on rechargeable Li-ion batteries. There are low battery indications and other essential indicators too. Some essential features include the room temperature display, two-way communication channel, etc.
The speaker set on your baby's side can play soothing lullabies for him to fall asleep. You can get a split-screen view, but you need to equip an extra camera module. Coming to the camera module, Motorola Baby Monitor features a superior camera with remote pan, tilt, and zoom. The presence of the IR Night vision makes it quite easy to keep track of whether your baby is up or not at night. The Motorola baby monitor has the capability to extend up to 4 camera modules.
Related: 12 Best Portable Travel Chargers for Apple Watch
Best Affordable Baby Monitor
VTech Digital Baby Monitor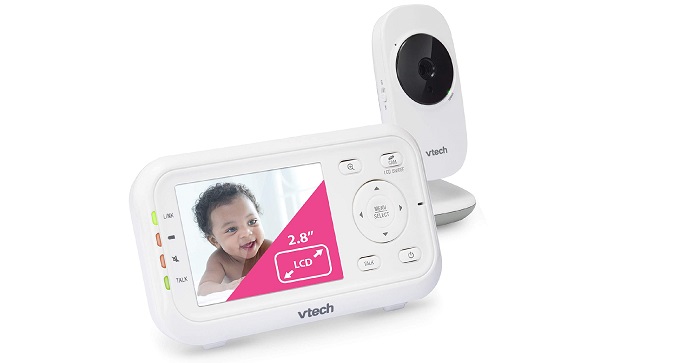 The VTech Digital Baby monitor is a generic baby monitor that is made to keep an eye on your kid. It doesn't fancy quite much on the design but has a superior camera module that runs quite well. This baby video monitor is one of the most affordable devices available online. It features a decent 2.8" display with full color and automatic night vision. With the night vision IR blaster, you can stay calm while your kid naps during those rough nights.
VTech baby monitor features a two-way talkback system within the surveillance module. With this, you can always make sure you're always next to him during your schedules or homely chores. The speaker unit within the baby monitor can play some of the soothing lullabies to make your kid fall asleep. As video surveillance could draw a lot of power, VTech added a feature that makes the device sleep during specific times. VTech baby monitor lets you turn off the parent unit until it senses noise from the baby's room. So with an adjustable camera unit that lets you get crip footages, you could have peace of mind all the time.
Related: 12 Best Health Monitoring Devices to Work with iPhone & iPad
Best Night Vision Baby Monitor
ANMEATE Video Baby Monitor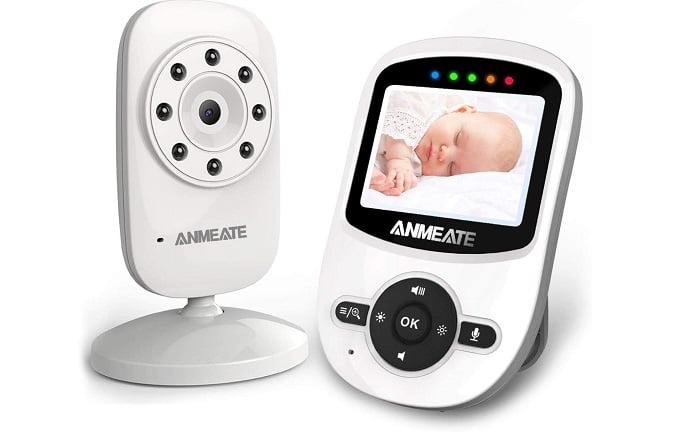 The Anmeate Video Baby Monitor is the best when it comes to Night time baby surveillance. It comes with powerful IR sensors and blasters that formulate the best in class Night vision visuals. This baby monitor camera comes with a unique HD display with 2x zoom for complete coverage. The 2.4" LCD display delivers crisp live streams without even the slightest delay.
The Anmeate Video Baby Monitor features 8 IR LEDs. It thus monitors the baby's activities even during the night with excellent surveillance quality. The parent module connects with the camera via the 2.4GHz FHSS connectivity. Thanks to this you get a max range of 960ft. Apart from the video and camera capabilities, the audio is also quite up to the mark. There are preset lullabies and melodious music to keep your little one calm. With the two-way audio, you can virtually be in touch with your loved one.
Related: 10 Best Floodlight Cameras to Upgrade Your Home Security
Best Video Baby Monitor with Screen and App
Kodak Cherish C525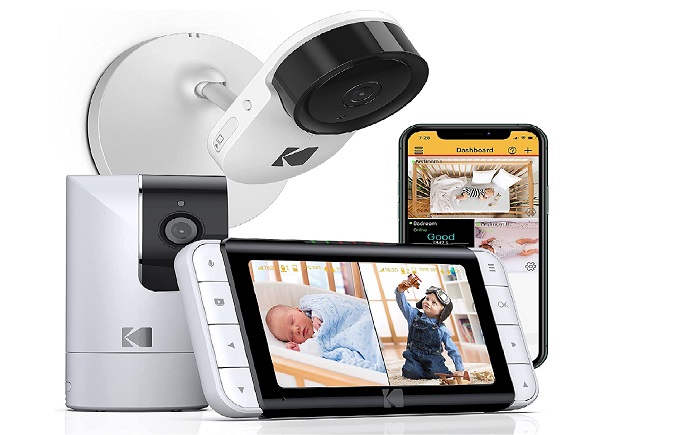 The Kodak Cherish Baby monitor is a compact baby monitor available online at a decent price tag. It comes with a 5" display panel that lets you control each and every aspect of your kid's nursery remotely. The inbuilt camera module on the baby side unit can record footage at 720p. The adjustable camera module makes it easy to span, tilt and take 360° shots of your kid's room. This smart baby monitor comes with noise and motion sensors.
These sensors work hand in hand to give an alert to you about your kid waking up. With the IR night vision module, you can have peace of mind even at night. There is also the Kodak Smart Home app that lets you store footages and notifies alter from the monitor. The apps compatible with the iPhones and the Androids and can work by connecting it with the WiFi. Apart from these, you can also play soothing lullabies from anywhere by taping on the app. The app lets you access a lot of features including the camera adjustments and much more.
Related: 10 Best Blood Pressure Monitors for Home User
Best WiFi Baby Monitor
VTech VM901 WiFi Baby Monitor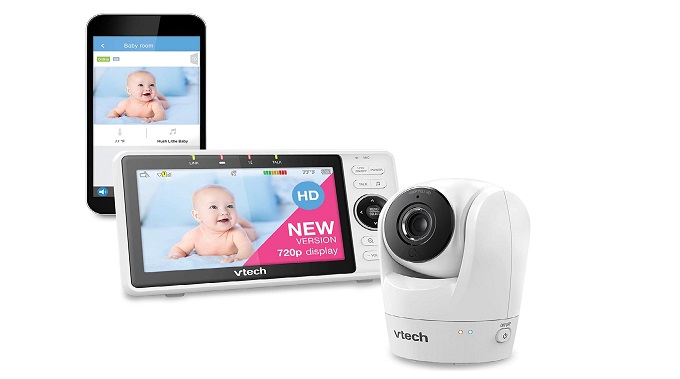 VTech VM901 WiFi Baby Monitor is a brand new addition to the class of WiFi smart Baby Monitors. It features a superior video camera that's WiFi-enabled. It acts like a surveillance camera that's coupled with an HD 720p Display. The True Colour Vision HD display offers crisp and clear live visuals of your baby 24*7. This parent unit display provides a good viewing angle. The video cam offers IR Night vision with an enhanced Low Light Imaging feature. Out of the box, the VM901 is ready to be used as your local baby monitoring device. Once you install the My VTech app, you'll be able to access visuals, get real-time notifications, and much more on your Android smartphone. The system even provides Router Mode. It gives remote access to live streaming to any smart displays at no subscription or monthly fee.
This Smart WiFi Baby monitor camera comes with almost all the features that you look for. It includes the 2-way talk, Motion, and Temperature sensors. There's also the preset Lullaby playback feature which at times could come in handy. The camera unit is easily attachable. It comes with wall mounts and stuff so that you'll get through the installation real quick. Also, the parent side monitor works on the rechargeable Li Ion Battery. The Battery Backup on the LCD display is by far excellent.
Best Non-WiFi Baby Monitor
Hello Baby Monitor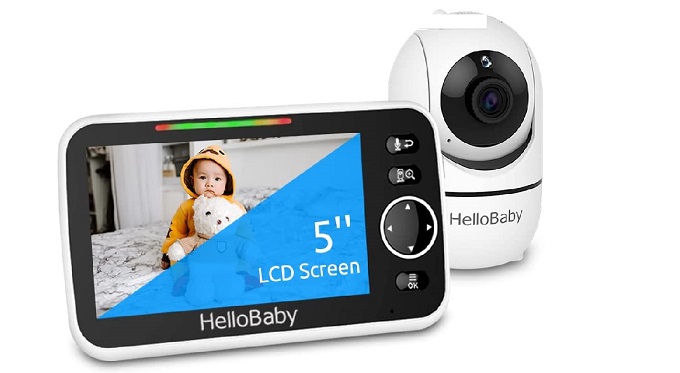 The Hello Baby Monitor is one of the best baby monitors to look out for if you prefer minimal smart features. This baby monitor offers 1000ft enhanced connectivity but without the need for WiFi. Thanks to the advanced 2.4GHz FHSS technology, the Baby monitor stays connected with the camera at all times within a range of 1000ft. The baby monitor you get features a 5" HD LCD display.
The camera unit on this baby monitor comes with the CMOS lens which, by the way, offers good night time visuals. It records footage in HD 1080p and offers a FOV of 150°. The camera module is adjustable. Apart from that, there is the 2-way talk, ambient room temp monitor, motion sensor, and many more. There are also quite a lot of preset lullabies as well as melodies that can come in handy. Apart from the audio notification, there is a small LED indicator that lights up when motion or audio gets detected.
Best Audio Baby Monitor
VTech DM221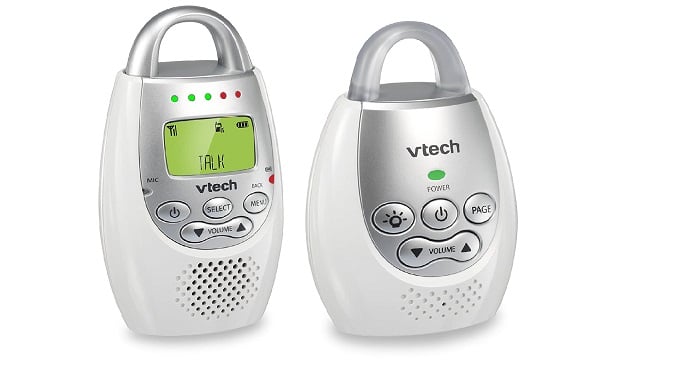 This VTech Baby Monitor is a basic audio enabled monitor to keep track of your kid. It doesn't come with video surveillance or a camera unit. It comes under 30 bucks and is one of the finest audio monitors available online. This baby monitor configuration includes one parent unit and baby unit. The baby unit's a sound recorder or the audio monitor. This baby audio monitor comes with DECT 6.0 technology that enhances audio qualities. It eliminates excess white noise from analog signals.
On the parent unit, there is a 5 level noise LED indicator. The graphic bar on the parent unit indicates the level of noise in your baby's room. There is the 2-way talk feature through which you can talk to your kid when he gets quite fussy. The whole unit works on rechargeable batteries. These batteries give the parent unit up to 18 hours of monitoring time on a single charge. It works with the standard AAA batteries too.
Cheapest Baby Movement Monitor
Peteme Baby Monitor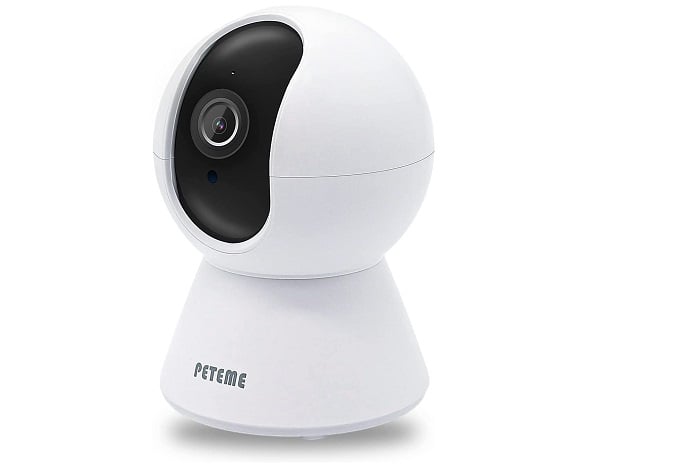 The Peteme Baby monitor looks quite modern and cool when it comes to design. It's compact and comes with only the baby side surveillance unit. It is a WiFi enabled smart baby monitor that lets you stream live on your smartphones. The Baby side module comes with the camera unit, mic, and speaker units. There are some inbuilt sensors such as the temperature and noise sensors. The camera unit is capable of recording at 1080p. The camera module is capable of giving pan and tilt shots with a complete 360° view.
It has a 6G lens and 9 IR LED lights. The IR unit helps in recording during the dawn. Apart from the camera module, there are motion sensors within the baby side module. It tracks movements and sends an alert to your connected smartphone to keep you updated. There is also the two-way talk feature that can at times be quite a big help for your kid. It lets you talk remotely to your kids and family members when you're out of town.
Best Baby Monitor with Crib Mount
Motorola Halo Plus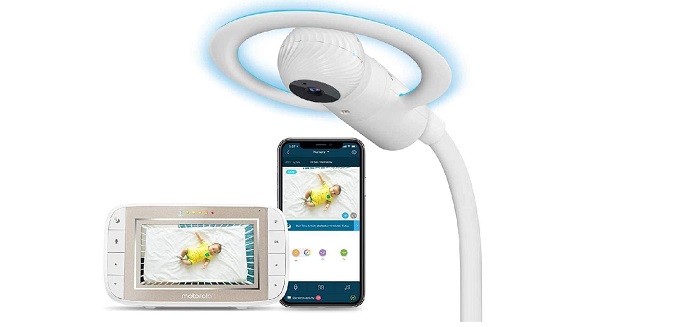 The Motorola Halo+ comes in a unique design and has a WiFi-enabled camera module. It comes with an overhead design that can be attached to your kid's crib. This baby video monitor features a 4.3" display that can play 720p footages. The device can help you check on your little one by connecting your smartphone with the unit through the Hubble App. This allows you to stream live and specify and select settings according to your wish.
The Hubble app smart sleep assistant keeps track of your kid's sleep durations, feeding times and much more. The camera module also features an IR night vision unit. This helps to keep track of your little one's sleep patterns during the night. The device works well within a range of up to 900ft. Apart from these, this baby monitor comes all essential features like the 2-way talk and night lights. You can also schedule lullabies each time when your kid kinda wakes up.
Related: Best Non-Contact Thermometers
Best Car Baby Monitor
Itomoro Car Baby Monitor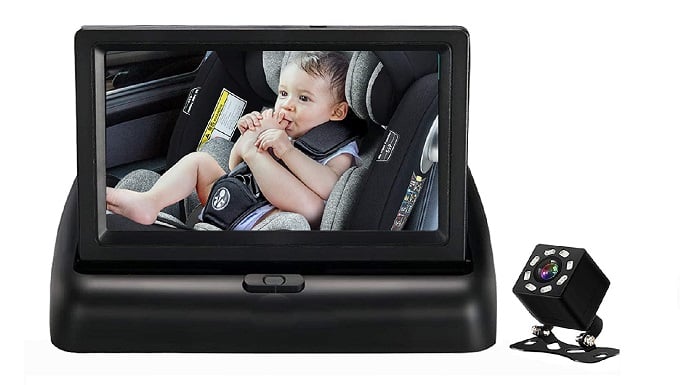 The Itomoro Baby Car Monitor is something like a dedicated rear mirror that only focuses on your little one sitting there. It includes two devices, a baby facing camera module and a parent display. The parent display can be fixed on your dashboard. The camera module on the other hand can be fixed onto the rear seat or near the window with ease.
The camera offers a superior viewing angle. The live streams are rather crisp and clean. The 720p 3.4" display sees to it that you get the perfect visuals. A thing to note is that there's a bit of installation and wiring required. Apart from that, the device works like a breeze. One more thing, there's only the IR Night vision and no 2 way or audio available. But if you ask me, audio could get distracting at times and it's a good thing that they opted audio out.
Best Portable Baby Monitor for Travel
Willcare Hello Baby Portable Baby Camera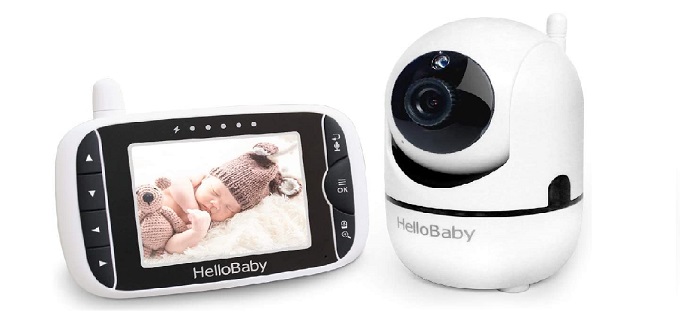 The Willcare Hello Baby Monitor is a portable, travel friendly baby monitor camera that comes on a reasonable budget. It comes equipped with a parent-side LCD display. The 3.2" LCD Display connects itself with the camera module with the FHSS technology. This travel friendly video baby monitor offers a 120° FOV.
There are smart features like quick alerts and LED notifications. There is also the two way talk that helps you keep the baby calm when you're not around. You can even switch from video to audio only mode. But yet the camera module streams live footage 24*7. The parent unit works on the rechargeable Li-Ion battery. The whole device features a plug n play design and this makes it rather easy to be around.
Related: 14 Cool Camping Gadgets to Level Up Your Outdoor Activities in 2022
Baby Video Monitor with Table/Wall Stand
Arlo Baby Monitor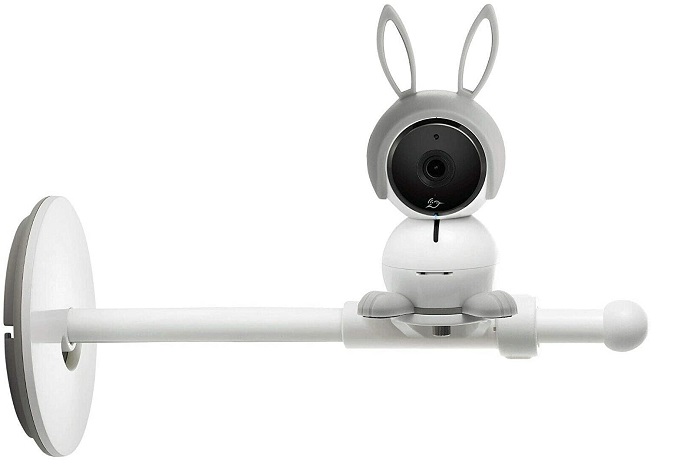 The Arlo Baby monitor features a camera unit that can record at 1080p. It is a single unit that you can attach to your wall. You can adjust the camera unit according to the positions you require. There are night lights as well as IR night vision to enhance recording during the night.
Inside the main unit, there are the motion, temperature and humidity sensors. These sensors give real-time data on the condition of your room and about your kid during his nap. With smartphone connectivity, you can download or stream live. You can access the recorded footages within the Arlo App and can also change settings and schedules within the app itself.
Ultimate Baby Monitor Bundle
NANIT Digital Baby Monitor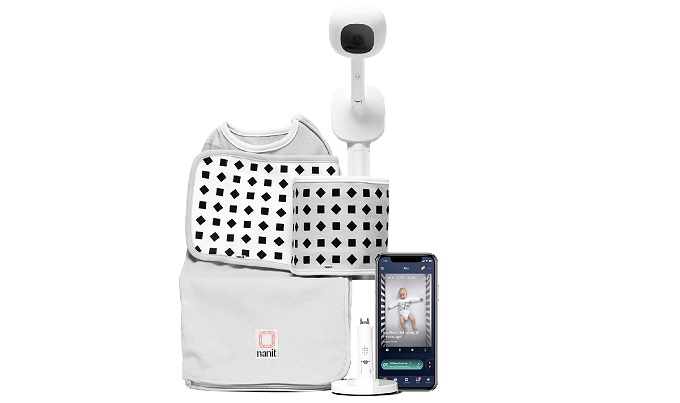 The Nanit digital Baby Monitor has everything you need to keep track of your kid's activity. It includes camera units, sleep, and breath sensors to give you complete peace of mind. You can access footages or stream them live with your iPhones, Androids or Echo Show devices. This baby monitor comes with breathing wear. It can track your baby's breathe per minute without any medical equipment anymore.
Nanit device collects the breathing patterns and sends the data to your smartphone. Like most of the baby monitors, you have the two-way communication channel. It lets you talk with your kid when he gets fussy. You can get realtime sound and motion notifications with adjustable sensitivity. Apart from that, you can track the humidity and temperature of your kid's nursery. There is also a sleep tracking system that gives you how much your kid slept during the night. It gives the duration of active sleep.
Best Baby Monitor for Two Rooms
Babysense dual Baby Monitor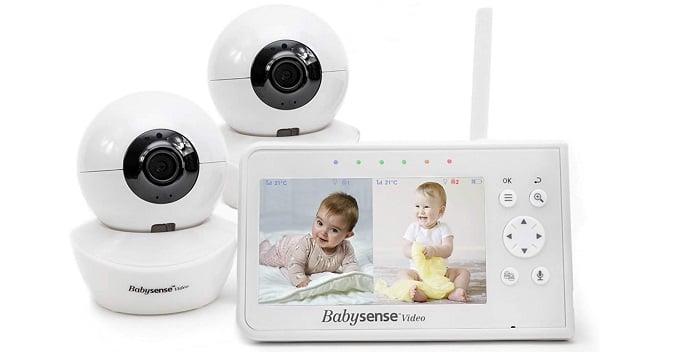 If you've toddlers that don't go well when you're not around, then you should definitely get the Babysense dual Baby Monitor. This baby monitor comes with not one but two camera modules. This lets you install one in each of the rooms to get better baby surveillance. The Babysense dual Baby Monitor comes with a 4.3" HD LCD screen that offers the split screen mode.
The two camera modules that come with the baby monitor offers both zoom and adjustable FOV. Unlike other ones on the list, the baby cameras connect with the parent module via the 2.4GHz FHSS technology. This offers a reasonable range of up to 1000ft. Apart from that, there is the two way talk, preset lullabies, and many more. Talking about the battery, you'll get around 10 hours on the Eco Mode and 6 hours of battery backup when used in the Normal Mode.
Best Baby Breathing Monitor
Miku Smart Baby Monitor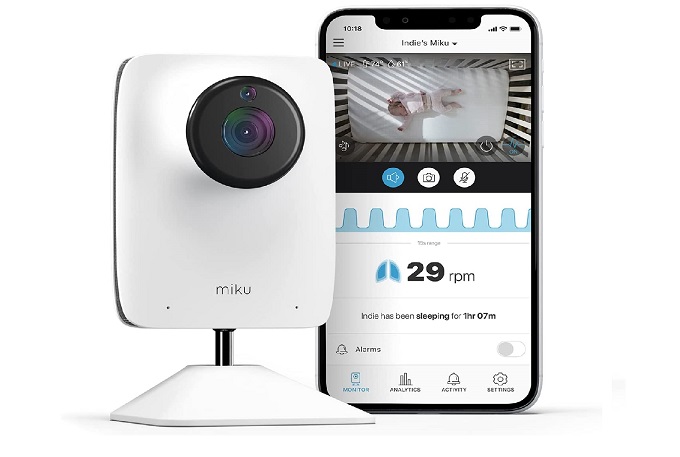 The Miku smart Baby monitor works with your smartphones to track your little one's sleep, breathing patterns and much more. It's far more than a basic baby cam. This baby video monitor comes with a camera module that can record at 1080p. You can get the footage or stream them live through the WiFi connectivity. It offers 256-bit encryption and houses a crypto chip that makes sure that you don't lose any of your data.
Like most of the baby monitors, this cool device also comes with the 2-way talk, motion and temperature sensors, etc. The camera module also houses the IR night vision unit that activates recording during the dawn. You can always keep an eye on your kid and even play a lullaby when he wakes up, through your smartphones. There aren't any need for fussy installations and other hazards. This makes it quite child-friendly.
Related: 8 Best Indoor WiFi Air Quality Monitors to Track Air Pollution Inside Your House
Best Baby Heartbeat Monitor
Owlet Dream Duo baby Monitor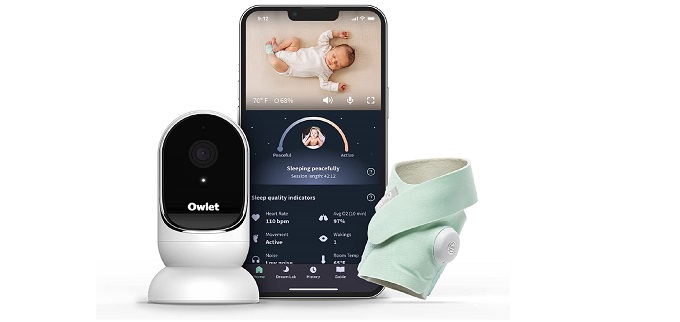 The Owlet Dream Duo is a dedicated baby monitor that has the ability to track sleep, heartbeat, oxygen levels, etc. The device is a mix of 2 components, one, the integrated camera unit and the other a magic sock, as they call it. The magic sock helps collect health related data like the sleep cycle, the number of wakings, heart rate, oxygen levels, sleep quality, and many more.
The Owlet cam streams HD live videos and have superior Night Vision. With the WiFi, you can connect it to your smartphones and iPhones. You can access live streams in HD, get real-time notifications, and many more via the Owlet Dream app. This baby monitor camera is integrated to give better footage and image quality. You get 4x zoom and a 130° FOV once you set up the main camera module.
Best Baby Oxygen Monitor
Aimon Smart Band Baby Monitor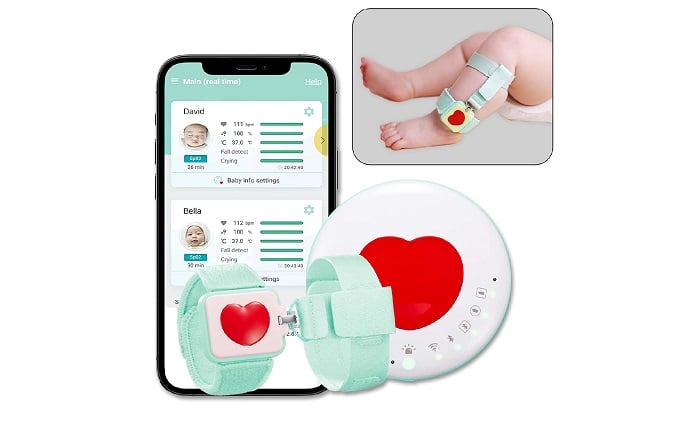 The Aimon Smart Band Baby Monitor isn't a surveillance-like monitor but rather a health tracker/ monitor. This baby health monitor lets you keep track of your kid's heart rates, Oxygen levels, body temp, and sleep cycles. The health band should be worn by the baby at all times to get a complete and comprehensive report. This baby oxygen tracker connects with your smartphone via WiFi.
Once connected, the device syncs data with your Android smartphone or iPhone for an interval of 1 hr. The Aimon Smart app is from where you track and analyze all these body metrics and sleep cycles. The data that's synced is available for a lifetime. It stores these data into your cloud storage without even charging a penny as a subscription fee.
Related: How to Monitor Blood Oxygen Level with Apple Watch
Baby Monitor with Thermal Monitor
HiPP Baby Video Monitor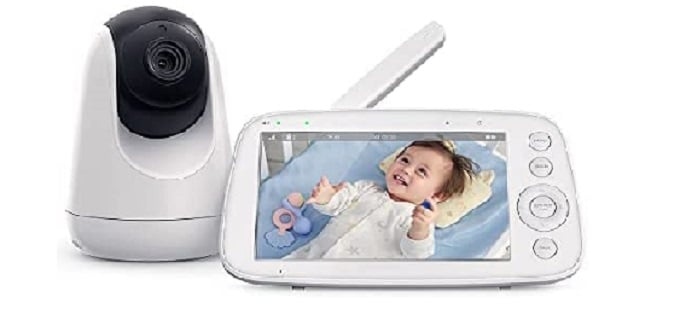 The HiPP Baby Video Monitor is a wireless baby monitor that comes with a 5" display. It is capable of giving 720p visuals through its large screen. It comes with an IR night vision that gives access to your baby's activities during the dawn. With LED noise indicators you can stay updated with your kid's wellbeing. The internal camera module offers up to 4X zoom so that you can keep track of things all the time. You can even tilt the camera or turn it as you need to always keep an eye on your kid.
The auto panoramic view enables complete surveillance of your child's nursery every second. This baby video monitor comes with a 4500mAh internal battery. This lets it stay awake without dying out all the time. The internal battery offers up to 24 hours in surveillance and 12 hrs in display mode. It can deliver video output from anywhere in the house within a limit of 900ft.
Cheapest Audio Baby Monitors
VTech DM111 Audio Baby Monitor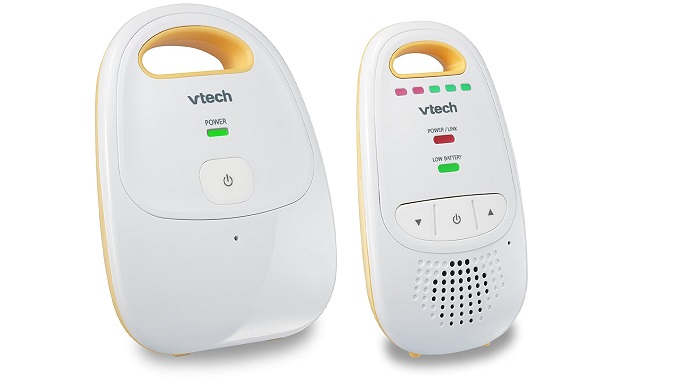 The VTech DM111 is yet another audio enabled baby monitoring system that comes under 20 bucks. It comes with a voice monitor that you can place in your baby's room and a parental unit.
The parental unit has all the controls that you need to work with the device. The parent unit has noise sensors that track the level of noise inside your kid's room. There is the belt clip within the parental unit to take advantage of the extended range. VTech audio monitor can work well within the range of up to 1200ft max.
Our list of the best baby monitors includes everything from the audio monitors to the video surveillance ones and much more. These baby monitors come in all sorts of designs and have now become wireless and work with the WiFi. Hence, equipping the best one does give a tough time. Make sure to consider every aspect of the devices before coming on to a conclusion. And as always, keep an eye for the price tag.
FAQ: Best Baby Monitors