iPhone SD Card Readers are to extend iPhone memory capacity with an external media card. There is no need to worry about the iPhone's "memory full error". These lightning SD card readers can use to transfer photos and videos from the camera to mobile phones. For photographers, these iPhone SD Card readers are an ideal solution. They can transfer pictures between the camera and the iPhone/iPad. iPhone memory cards are already in the market those are coming with Lighting Connector and Memory Card Slot.
Here are some of the best iPhone SD Readers available to transfer files between Camera and iPhone or iPad.
RAVPower Lightning to SD Card Reader
RAVPower Lightning SD card reader is coming with 64GB built-in memory. The SD Card offers an additional 128GB memory card support. This Lightning to SD card reader is compatible with iPhone and iPads. RAVPower support exFAT file format that enables the reader to transfer files even with more than 4GB in size.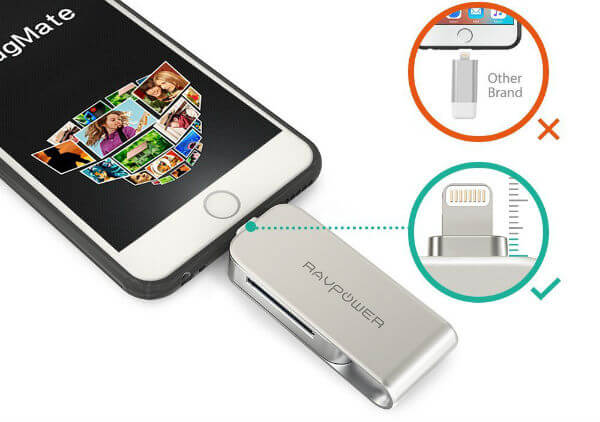 The SD reader can share the files directly to Facebook and other social media channels. The USB 3.0 standard offers a high transfer speed. This SD card reader does not support to transfer Digital Management Rights Protected media files from iTunes.
Max Support: 128 SD Card | Internal Memory: 64GB |Support: iPhone/iPad/USB/MicroSD | Buy from Amazon
Related: 7 Best Memory Stick for iPhone to Backup Photos, Videos & Contacts
YiKaiEn iReader
YiKaiEn iReader provides professional security by supporting password unlocking and fingerprint unlocking features. This memory card reader allows transferring data from SLR Camera and Trail Camera.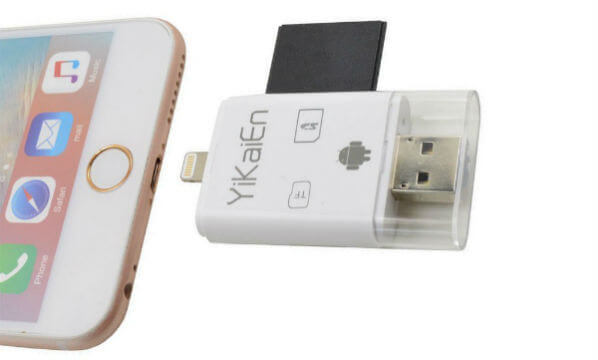 The iPhone memory reader will work on iPhone 5 and above versions. This memory card reader for iPhone supports 8 GB and 128 GB MicroSD. The card reader is coming in a cute compact designed enclosure.
Max Support: 128 SD Card | Internal Memory: NA | Support: iPhone/iPad/ Android/ USB/MicroSD | Buy from Amazon
IMEEK SD TF Card Reader
IMEEK comes with three interfaces; a Lightning connector for iPhones, MicroUSB for Android, USB connector for Windows/Macs. This iPhone Card reader allows data transfer directly. With IMEEK, you can Playback videos/music, Restore contact list and Read documents in all file formats.  In addition to this, this iOS SD card reader can act as a voice recorder.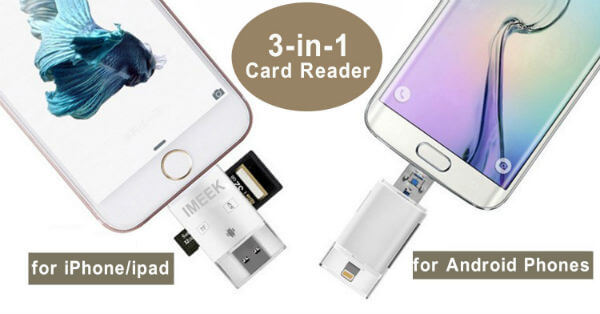 The IMEEK iPhone card reader can read at a speed of 20-27M/S and 11-20M/S for writing. You can transfer images from your camera by inserting the micro SD card reader directly to this reader.
Max Support: 128 SD Card | Internal Memory: NA | Support: iPhone/iPad/ Android /USB/MicroSD | Buy from Amazon
Related:iPhone USB Flash Drive: How to Buy the Best USB Flash Drives for iPhone.
Camera Card Viewer Reader for iPhone iPad
This SD card/Trail Camera viewer for iPhone supports iPhone 5 to iPhone 7 and iPads. The SD card reader supports JPEG/RAW image format and MPEG-4 video files. This card reader can use to share photos from the camera to the social network after transferring to iPhone.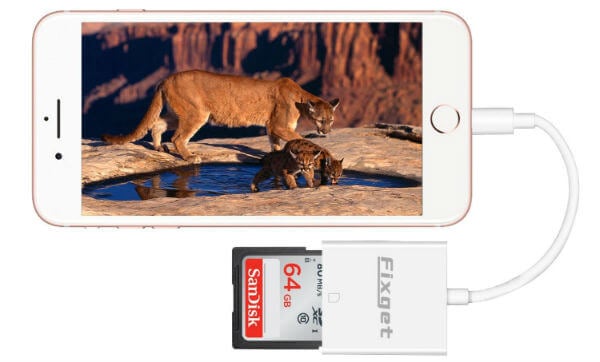 This iOS card reader supports a transfer speed of 14MB/S~16MB/S. There is no additional app required with these readers and work without any third-party app.
Max Support: 64GB SD Card | Internal Memory: NA | Support: iPhone/iPad/SD | Support image format: JPEG/RAW | Support video format: H.264/ MPEG-4 | Buy from Amazon
GEMASY Card Reader
GEMASY Card reader is coming with both SD Card and Micro SD Card slot. There are additional Android micro USB and iDevice Lightning port connector attached to this device.
This reader supports from 16GB to a 128GB memory card and transfers the file with the help of a dedicated Android/iOS app. This iPhone Memory Card reader is coming very handy, and compact in design.
Max Support: 128 SD Card | Internal Memory: NA | Support: iPhone/iPad/ Android /USB/MicroSD/SD | Buy from Amazon
Lexar microSD to Lightning Reader
Lexar MicroSD to Lightning Reader allows offloading and transferring data from iPhone and iPad with a MicroSD card. This SD card reader for the iPhone is a sure shot for anyone capturing photos or videos with a sports camcorder or aerial camera.

Small and portable with Lightning connector and works using a free file management app. This SD Card Reader for iPhone can synchronize files automatically and securely.
Max Support: NA| Internal Memory: NA | Support: iPhone/iPad/USB/MicroSD | Buy from Amazon
Best iPhone SD Card Readers
iOS devices are not coming with the memory card reader or cable to transfer images directly from the camera to the iPhone or iPad. The lightning SD card readers are for iOS devices to extend iPhone storage.
iPhone SD card readers are ideal for Photography professionals to transfer photos and videos from the camera. They can use the card readers even to transfer between Cloud storage/ Social Media or iPad.
Compared to iPhone USB Reader, these SD Card Readers provide an option to connect Memory Card and transfer files between your iPhone and PC. As you know, USB 3 is the latest addition that offers high-speed data transfer up to 300MB/Second. In addition to this speed consideration, you have to check the card format support (exFAT is good to transfer more than 4GB Size files), max card Memory Support, and the Compatibility for the devices.
To make your life easy, most of these Memory card readers are coming with the iOS app. These iOS apps can interact with the card reader on the iPhone. These apps are feature-rich, support to backup iPhone Contacts, Photos, and Video Files with few taps on the iPhone screen. Just for your info, there is no PC required to transfer files between SD card and iDevices like iPhone and iPad.