Many of us have come across the situation where we have crossed the monthly data limit unwillingly and start to get very low throttled internet connection. After over boarding the limit, the internet speed becomes sluggish, or there is no speed at all. Many internet service providers state that their data caps are great for emailing. However, we all need the internet daily more than just for exchanging emails.
Whether you are a traveling professional or a student, the internet usage tracker is essential software for your Windows 10 system. To monitor internet usage on your PC, we have listed a couple of best internet data usage monitors for Windows.
SLT Usage Meter
SLT Usage Meter is a simple software that helps you to monitor the data on Windows 10. SLT Meter can monitor the broadband connection and track internet usage. The internet usage monitor is divided into categories of Total Usage, Peak Usage, and Off-Peak Usage. The windows user can see the data usage and control the data consumption by monitoring the consumption live. The tool is portable and creates a log file on its first boot.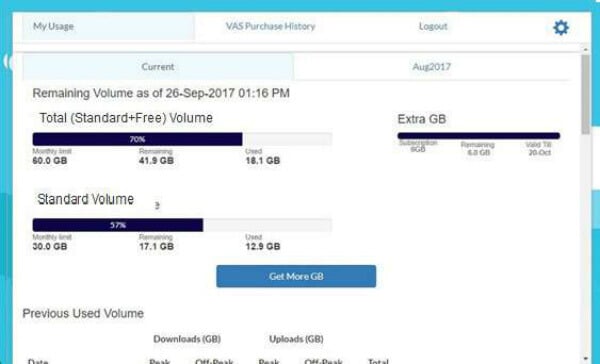 On the first boot, you need to provide your username, password, the encryption key, and verification code. The entered info is available for saving for later use. You can Ascertain a report of daily internet usage summary with this app along with real-time broadband usage.
Download from Windows Store
Data Usage
Data usage App encounter the variations in internet usage in an interactive way. This internet data usage monitor for windows has a simple user interface offering a completely revamped user experience. Data Usage software telecasts the external and internal IP addresses to the Windows user. With the presence of live tile support of the app on Windows, the user can get much more information on tile live without opening the software.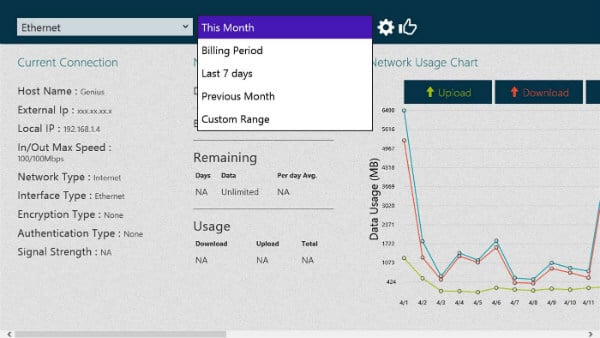 This windows data usage monitor export all the data present in the tool to Excel with the available CSV functionality to save for later. You can save the exported Excel file as per the network name to identify later. The default plan cap set as 10GB per calendar month, which can be changeable by the user.
Download from Windows Store
NetBalancer
NetBalancer is an internet usage tracker for Windows that allows managing priorities based on the network. You can easily limit the data for each network adapter separately with this NetBalancer software. With NetBalancer, you can manage the local network computers and their data caps to balance their traffic flow by synchronizing them.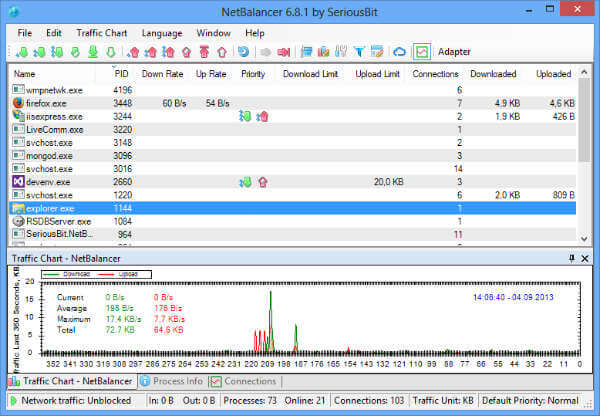 Set the global traffic limit and see the network traffic in your system tray whenever you want. Experience the best performance with the native 64-bit support offered by the tool. Witness the current conditions for any process, and it is ideal for business use due to its extensive support.
Download from Website
Nagios Network Analyzer
Acknowledge many things with an in-depth look at overall network traffic sources with Nagios Network Analyzer. Coming with a powerful and intuitive web interface, internet usage tracker provides optimal performance and speed to the user. Ascertain a central view of your network traffic and bandwidth data along with potential network compromises. Nagios featured an alerting system that can report you when the restrictions made on usage.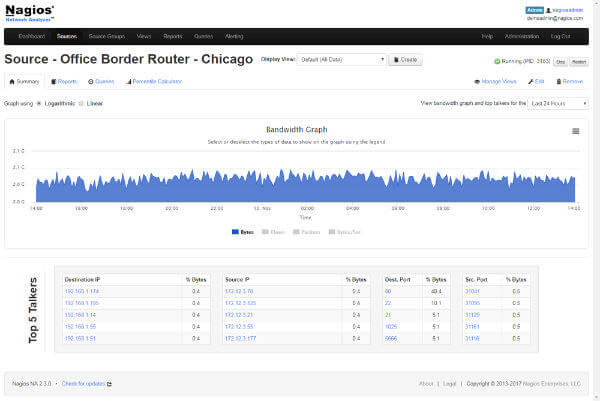 The internet usage monitor App for Windows works perfectly with your system without any performance issues. It also sums up as a network analyzer that displays the network's info, including the bandwidth cap.
Download from Website
Net Guard
Monitor internet usage while maximizing your internet speed with Net Guard Application on your Windows PC. Net Guard can help to eliminate any sort of malware that increasing Windows internet consumption. This free windows data usage meter can set a traffic limit per month and get instant notifications when you close to the limit. This software also gives a heads up automatically by calculating the projected bandwidth of ongoing month to manage bandwidth.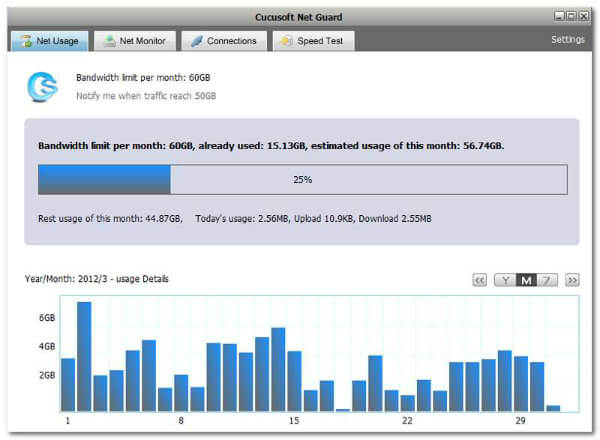 The tool records the traffic details daily, allowing you to check earlier bandwidth usage. Quickly check the current upload and download bandwidth usage with this free windows data usage meter. The real-time floating window shows real-time internet uploading and downloading speed.
Download from Website
Zabbix Network Monitoring
Control and monitor any possible performance metrics and occurrences in your network with the Zabbix network monitoring tool. Zabbix lets you see the packet loss with memory utilization rate by the app, as well as free disk space if it is running low easily. This Network monitoring software automatically detects the network devices and device configuration changes if there is an upgrade in firmware.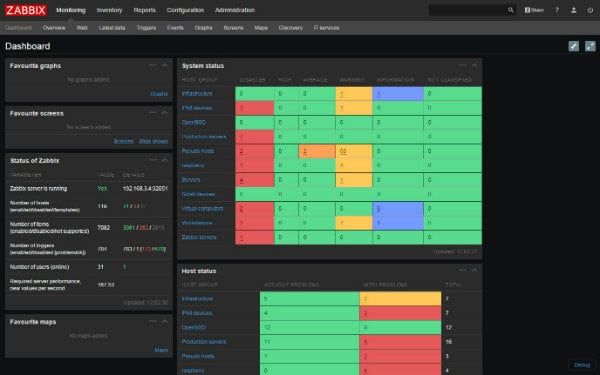 With the tool's task automation feature, the user can automate configuration management and generate custom reports. Use it with third-party software with integration to get better results and to work. Generate custom reports to know more about the usage and speed of the internet connection.
Download from Website
BitMeter II
BitMeter allows seeing the data as well as the download and upload speed on Windows 10 laptop, in a diverse form in BitMeter II. The interactive UI help to supervise internet usage and connection with a scrolling graph. BitMeter II is a free windows data usage meter that displays the data in diverse colors on the chart and updates almost every second. The current speed of the internet is present in a numeric form in the lower part of the window.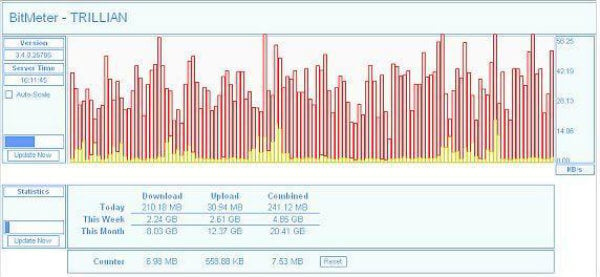 The usage history and data log is also available numerically and can be exported to an Excel sheet. Add ISP restrictions and save a lot on your monthly bill without any extra effort. With BitMeter II, no need to worry about losing data on internet usage and browsing.
Download from Website
GlassWire
Instantly view all your present and past network activity with GlassWire on Windows 10. With GalssWire, you can monitor internet usage, data limits, and get instant alerts before going over the limit. Check what the system is doing or processing while it was idle with this internet usage tracker easily.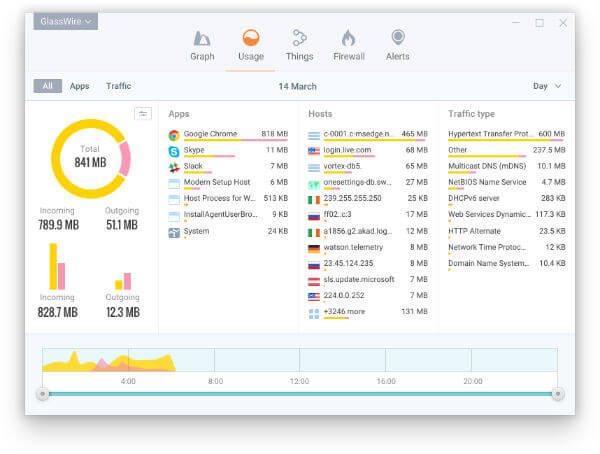 The tool notifies immediately when a new app tries to use the internet, and you can block it if required. Set up custom firewall profiles for diverse scenarios and use them accordingly. Acknowledge what IP address your apps are connecting and the host countries as well with the software on your system. Tons of privacy and security features are present on the tool for you.
Download from Website
BandwidthD
The BandwidthD software can track the internet and network usage. This internet usage tracker works as a standalone application and as a server also. By pinging output every 200 seconds, it transmits data to a backend database reported by a dynamic PHP page.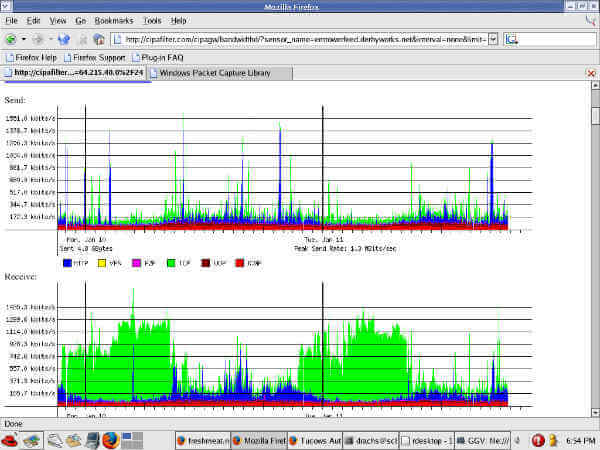 The data generated is illustrated on charts by individuals IPs and displays utilization of more than one day. You can easily see the data of 2 days, 8 days, 40 days, and 400 days duration. The multiple sensors, filtering, and custom reports allow you to get a good data display.
Download from Website
Rokario Bandwidth Monitor
Rokario Bandwidth Monitor is easy to install and use for managing the Windows bandwidth and internet usage. This internet monitor is accurate and dependable, allowing you to tailor data collection preferences. Rokario is the ultimate internet usage tracker for Windows with nice UI and rich metering features. Thins Windows bandwidth monitor comes with real-time web and data output as well as third-party app integration to extend its functionality.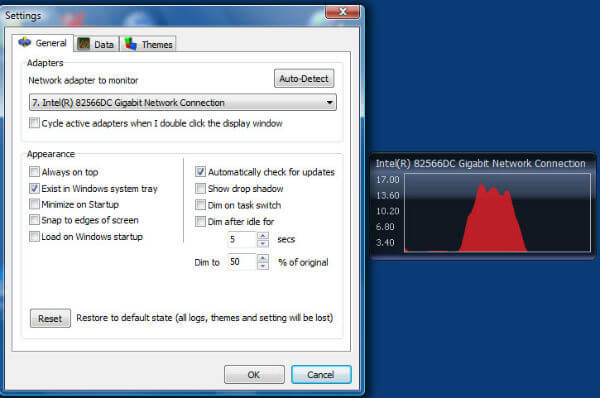 The tool is specially designed to take full benefit of the features present in Windows XP, Vista, and 7. The app is quick to configure, and one can customize as per their will. It performs low resource usage and does not slow system performance.
Download from Website
SoftPerfect Bandwidth Manager
SoftPerfect Bandwidth Manager offers cost-effective bandwidth control of the data and monitors internet usage. The free Windows data usage meter limits the bandwidth in the manner you specify and allows you to experience an immediate increase in network efficiency. You can limit the bandwidth for every Internet user that give the admin more control over the data usage.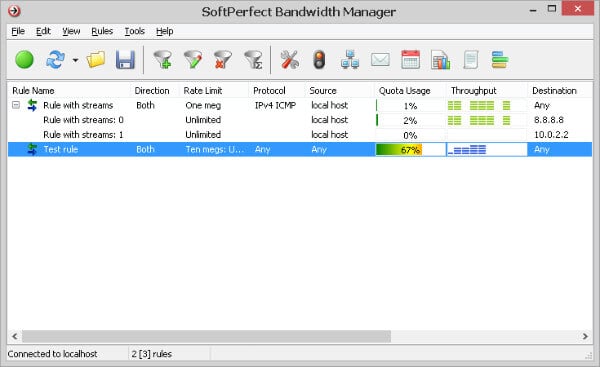 For the usage history, you can get a centralized configuration from a single network location with this internet usage tracker. This individual control feature is beneficial for the network to specify data rates and usage allowances. The admin can apply speed throttle rules to specific IP, and MAC addresses with no changes to the existing network framework.
Download from Website
Network Usage View
The tool collects data from the system almost every hour and shows you the bytes sent as well as received. Any user can see the network usage information stored in the SRUDB.dat of the system with an internet usage tracker. For your information, Network Usage View works effectively on systems running Windows 8 and above; it does not support the previous versions of Windows.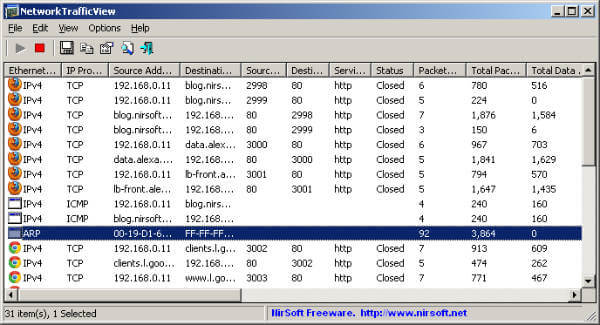 Earlier editions of Windows do not collect the network usage information, so it is not accessible to the user. You can also save the information into diverse file formats to give great control over it and also choose to load the network usage from the preferred day or time.
Download from Website
Monitor Bandwidth Usage on Windows 10
Almost every individual use YouTube, Netflix, and perform movie and software downloads. If you have a limited internet connection or you are traveling with a mobile data plan, monitoring internet usage is important. Data cap issues and throttling internet speed are common with students and sole proprietors that are on a budget. When you use the Windows 10 laptop or mobile, there are internet usage tracker tools to monitor as well as control internet access and limit the usage if necessary.
You can also use the system data sets present in the Windows 10 to see the data usage and details. There is an inbuilt ability in the OS, allowing you to see the required details. Follow this link and learn how to monitor Windows 10 current data usage details in order to have a better knowledge of data access.
If you are using these monitor apps, no need to worry about Windows Data Usage. With these internet usage trackers, you can monitor data usage and limited bandwidth of the internet connection while using the Windows system. Using these internet data usage monitor for Windows is easy and trouble-free and will do the limiting and tracking job automatically for you. Most of the windows data usage monitor apps are free and available for download direct to the Windows system and ready to work with few clicks.