Since Chromebook needs internet always to work properly, you must be really worried about the slow internet issue. Sometimes, you may get stuck with DNS FAILED error following the slow internet connection. The best fix for these is to change the DNS server on your Chromebook.
Let us see how to speed up internet in your Chromebook by changing the DNS settings.
Add or Change DNS Server on Chromebook
By default, your Chromebook will be using your ISP's DNS servers to connect with the internet out there. There are plenty of other DNS services available online, such an OpenDNS or Google Public DNS. These third-party DNS servers can be faster than your ISP's DNS servers. That depends on your proximity to the DNS server, and how slow your ISP's DNS server really is. They can also help you block ads on Chromebooks or other undesirable content. 
The steps to change DNS server on Chromebook is almost as easy as it is on Android, although the setting is not as easy to find.
Open the Settings app from the quick settings panel.
Click on Wi-Fi then click on the connected Wi-Fi network's name on the next page.
Click on Network to expand the network configuration settings.
Under Name servers, choose Custom name servers.
Now you can enter the address for a custom name server to add the DNS server. If you already use a different name server, this is where you can change DNS server on Chromebook.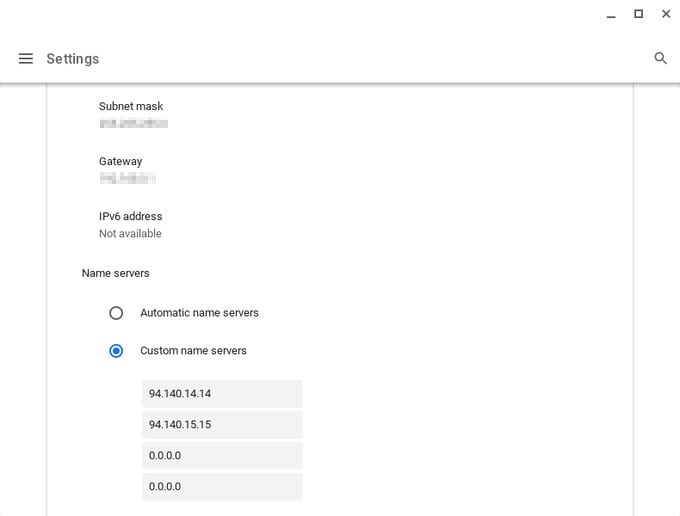 For example, you can enter 208.67.222.222 and 208.67.220.220 for OpenDNS. Similarly, you can use 8.8.8.8 and 8.8.4.4 for Google Public DNS. In the screenshot above I am using AdGuard DNS which offers different versions of servers depending on your requirements.
Related: Public DNS, A Free Solution to Improve Internet Speed and Security
Why Should You Change DNS on Chromebook
Your computer performs several DNS lookups every day, depending on how many websites you visit. Some web pages require multiple DNS lookups. This is your computer essentially trying to find the domain name you have typed in the address field. So a DNS server is what serves those domain names to your computer. A server that can do it faster will allow your computer to open websites faster.
As mentioned before, you may add or change DNS server on Chromebook for a variety of reasons. Some provide faster speeds, which really depends on many factors. Some claim to be more private, while some like AdGuard allow you to block ads on Chromebook or a safer internet which blocks adult content. In addition to blocking content, DNS servers can also help you avoid restrictions in certain geographical locations.