Android manufactures are started to get ride of additional memory expanding provisions by removing SD Card slots from their device. New models are coming with improved camera with hight resolution (HD) images. HD camera demands more space from your device to save high quality large size files.
In this selfie era, it is not worth to depend on limited internal memory to save large files in Android device. Android devices are coming in a reasonable price with 16GB to 32GB memory models and this memory size is not enough to save your Apps and Media files.
The reliable and cheapest solution to save large media files on your Android devices are cloud accounts. The benefit of cloud memory is they are fast, cheap, sometime free and support multi platform.
With cloud backup, no need to worry about losing photos or videos if you lost your mobile device. You can switch to any mobile platform and access your media files from new phone with cloud backup. Here we listed top free cloud solutions that you can depend as a real time backup for your Android device.
Google Photos (15GB free space – shared across your Google account)
Google Photos is the home for all your photos and videos, searchable and organized by the people, places, and things that matter. In this app, your photos are searchable by the people, places and things that appear in your photos. You can set auto back up to keep all your photos and videos safe and accessible from any device. Choose free, unlimited cloud storage available at high quality, or store up to 15GB original size for free (shared across your Google account). Google Photos can help you clear safely backed up photos and videos from your device so you never have to worry about deleting a photo to make space.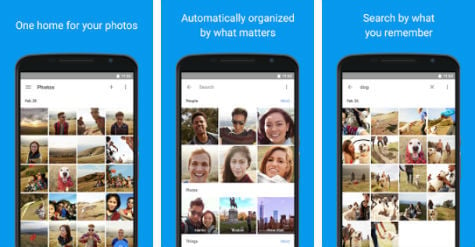 You can set your auto back up photos from the app by following Settings > Backup & Sync >  Backup Settings > Backup all / Back up Photos / Back up videos
Related: NAKIVO: Protect Physical, Virtual, and Cloud Environments
Flickr (1000GB of free space)
Flickr app let you upload, access, organize, edit, and share your photos from any device, from anywhere in the world. Flickr account gives you 1000GB of free space that can auto upload all your photos and videos, privately storing them in your Flickr camera roll. This app let you browse with ease, select and organize hundreds of photos with one gesture, and share in seconds.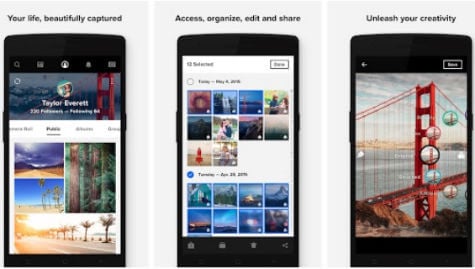 Just in case if you miss auto upload setting while installing app, please set the auto upload feature from Settings > Auto-uploader > Turn On/ Off Auto – Uploader
Dropbox (2GB free space, earn more by referral)
Dropbox is the place for your photos, docs, videos, and other files. Files you keep in Dropbox are safely backed up and you can get to them from all your devices. You can set Dropbox as a reliable and stable app to back up photos and videos automatically from your Android device.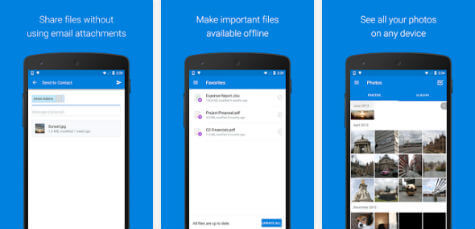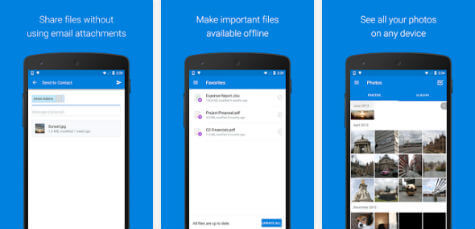 Dropbox will ask you to turn on Automatic upload of photos and videos when you install the app in your Android. If you already skip auto back up option, you can set this back by going Settings > Camera Upload > Turn on Camera Upload / Turn off Camera Upload
Related: pCloud Review – Most Secure Cloud Storage Platform
OneDrive (15GB of free space)
OneDrive gives you free online storage for all your personal files so you can get to them from your Android device, computer (PC or Mac), and any other devices you use. The OneDrive app for Android lets you easily upload your media files to cloud. This app let you automatically upload photos and videos to your personal OneDrive account using Camera backup. This app offer you XX gb feee space.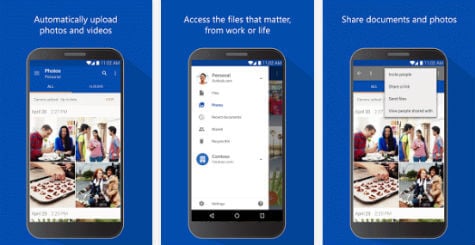 When you install OneDrive app on your Android device it will give you an option to set automatic uploads of your media files into cloud service. Just in case if you miss this, you can set this again by going to Settings > Options > Camera upload > turn on/off
We mentioned the free space offered without any promotional offers. You may get more free space by referral and mobile installation of the apps that we ignored in this article.
There are good number of cloud services offering a fair amount of storage space for free with auto up load feature. Once you install any cloud app in Android phone with auto upload feature, the app itself will upload your photos to cloud account automatically every time you snap the picture or video.