Android tablet and the phone can be easily connected to TV for the big screen experience. The workaround is pretty easy and those who do not have smart TV may need at least one additional hardware dongle or the cable to connect Android device to TV. There are two different methods to connect Android device to TV, one is wired and another one is a wireless connection. For the wired connection, you have to be near to your TV and you don't have that much flexibility to work on the device while connecting on the big screen TV. The benefits of wired connection is that, you don't need and network or router to get connect to your TV from Android device.
The wireless connection is more flexible, but you need a wireless network and hardware on TV that shares the same network of your Android device. Based on your requirement and budget, you can go for Wired or Wireless connection. We are going to describe the wireless and wired solutions to connect Android to TV Screen.
Connect Android to TV (Wireless)
The concept of a wireless connection is not a news in the present times. Wireless mode of connecting Android devices to TV helps the devices to maintain their reputation of mobility, also enables to use the device in preferred orientation. On the downside, the wireless connection normally draws power and the device has to be charged frequently.
Miracast
Miracast is supported by a growing number of TV and set-top box manufacturers. This technology creates an ad-hoc network between the phone and TV/set top box. It supports H.264 for video transmission, which means efficient compression and decent fullHD picture quality is ensured. Miracast supports Digital Rights Management(DRM). To put it into simple words, via Miracast we can stream contents of services such as iPlayer and YouTube (but not all services are not supported though). The best thing is that Miracast is supported for devices with Android 4.2+.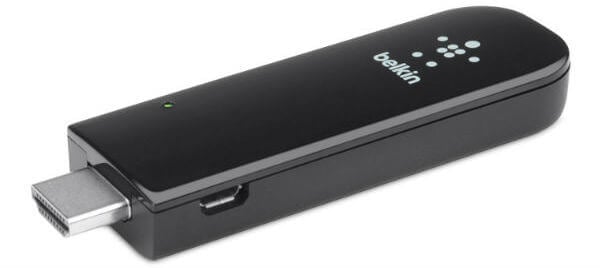 The steps to connect your Android device to TV via Miracast is as follows.Switch the TV to Miracast mode (Check TV manual if necessary). Go to settings (On Android device) > Display> Turn on Wireless display (This may differ from device to device) > Select the Miracast TV/dongle from the list that appears.
Key Features: Cost: $40 | Streaming Quality: H.264 |Screen Mirroring | Buy from Amazon
Chromecast
Chromecast is basically a dongle which cost around $40. Setting up a Chromecast is simple. At first, the dongle is to be plugged into the HDMI port of the TV, then linked to the same wireless network to which your Android device is connected. Now the Chromecast is ready to stream contents from your android device such as iPlayer, Netflix, YouTube and so on.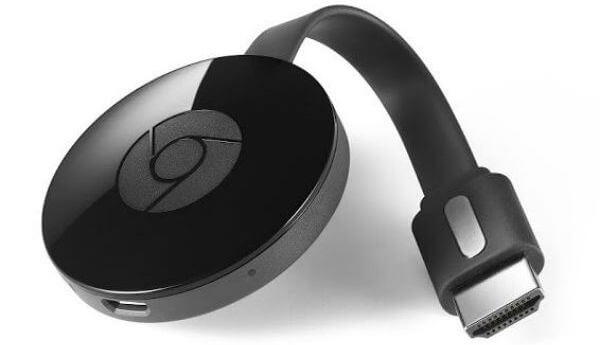 Chromecast is capable of mirroring the display of the Android devices, which means whatever you do on the device get displayed on the TV whether it be apps, games or photos. Chromecast is supported for Android 4.4.2 and higher. Unlike Miracast, Chromecast has no compatibility issue with TVs. If the TV has an HDMI and your Android is 4.4.2 or above, Chromecast is going to work for sure.
Key Features: Cost:$40  | Streaming Quality: H.264 | Screen Mirroring | Buy from Google Store
Connect Android to TV (Wired)
Wired connection is a most basic form of connection, and obviously, it includes some cables. The bright side of wired connection is that the Android devices would get charged  (in most cases) while they are connected to TV. On the other cables act as chains for your devices, in the sense that the mobility of device is restricted.
HDMI
HDMI(High Definition Multimedia Interface) cable is the easiest way to connect your Android device to TV as far as wired methods are considered. The only requirement is an HDMI cable, which would cost around $12 (making it the cheapest method). HDMI cables are capable of carrying HD audio and video simultaneously.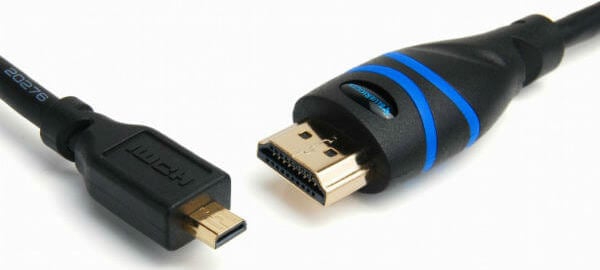 HDMI plugs are of three types, Regular HDMI(type A), Mini HDMI(type C) and Micro HDMI(type D). Type A is for the bigger equipment such as TV, consoles and so on. Type C and type D are for mobile devices(smartphones/tablets) and type D is the smallest. The user has to make sure of which type of HDMI plug is for their Android device before purchasing one.
Key Features:  Cost:$12 | Streaming Quality: H.264 | Buy from Amazon
MHL/Slimport
MHL(Mobile High-Definition Link)/Slimport is basically connecting via microUSB port of Android devices. They can be considered as microUSB to HDMI adapter. MHL and Slimport work in similar fashion. They are able to use microUSB ports to deliver video and audio signals.MHL/Slimport supports up to 8 channels of surround sound and video of maximum 4K resolution. They normally require breakout boxes(small dongle to convert signals from phone to HDMI compatible signals)only if your TV does not support MHL/Slimport. More and more TV manufacturers are offering MHL/Slimport support. The adapters make MHL/Slimport slightly expensive than HDMI cables. They cost $15 to $40.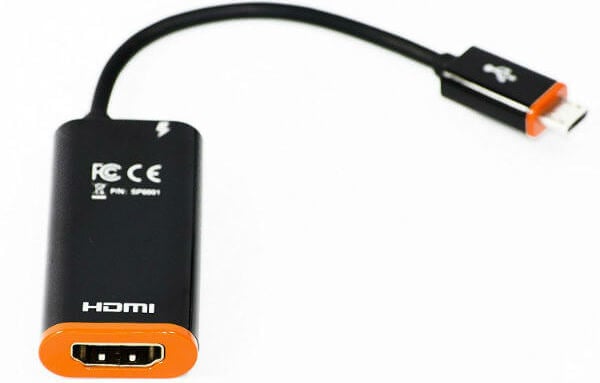 While using Slimports the screen of smartphones/tablets should be on which causes battery drainage. But most of the breakout boxes have microUSB ports, so your Android devices can be charged. The drawback is that MHL/Slimport support is not vast. Very few devices like Samsung Galaxy Tab 3 which support MHL and Google Nexus 5 which supports Slimports are some options.
Key Features: Cost:$40 |Streaming Quality: H.264 | Screen Mirroring | Buy from Amazon
There are several benefits for connecting the Android device to TV. You can watch the movies and photos on big screen TV. You can play Android Multiplayer games on big screen tV with your friend on next party or present slides in your office directly from your Android phone to TV. It is a matter of personal choice whether choose a wired or wireless mode to connect Android to TV. Some may like to have the wireless mode of connection which would offer them the freedom of mobility across the room. Some others may like wired mode of connection which restricts the movement and usage of a device but is very simple and direct to setup.