Not everyone's desk setups include fancy setups and lighting. But there have never been so many online streamers, and content creators influencing even more people with their fancy setups. RGB lighting peripherals are rather common today. And now, you can control your RGB peripherals with Dynamic Lighting for Windows 11.
You may have an RGB keyboard and mouse, a headphone stand, cooling pad, and even some laptops have built-in RGB lighting. Normally, though, to control that lighting, you have to depend on the software provided by the manufacturer. So if you have a Razer mouse, a Logitech keyboard, and headphones from yet another company, you will need at least three different apps on your PC that will run in the background. Not to mention, you probably also will want the Philips Hue app for your Hue lights.
Dynamic Lighting for Windows 11
Dynamic lighting is a new Windows 11 feature that is currently only available for Windows Insiders. However, we expect the feature to roll out to everyone when Windows 11 version 23H2 gets released later this year. Dynamic lighting essentially provides you with some basic lighting controls for your peripherals.
Of course, your hardware may support some exclusive features such as Razer Synapse with its Chroma Studio, and Wallpaper Studio and Philips Hue integrations just to name a few. Dynamic lighting won't be of much help to you for accessing those features, as it is right now. So, in such cases, you will need the manufacturer software anyway. However, if you just want to change the brightness or colors or something basic like that, you can do that right from the Settings app.
Configure RGB Lighting Peripherals from Windows 11 Settings
Currently, the list of supported devices also only include some Razer devices. But we expect the list to expand to the point that any new hardware would have support out of the box.
Make sure your peripheral is plugged in or connected to your PC via USB.
Open the Settings app and go to Personalization from the left column.
On the right, click Dynamic lighting.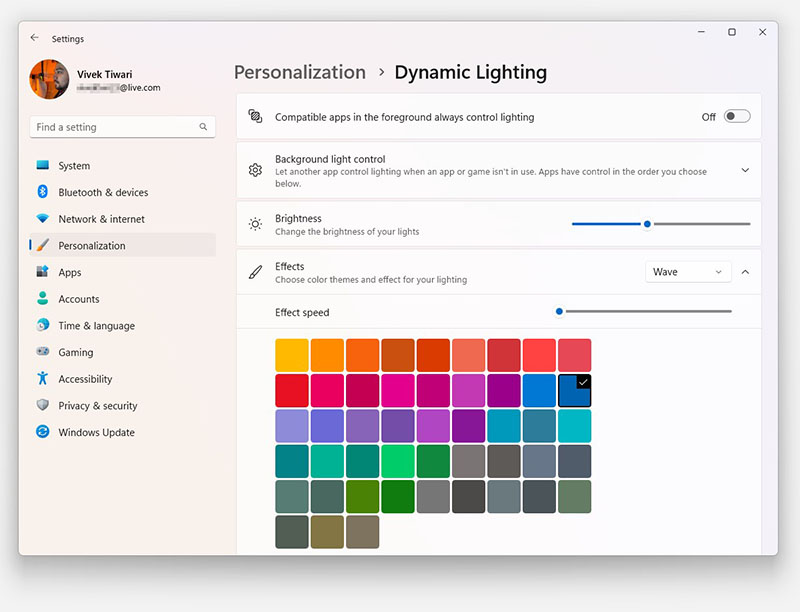 You should be able to see any connected and supported devices at the top here. If your device is connected via a 2.4G Bluetooth dongle or just good old Bluetooth, you won't see it. It's the same reason, my Razer BlackWidow V3 Pro is not showing up in the screenshot above.
Use Dynamic lighting on my devices is already toggled on. And you might also want to toggle on Compatible apps in the foreground always control lighting. This allows third-party apps to be able to override your Dynamic lighting configurations. Under Background light control you can even move different lighting controllers up or down on the priority list.
The Brightness slider, of course, lets you change the brightness for your device. There are a few Effects to choose from as well. These include Solid color, Breathing, Rainbow, Wave, Wheel and Gradient.
If you click on the Effects section, it expands and shows you options to select the color and effect speed, if it applies to the selected effect. Multi-color effects such as Gradient, Wave, etc. cannot be customized unless you select a specific device from the top. You don't have to save any changes or click any buttons, as everything happens in real-time.
Supported Devices
For now, the list of supported Dynamic lighting devices is rather short, as already mentioned. Currently, the only supported devices are RGB keyboard and mouse devices from Razer. However, according to Microsoft, we can expect to see devices from companies like Acer, Asus, HP, HyperX, Logitech, and Twinkly added pretty soon.
Moreover, RGBG keyboard and mouse are not going to be the only supported type of devices. You can expect future support for devices from various categories such as game controllers, lights, wearables, furniture, Art, headsets, and more.
Keyboards
Razer Turret Keyboard Xbox One Edition
Razer BlackWidow V3 Pro
Razer BlackWidow V3 Mini
Razer DeathStalker V2 Pro
Razer DeathStalker V2 Pro TKL
Razer Ornata V2
Razer Ornata V3
Razer Ornata V3 TKL
Razer Huntsman Tournament Edition
Razer Huntsman Mini
Razer Huntsman V2 Analog
Razer Huntsman V2 Tenkeyless
Razer Huntsman V2
Razer Huntsman Mini Analog
Razer DeathStalker V2
Razer BlackWidow V3
Razer BlackWidow V4 Pro
Razer BlackWidow V3 Tenkeyless
Mice
Microsoft Pro IntelliMouse
Razer Turret Mouse Xbox One
Razer DeathAdder V2
Razer DeathAdder V2 Pro
Razer Naga Left Handed
Razer Naga Pro
Microsoft has also listed support for ASUS ROG Harpe Ace AimLab Edition Gaming Mouse, and ASUS ROG Scope II Wireless 96 Gaming Keyboard as "coming soon".
When Dynamic lighting for Windows 11 is officially released, we can expect the number of supported devices to have grown significantly.