Right from the very beginning, when the first version of Gmail was released in the year 2014, you have been provided with excellent spam protection, Google Now integration and efficient organizing of your inbox. But the only problem was that you needed a Gmail account for enjoying all these features. But not anymore.
It introduced a new feature called Gmailify which allows anyone and everyone to take complete advantage of all the Gmail features without changing their current mail address.
Yes, you heard it right. You will not only be able to access your yahoo, outlook and Hotmail account using Gmail mobile app, but you can also easily make changes within the app as if you are using a Gmail account.
Related: How to Send Large Attachments with Gmail and Yahoo Mail?
In other words, people who were hesitant about choosing Gmail app just because of the inconvenience in changing their current mail address can now make the most out of the Gmail app without an @gmail address. Access all your mails at one place.
What are the features you get for your non-google account with GMailfy?
Let's take a look at the features that you could enjoy with Gmailify. Protection for your account from spams like any other Gmail account. Your emails will be automatically sorted based on their types varying from social, updates and promotions. Gmail's advanced search operators provides you with faster search options. The restaurant or other reservations you made will automatically appear in Google Now. This is not the dead end for the features.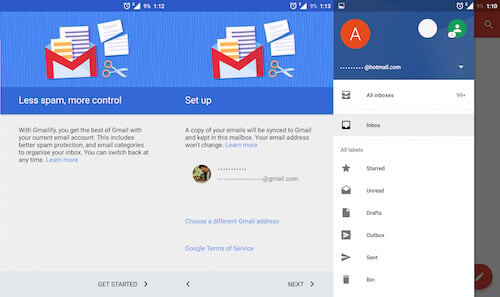 Gmail will consider your non-Gmail accounts as a member of Gmail family with this GMailfy feature. This means when you create a label (folder), that will automatically create a folder in Gmail account. When you trash / archive email, these emails will also trash /archive on your Hotmail, Yahoo or other non-Gmail accounts.
Related: How To Recover Deleted Email from Gmail
Finally, the best feature, when you send emails from Gmail app, you can select from address on your choice like Hotmail, Yahoo or any other connected emails. Enjoy the easiness of accessing all your mail in one place and get better and flawless notifications for them on your mobile app with Gmailify. Enjoy the easiness of accessing all your mail in one place and get better and flawless notifications for them on your mobile app with Gmailify.
How to Activate Gmailify on your Android Mobile?
You might be wondering how to activate Gmailify on your Android mobile. If you already own one of the three currently supported non-Gmail account, like Yahoo Mail, Hotmail or Microsoft Outlook, you can easily link them to Gmail in few simple steps.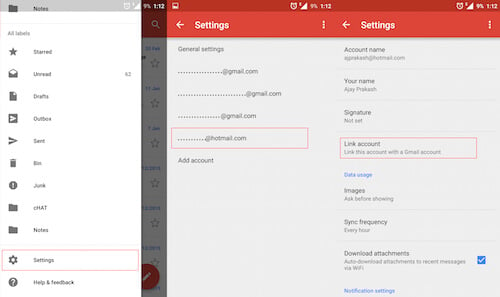 Open the Gmail app on your Android phone or tablet. Sign in with your non-Gmail account. Once signed in, In the top left corner select the Hamburger Menu. Select settings from the options. Tap your non-Gmail account you are planning to link with Gmail. Then select the Link account option. Now you have successfully linked your non-Gmail account with Gmail using the whole new Gmailify feature. Once linked, you can find your emails under the linked address on your mobile app as well as on web at mail.google.com.
How to De-activate Gmailify if you don't like?
You are the one in total control here. If you ever feel like unlinking your account and using it without Gmailify app, you are free to do so. Select Gmail app from app drawer on your Android phone or tablet. Select the menu button on top left side of the screen. Tap settings from the menu. Click on the non-Gmail account that is linked with your Gmail account. Under that, you will find Unlink account option. Select it.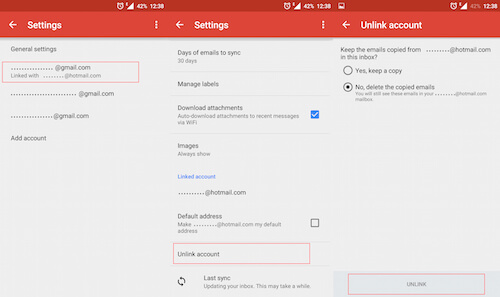 Gmail will ask you whether you want to keep or delete your emails that you copied from non-Gmail account. Select one and tap Unlink button. Even though you remove the emails from Gmail App, your emails will stay on your original Yahoo, Hotmail or other non-Gmail accounts.
Currently this feature is available only for @yahoo.com, @hotmail.com and @outlook.com accounts, so if you couldn't find your link, please be patient. Gmail is working on making this available to each and every mail accounts.