Box and Google drive Dropbox is a free service that lets you bring your photos, docs, and videos anywhere and share them easily. Torrent sharing is the contemporary way to download music and movie files from the Internet. It is based peer-to-peer file sharing protocol used for distributing large amounts of data over the Internet. Downloading a torrent is typically a two-step process and requires you to first download the file and then open it up in a client.

Now the power of torrent and dropbox Box / Google drive combined together, result, you do not need a pc to turn on and wait to complete torrent download anymore. Boxopus is a new web app that lets you skip the client and download torrent files directly to your Dropbox Box or Google drive account and it is simple to use.
Once you open up your account and link Boxopus to your Dropbox Box or Google drive account account, you only need to drag a torrent file directly into Boxoupus and the torrent starts downloading into your Dropbox account. No need for any special programs or files, you don't want to be in the queue, no need to turn on your computer until complete download. Basically you can queue up torrents from any computer as long as you have a Dropbox Box or Google drive account.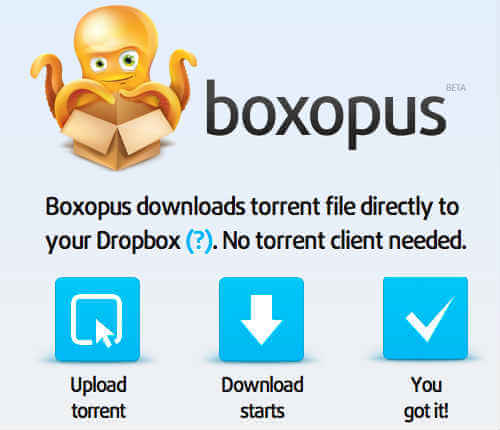 You can initiate downloading if you an internet access. You can start downloading while you travel, on the road, or wherever you are with a internet connection, the downloads are taken care of by the team at boxopus and your file will be automatically downloaded into your dropbox Box or Google drive account folder after a while. Boxoups users can start downloads of torrents no matter where they are and have them available via Dropbox Box or Google drive account at any time.
Related: Best Torrent Apps for your Android Phone
All torrents downloaded by boxopus users will be tied to boxopus user account, making it essentially anonymous for all who use it. There is no track of your computer ip address or the download location. An email address is required to sign up and then you need to pair your Dropbox account with the service. Transfers are handled via the Dropbox API.
Here is the steps to start this service with your dropbox account. Open the Boxoups site and register with your email and password. You will get a window to assign your dropbox Box or Google drive account (you can get one free dropbox account here) account for your torrent download in Boxoups.

In the next screen you have to authorize your boxopus account in dropbox by login in to your dropbox account.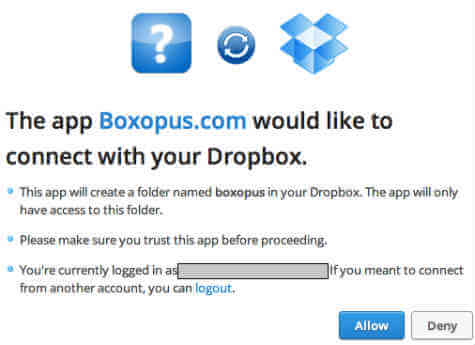 Click on allow button to authorize your dropbox account. You almost done. You will come back to your boxoups account and you can see the window to drag your torrent files.

You are ready to go. Drag some files into the window and click on put in my dropbox. It will start your torrent download. You can logout boxopus and the rest will do by boxoups for you.
Update: 
Bad News: Dropbox has blocked startup Boxopus from accessing its API. Now Boxopus supporting only Google Drive and Box and this service is not a free service any more, there is  monthly charge to use this service.
Good News: Boxopus allows to download torrent files into its own servers, Google Drive, Box and notifying the user by email when download complete. Here is one of the email from Boxopus received by the author of this article.
Hello,
Boxopus has successfully downloaded your file "The Ebook xxxxxxxxx"!
You can download it from your Downloads page on our website.
All the best,
- The Boxopus team
Still you can enjoy Boxopus downloads. Good Luck.