History navigation with Gesture is a pretty nice feature that can be enabled through Google Chrome Flag. You can navigate through a website or previous page you visited on Chrome with back button Android or webpage buttons. This "history navigation with gesture" flag is pretty handy and you can easily navigate between previous pages on chrome with a gesture.
Without further ado, let us see how to enable history navigation feature on Chrome and use on Android phone to navigate between webpage history.
Enable History Navigation with Gesture in Chrome
At this moment, this feature is available on Android phone with chrome browser. As the first step, you have to open the Chrome flags and enable this feature.
Open Chrome Browser on Android
Type "chrome://flags" in the address bar.
Enter "History navigation" in the search area.
Select History navigation with gesture from available flags.
Tap on Default button.
Tap on pop-up "Enabled"
Make sure the flag is Enabled.
Close Chrom browser.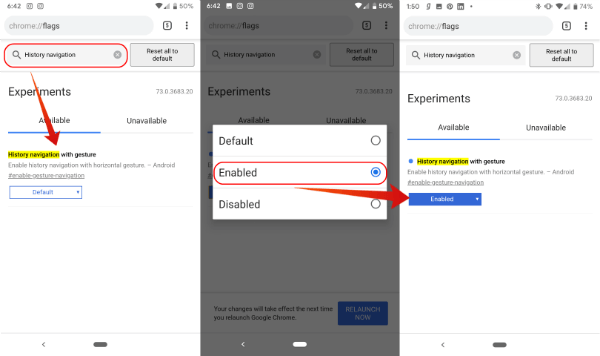 That's all. You enabled the flag on Chrome that will allow using the gesture to navigate back and forth on webpages for visited pages.
Also read: How to Fix Chrome's Continue Where You Left off Feature Not Working
Use History Navigation with Gesture in Chrome
Now let's see how to use the navigation gesture in the Chrome browser. Open your browser and type the website address you want to test. We have used here "mashtips.com" for the demo purpose.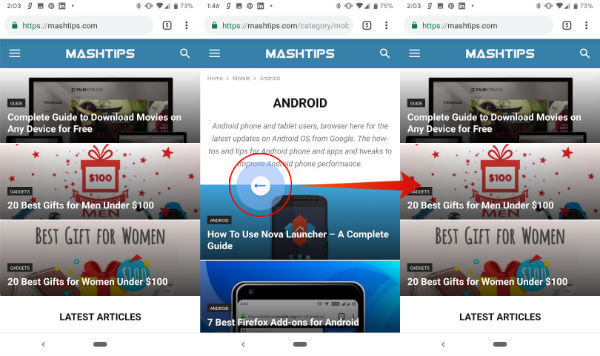 Open the website homepage.
Advance the webpage to next category or an article on it.
In our example, you are "mashtips/android category" page.
Now press and drag from left to right anywhere on the screen active area.
Now you see a blue circle with an arrow.
Release your finger
Now webpage re-load the previous home page.
You can repeat the same and Chrome browser will load the previous pages that you see before. You can do the same for loading back the pages you visited before.
History Navigation with Gestures
You can do the two gesture movement on Chrome to get the previous and advanced pages you visited.
Drag left to right and release finger to load the previous page.
Drag right to left and release finger to load an advanced page you were before.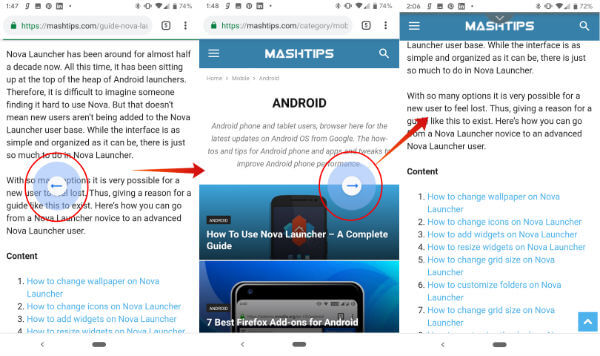 This gesture navigation is pretty handy and allows you to navigate between the visited pages pretty quickly, You don't need to depend on the back button of Android or home button of the webpage to navigate between the web pages. Enable the gesture from Chrome Flags and you are ready to go.