We have seen so many design changes from Windows 7 to Windows 11. While Chrome hasn't really adopted whatever the design language of the season was on Windows, you can now get Windows 11 style rounded corners on Chrome. Not just in Windows 11, you can get the new rounded corner style menus in Chrome even if you are on Windows 10 or older.
Let's see how you can enable the Windows 11 style menus on Chrome in any Windows.
Enable Windows 11 Style Rounded Corners on Chrome
It is funny how the clocks turn sometimes. Remember Windows 7 and its rounded corners? Starting with Windows 8, Microsoft went for sharp, pointed corners and called it modern. A few years later, rounded corners are one of the biggest features of Windows 11.
To be clear, we're not talking about the Chrome window here, which already does have rounded corners just like any app on Windows 11. That is controlled by Windows, but what Microsoft's OS does not control is Chrome's internal menus. Basically, we're talking about the menus in Chrome. To get Windows 11 style menus on Chrome, you'll need Chrome 96 and above.
Editor's Note: Chrome flags are experimental features that Google is still testing. These aren't meant for regular users and may result in crashes or break things.

Launch Google Chrome.
Type chrome://flags in the address bar and press Enter.
In the search field at the top of the flags page, type Windows 11 to search for any flags related to Windows 11.
You should now see Windows 11 Style Menus as the only search result.
Click on the drop-down menu next to it that says Default.
Select Enabled from the drop-down if you're on Windows 11. If you use an older version of Windows, select Enabled – All Windows versions.
Click on the Relaunch button at the bottom, or manually close and launch Chrome again.

When Chrome comes back up again, right-click anywhere to open the context menu, and you should see rounded corners on the menu. Windows 11 style menus on Chrome are limited only to the menus built into Chrome.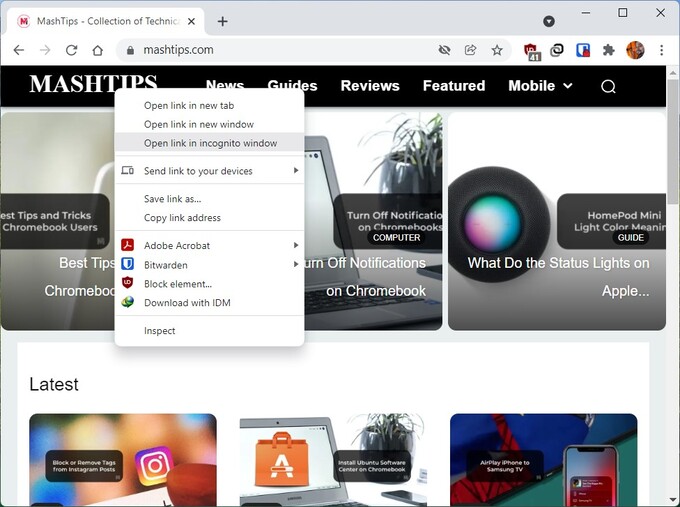 Related: How to Open Two Chrome Windows on Android Side by Side
The new Windows 11 style menus include the Chrome menu available via the three-dot menu button. However, extensions will still open their own little windows and the rounded corners on Chrome don't apply to them.