Emojis are great, work in full harmony and more comfortable to commune our feelings in any language without typing a word. You can say a lot more by using the emoji Android app than typing an entire sentence. There are many Android emoji apps available from the Google Play Store. These apps bring the most amazing variations of emojis functioning as an extensive emoji dictionary.
Let's try some of these best Emoji Apps on Android and express our feelings in the way while chatting with your friends and family.
Bitmoji
Bitmoji is one of the best emoji apps for Android users. This Android emoji app brings a massive library of stickers that can create and edit as per your choice. Bitmoji helps to build your expressive cartoon avatar from self-portraits and use this emojis wherever you chat in any messaging platform.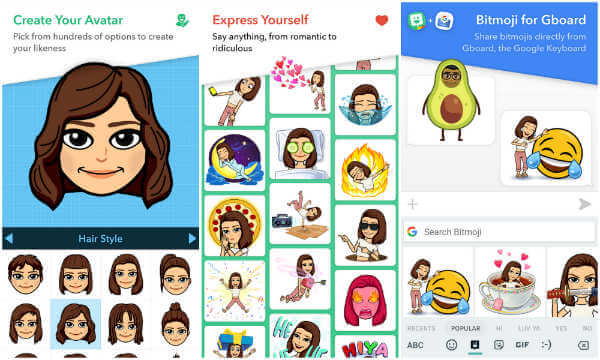 With this emoji app, you can convey almost anything from romantic, weird to absurd through the Bitmojis. You can match your style in the real world and dress up your avatar with the associated accessories.
There are hundreds of options present in the app to pick the perfect choice and to convert to your favorite one in the final emoji. From hairstyle to eyebrows, the Android emoji app is there to aid you in making the perfect avatar.
Download: Play Store
GO Keyboard
GO Keyboard the emoji Android keyboard app on Google Play. The Android keyboard app allows you to convert any simple or plain-looking text and turn it into smiley emoji and emoticons. Like exciting and crisp images? Then check out the stickers on this Android emoji app.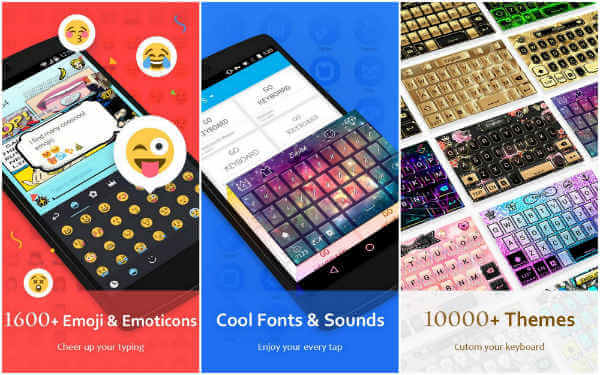 This Android emoji keyboard offers the user the chance to choose the fantasy stickers of Peanut, Shrek, and Snowman, etc. Write in more than 100 beautiful fonts with ease in your messages or text. The emoji and emoticons of the best emoji app are supportable in more than just one app. There are plenty of options to express yourself with a pack of 800 emoticons, emoji, and stickers.
Download: Play Store
Kika Keyboard
Kika Keyboard emoji app Android comes with an ever-growing library of emoji and funny gifs for the user. The smart stickers pop-up aid is giving more control over your expressions.
To suit your style, there are diverse types of keyboard themes available within this app. The Android emoji app supports 150 languages with over 3000+ emojis and emotions.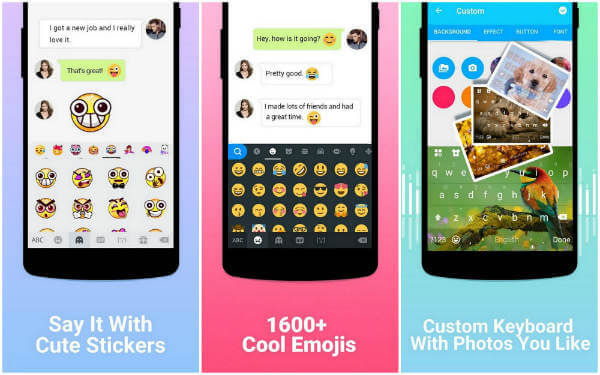 The Kika Keyboard app comes with Japanese emoticons and animated emoji to add excitement to the chat. You can also customize the keyboard with the photos you like whenever you want to. Also, we can type quickly with glide typing and auto-correction features available in the app. Just for your info, the glide typing feature is only available in English.
Download: Play Store
Emoji Keyboard
Emoji Keyboard is an Android emoji app coming from the same team behind Kika Keyboard. The Emoji app comes with innovative emoji prediction as well as with emoji dictionary.
You can send any form of emoji message with the available funny emoji and text emoticons. With this android Keyboard app, you can raise the excitement while chatting with emoji styles like Twemoji, Emoji One.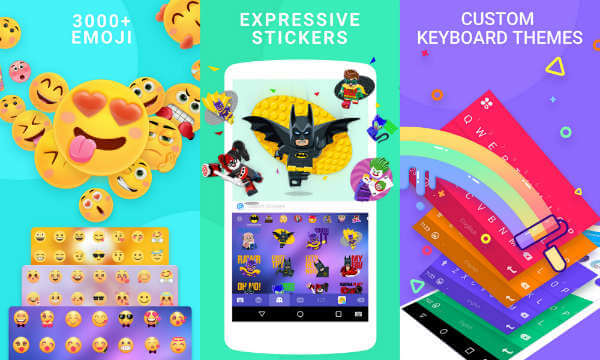 One of the unique features of this alternate Android Keyboard app is that you can make the keyboard a musical one with many diverse sounds like a piano, violin, and guitar, etc. The Keyboard app for Android comes with the 60+ language and coming with bilingual support.
This Android app is the first world mobile keyboard that backing for Bashkir language layout. Moreover, this app lets you customize the keypress sound on the keyboard to sooth your texting.
Download: Play Store
Emoji Keyboard Cute Emoticons
You can use Emoji Keyboard Cute Emoticons for getting up-to-date emojis on their device. The keyboard app does come with crazy and cute emoticons showing up and tons of Android Oreo 8.0 emoji. With Cute emoticons, you can quickly input more than 3000 emoticons, emoji, stickers, and GIF from Android chat app.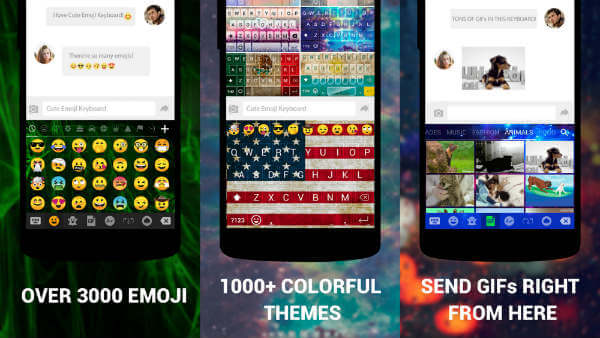 The app comes with emoji art, emoji icons, and the collection as well as a dictionary. You can also add text faces to the message to give a newer touch in the process. With Emoji Keyboard, you can share the fancy stickers anywhere and customize the keyboard with 1000+ themes and keyboard customization.
Download: Play Store
Keyboard – Emoji, Emoticons
Try this All-in-one Android emoji app to input more than 3000 keyboard emoji, emoticons, stickers, crazy face, free GIF swiftly. Keyboard – Emoji is an excellent Android emoji app that comes with a whole new set of emoji options that you can use on any app.
You can use this emoji app to send Japanese emoticons and send animated GIF directly from your GIF keyboard.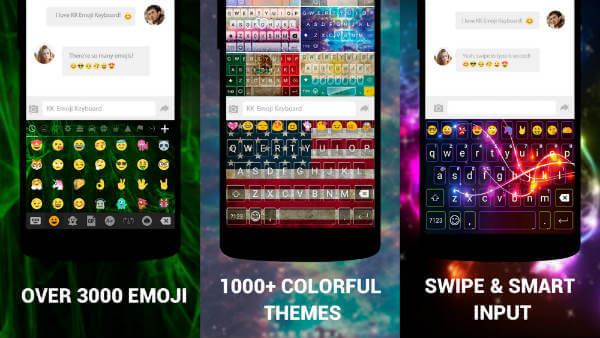 Furthermore, the Android app supports finger emojis and OS emoji stickers present in the keyboard themes. Use the Emoji Art, Emoji Symbols, Emoji Dictionary, Emoji Answer, and Emoji ASCII to express your feelings in the way you want to. Get the perfect emoji as it provides accurate emoji predictions as you type from the keyboard.
Download: Play Store
Emojidom emoticons for texting, emoji for Facebook
Get over 4000+ free emoji for any messaging or social media platform with Emojidom emoticons for texting the Android emoji app. You can make every conversation more fun and great with the cute emojis available.
All the text emoticons, as well as stickers, are claimed to be unique, and no similar emojis are present in any other app.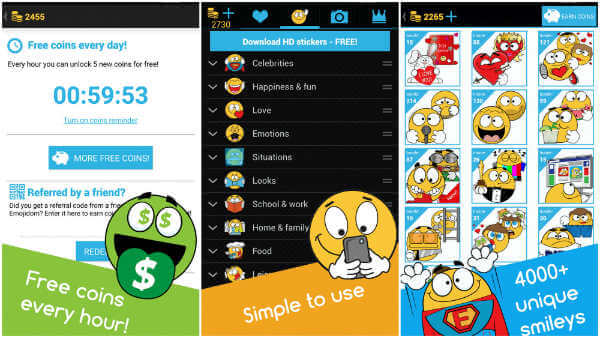 Emojidom is offering free coins every hour, which are spendable on the new emoji pictures of Emojidom sticker store. The user can easily save the emojis for Android in the form of a contact name and have an excellent time.
Download: Play Store
Facemoji Emoji
Facemoji Emoji app is yet another Android keyboard app that comes 3500+ emoticons, GIFs, stickers that allow you to spice up the chat. With Facemoji, you can share about thousands of Smiley and unique GIFs with your friends.
Those who want to enjoy the experience of Animojis on Android device, Facemoji Emoji app is your best bet. This Emoji app for Android lets you perform personalized keyboard customization and change the keyboard color, fonts as well as the wallpaper with utmost simplicity.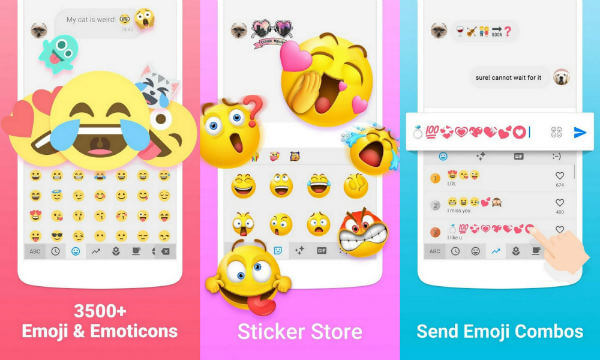 The Android emoji app comes with emoji combos that allow you to type in the Smiley and Special emoji combos for specific sentences. You can easily choose the format of the keyboard from QWERTY Keyboard, QWERTZ Keyboard, and AZERTY keyboard options and buy new stickers anytime over the app to use offerings.
Download: Play Store
Swiftmoji
Swiftmoji comes renowned keyboard app Swiftkey. You can get the perfect emoji with the unique emoji prediction feature giving the ideal emoji for the sentence or word.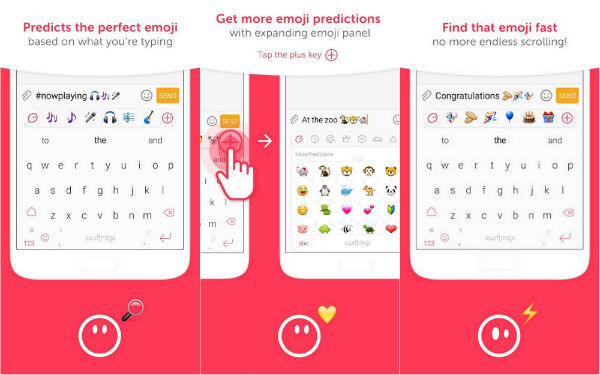 Swiftmoji let you be more creative and use the emojis that you thought did not exist. Access the perfect emoji inspiration right at the time when you require it the most. Always have the emoji in access to the app and avoid any search in the process.
Download: Play Store
Animoji Emoji Maker: Personal Emotions
Express yourself and your feelings in a possible way with Animoji Emoji Maker: Personal Emotions emoji Android app. Now Animojis are not just limited to iPhone, as with this best emoji app can let you in on the fun. The Android Emoji Maker app lets you make up your avatar entirely and pick up emoji mood.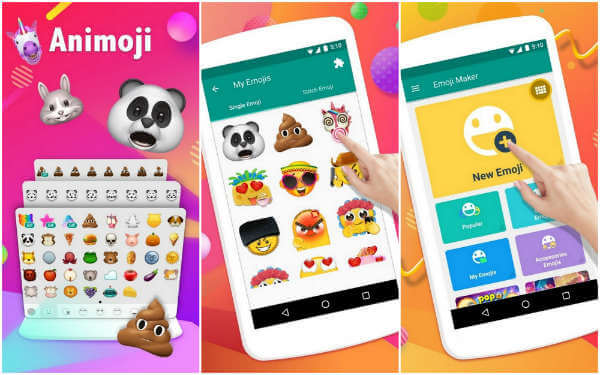 You can also add animated text and Animojis with it to communicate with your friends in the funniest possible way. Just use your imagination to create the coolest as well as favorite emoji while communicating. The creative work is also applicable in your video apps to make the video more unique as well as fantastic. Most noteworthy is that the images offered of high-quality graphics.
Download: Play Store
We all use emojis in our text as it sums up as a fun and exciting way to express our feelings. Many of us utilize the standard emojis present on the keyboard, but with the emoji app for Android, you can easily communicate without words. There are no language or location restrictions and you are free to express your feelings with Emojis. We hope this list of best emoji apps allows you to change the way of texting that you usually do.