Pretty much everyone is getting used to working from home and learning from home. There is no more fun as we used to get from the workplace or school. Google Assistant-powered Google Home speakers can help get rid of boredom to a great extent, with features like Work From Home Routines on Google Home. Now, the entire family can have fun and keep up with the schedules with the new Family Bell feature.
Let us see how you can use the Google Home Family Bell feature to let everyone know the time of waking up, breakfast, and getting back to work on time.
Set Google Home Family Bell Schedules
Family Bell on Google Home is a scheduled bell you can set right from your phone. You can set custom messages or use funny preset messages with music and sound effects to schedule 'alarms' or bells. From wake up alarms to dinner time bell, you can do a lot with this.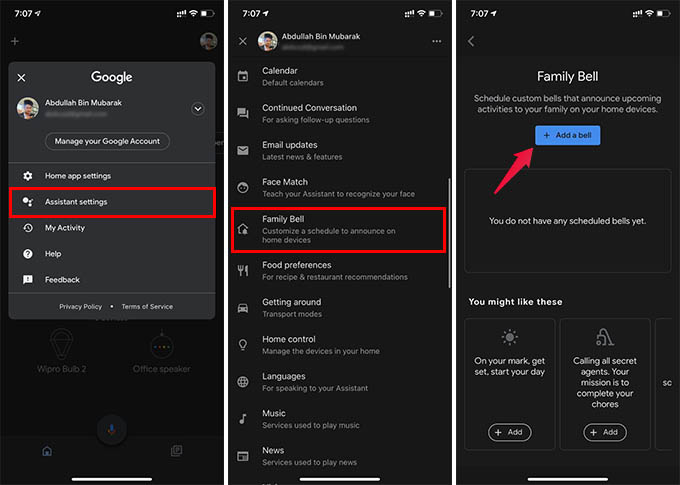 Open the Google Home app on your iPhone or Android.
Tap on the profile icon at the upper top.
Select "Assistant Settings."
Scroll down and tap Family Bell.
Choose a preset from the screen or tap on the "Add a bell" button.
After choosing the time, days of the week, and custom messages, tap "Create new bell."
Preset bell messages are quite funny and come with special alarm sounds as well. There are many preset family bells available for getting ready for work, class time, coffee breaks, nap alerts, fun time, and more.
Related: How to Connect and Control Light Bulbs with Google Home
You can also edit the existing family bells from the Google Home app itself. These schedules will run on time based on your region. The Google Home Family bell is available for both Google Home speakers and smart displays.