Do you want to secure your Nokia 71 from others? Do you want to protect your data? You do not want to worry about your privacy if you have a phone auto lock with a key combination. You can lock your E71 with number lock and set it for an ideal time to make auto lock.
Peace with your mind if you left your phone somewhere for a while. Always try to set number lock your phone just to protect your data. Here are the steps to add keypad lock code to your Nokia E71. Please go through this article if you want to make Unlimited free calls from Nokia Cell Phone.
Start from the main screen. Click on Home Button on the keypad to get Menu Screen.

Select Settings on Menu Screen. Then Select Config on Setting screen.

Select General in Configuration. Then go to Personalization and go to Security. Click on Phone and SIM card.

Move down and you have the option to select Lock Code and Phone Auto Lock period. (Note down your code for reference)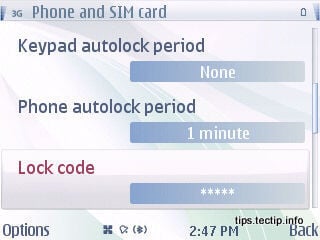 You are done. Your phone is protected. If the phone keeps idle for the auto lock period that you set, Press on left top key (just below the screen) it will ask you code to turn on, Enter the lock code.

And….. Your code is accepted.
Note: From the home screen: Select the Left Key and the function key (top left and bottom left). Same keys to unlock it. From anywhere: press the power briefly then select lock keypad.