With Search Engines like Google and Bing, you can search Mp3 and other songs and download songs to your computer directly from the browser. There is no login or web account required, but this MP3 downloading workaround support only for copyright free songs.
So now, how to search songs on search engines? For the best result, there is a format to search the song, which leads the user to the song directory and you can download songs to your computer.
So what is the best format or search key to download MP3 songs from search engines? Let us back to some technical information of storing these MP3 and other song files on Web Server. When the webmaster uploaded these songs to the web server without any index files, like index.html these for these music files.
Related: Best 6 Free Android App to download and listen MP3 Offline.
So, once you can reach into this Song directory, you are free to download any songs displayed on that directory to your computer. Now this song directory starting with a title "Index Of" by default.
Let us go with the step by step instruction to Search MP3 with Search Engine and download to our computer in this workaround.
Step 1: Prepare the Search Parameter for MP3
Let's say you want to search a song "I Stand in Awe" in MP3 format. Open the browser and with Google Search Engine, please type
intitle:"index of" (mp3) I Stand in Awe
In this search parameter, there are three parts, let us go through one by one.
"index of": This will lead the search engine to the index directory of the songs that is uploaded into the web server.

(mp3): This is the place to define the file type you want to search. You can replace this with (WMA) to search songs in WMA format, or even you can do a PDF file search by just replacing this one with PDF like this (pdf).
How to Search Multiple Music Formats
Now you wants to search in multiple formats, and then you can do that with the OR symbol "|". Here is example For combining all this search term on your search parameter, that will look like (pdf|wma|mp3) this.
I Stand in Awe: This is the last part, that match to the song title or song lyrics.
intitle:"index of" (mp3|mp4|WMA) I Stand in Awe
So to reach this above song in all formats, the final search query term will look like above.
Step 2: Get into the Index and Play Mp3 Song.
Google will return the search result with the index of song folders that you searched. Click on the link from the search result page, which will open the web folder with the songs.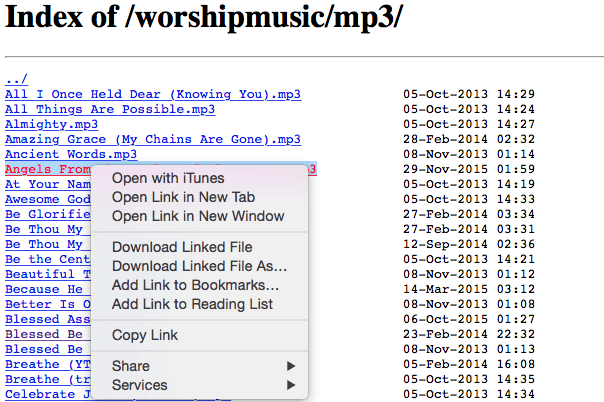 Now you can click on any of those songs in the list and most of the browsers will autoplay that song on the browser itself. Based on the operating system, the song can be played in iTunes for Mac or Windows media player.
Step 3: Download the Mp3 Song to the PC Drive
Once you are in the index folder of music files, you can easily download any songs from the web folder. Right click on on the link and select "Download Linked File As.." and save to local computer drive.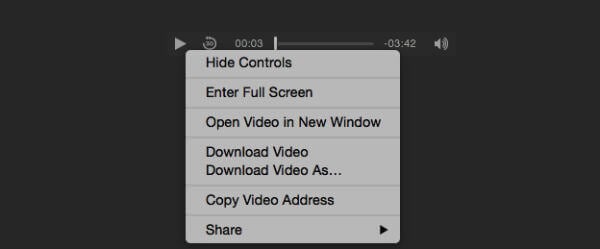 Alternatively, you can download the music file from browser music play screen. Right click on the play screen and select "Download Video As.."

This download button wil save the selected MP3 or any other song format to your local PC drive direct. There is no other login or web account required to downlaod the music files.
Websites to Search MP3 Songs
There are dedicated websites that let you search song with Song Title or Artist name. We see a couple of sites with the search tool to find out the Titles you want.
mp3Bear: One of the best Mp3 search engine that frequently updated music archive, searchable and downloadable music database.
BeeMP3: This is dedicated to catalog and manage audio that has been officially published online.
mp3va: This site keeps the songs with the latest album and releaseed free titles.
This is the best easy solution to search any MP3 song or other Song format direct on Google Search Engine. This search parameter will bring back the right result on your web browser that can download to your PC local drive direct from the search result.