Lightweight browsers for iPhone and iPads are dedicated to open the website quick with less data consumption compared to the default Safari browser. These lightweight browsers a critical while you travel and use the cellular data connection. When one uses the limited data plan and demands faster speed while they browse with iOS devices, light weight browsers are the best bet.
There are a bunch of browsers are available for iOS devices. Out of these list iOS browsers, lightweight browsers are dedicated to fast loading and less data consumption. Among the lightweight browsers for iOS, Opera, Chrome, Puffin are some who rule the most. Take a look at some of the features of iOS lightweight browsers for iPhone and iPad that ou can depend to save data.
Puffin Browser Pro
One must say that it is quite a wicked and quick web browser while trying on iOS devices. The new Puffin Web Browser which includes Adobe Flash has come without additional in-app-purchase. The new version of this lightweight browser aims to reduce server connect time and is extremely useful while browsing on a low-speed network.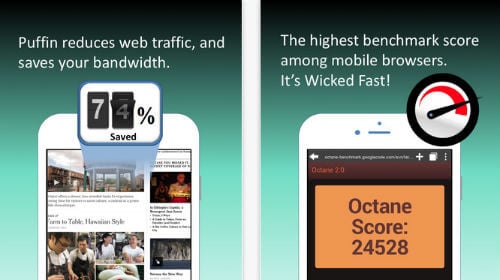 Puffin is one of the best iSO browser with improved page load speed compared to other competitors. Puffin browser makes use of a good proprietary compression algorithm to transmit a good number of web data to your device. This fast loading browser saves up to 90% of your bandwidth on a regular internet browsing capacity.
Download from iTunes
Chrome – Web Browser by Google
Browse fast and quick are the tag lines to rule the browser market. Some of this iOS browser's features include data syncing capacity which can seamlessly access and open tabs and bookmarks from your devices.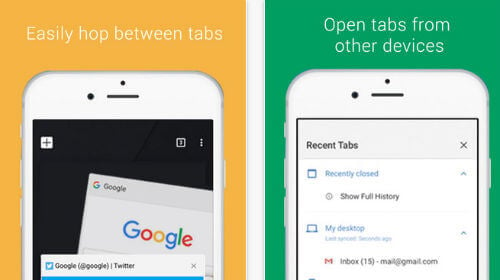 With Chrome browser, you can load the website quite fast and also be able to reduce mobile data usage by up to around 50%. This iOS browser undoubtedly offers a fast browsing capacity. This Chrome browser lets you choose the site from search results that instantly display the results and also let you quickly access previously visited pages.
Download from iTunes
Opera Mini Web Browser
Opera Mini is known as one of the best lightweight browsers. Among the list of lightweight and portable browsers, Opera browser remains one of the best. With a guarantee of saving up to 90% of data usage with equal chances of fast access, Opera browser appeals to many Apple users.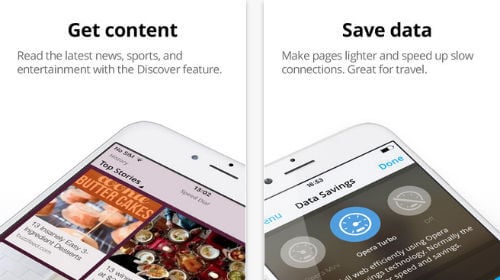 Opera Mini helps you crunch down the size of the available websites you visit. With opera, the built-in feature to compress the given images, video and text that aids in making sites lighter. With features like smart night more, faster browsing and multiple tabs option make Opera as one of the best lightweight browsers for iPhone.
Download from iTunes
Dolphin
Dolphin browser rocks as an ideal browser as far as Apple is concerned. The exclusive features for Dolphin browser include one-tap share or tabbed browsing, cloud sync, gesture browsing, sonar search, etc.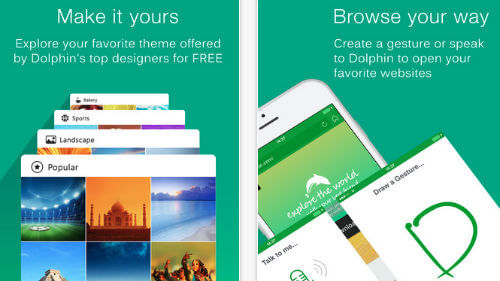 Dolphin packed with features like speed dial, sidebar and a lot many more features. In fact, Dolphin browser is commonly used because this browser simplifies and also enriches their mobile life.
Download from iTunes
iCab Mobile
iCab Mobile browser helps provide many useful features with iOS. iCab tends to provide many unique and useful features you may not be able to find in other iPhone browsers.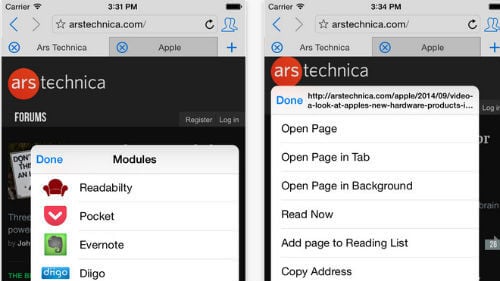 This browser sync with Apple Watch, just like a remote control for the given iCab Mobile which helps one to navigate or even open bookmarks and other links or the homepage and maybe switch tabs off the full-screen mode. iCab browser is also possible for one to let iCab read a website with the use of the speech output.
Download from iTunes
Atomic
The beast feature of the Atomic browser is that incredibly flexible and can customize easily. This lightweight iOS browser helps the user to set up his or her advanced priority options and privacy controls. One of the extreme users of Atomic browser remains using multiple tabs, useful when you are using an iPad. This gives you the advantage of using background tabs, using multi-touch gestures which may get turned on by default. For those who want speed, fast browsing experience with a luxury of multiple tabs, then Atomic is the perfect lightweight browser for iOS.
Download from iTunes
Photon
The Photon browser can regenerate and recover some of the fastest browsing experience ever. With Photon, you will be able to attain the perfect switch between Flash browsing mode and also the faster native mode that is available for normal websites. In fact, Photon offers the necessary experience that is optimized and enhanced for the perfect user browsing on the iOS devices.
Download from iTunes
In addition to these browsers, there are some proven techniques to get complete command of iPhone data usage. If you are a music lover, don't need to spend data plan to play your favorite music, you can add Music to iPhone / iPod from PC over Wi-Fi to play songs offline.
Related: 7 Best Lightweight Browsers for Windows 10 to Save Memory
These browsers are providing the best experience while you browse the internet with low-speed cellular or internet connection. There are certain browsers like Puffin supports flash player, ideal for games and sites that build on Adobe flash. Opera Mini and Atom browser are a good list of lightweight browsers that you can consider to browse the internet with iPad or iPhone.